We wanted to finish up our survey of Albany piano makers. We covered John and Horace Meacham, Francis P. Burns, Marshall and Wendell, McCammon, and of course Boardman and Gray. There were others, and there were also some ancillary industries, like the specialists who only built the actions for the pianos.
Afred Dolge, in his "Pianos and Their Makers" from 1911 lists a number of them:
"During the decade from 1830 to 1840 a coterie of piano makers lived at Albany, whose influence upon the piano industry of America has been of a lasting character . . ." He mentions John Osborn, F.P. Burns, and Henry Hazelton of Boardman and Gray. "James H. Grovesteen, founder of Grovesteen, Fuller & Company of New York, came to Albany in 1839 and started to make pianos in 1840. A.C. James, later of James & Holmstrom, New York, learned piano making in Grovesteen's shop and, after working for Boardman & Gray, became a member of the firm of Marshall, James & Traver, later known as Marshall & Wendell. Myron A. Decker was also one of the Albany pioneers with George Gomph, P. Reed and others. F. Frickinger made pianos in 1837, but soon after started action making as a specialty. His business is continued by Grubb & Kosegarten Brothers at Nassau, N.Y."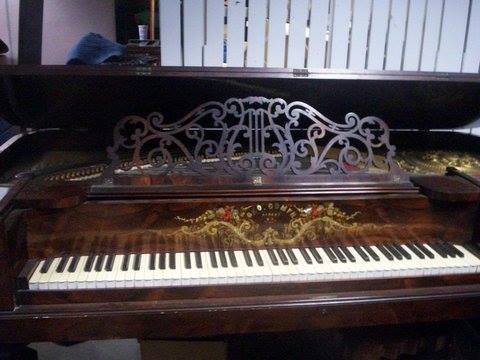 Dolge tells us some more about Decker:
"Myron A. Decker, born at Manchester, N.Y. on January 2, 1823, served a four-year apprenticeship with Van Winkle at the time when Albert Weber was taking his post-graduate course in the same shop. He then went to work for Boardman & Gray at Albany, and started a factory in that city in 1856. At the State Fair held at Syracuse in 1858 Decker received a diploma for the best piano exhibited. In 1859 he removed to New York…"
And about Hazelton:
"A man who for over 60 years can enjoy the respect and friendship of his competitors in business must be a strong character, with a lovable disposition. Such was Henry Hazelton, born in New York City in 1816. He served a seven years' apprenticeship with Dubois & Stodart, being released in 1831. Soon thereafter he joined the Albany colony, and in 1840 started the firm of Hazelton, Talbot & Lyon. Not fulfilling his expectations at Albany, Hazelton returned to New York and joined his brother Frederick, under the firm name of F.&H. Hazelton, in 1850." The company continued with much success and respect for many years.
And he credits Frickinger with starting the company that built piano actions for a long time in Nassau: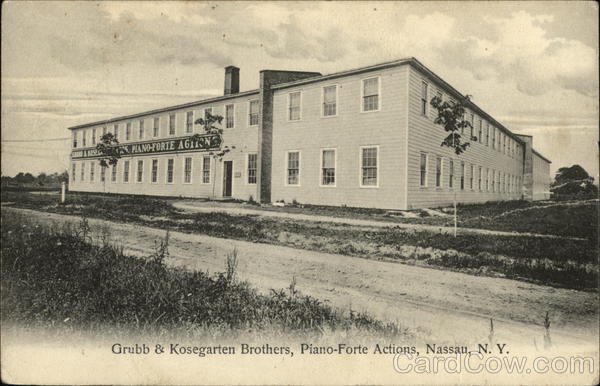 "In America F.W. Frickinger, a German who had learned the art at Paris, started an action factory at Albany, N.Y., in 137, moving later on to Nassau, N.Y. His son-in-law, Grubb, succeeded him and the business is now carried on under the firm name of Grubb & Kosegarten Brothers."
An article by Kurt Vincent gives an extensive history of Frickinger and the Nassau factory in two parts: part one and part two.
A similar piano action company arose in Castleton, according to the village's website:
"Brickyards furnished another source of trade. Probably the largest was located where later the A. C. Cheney Piano Action Company was erected, and where now the Castleton Fire Company building is located. There were other brickyards along Green Avenue and Seaman Avenue."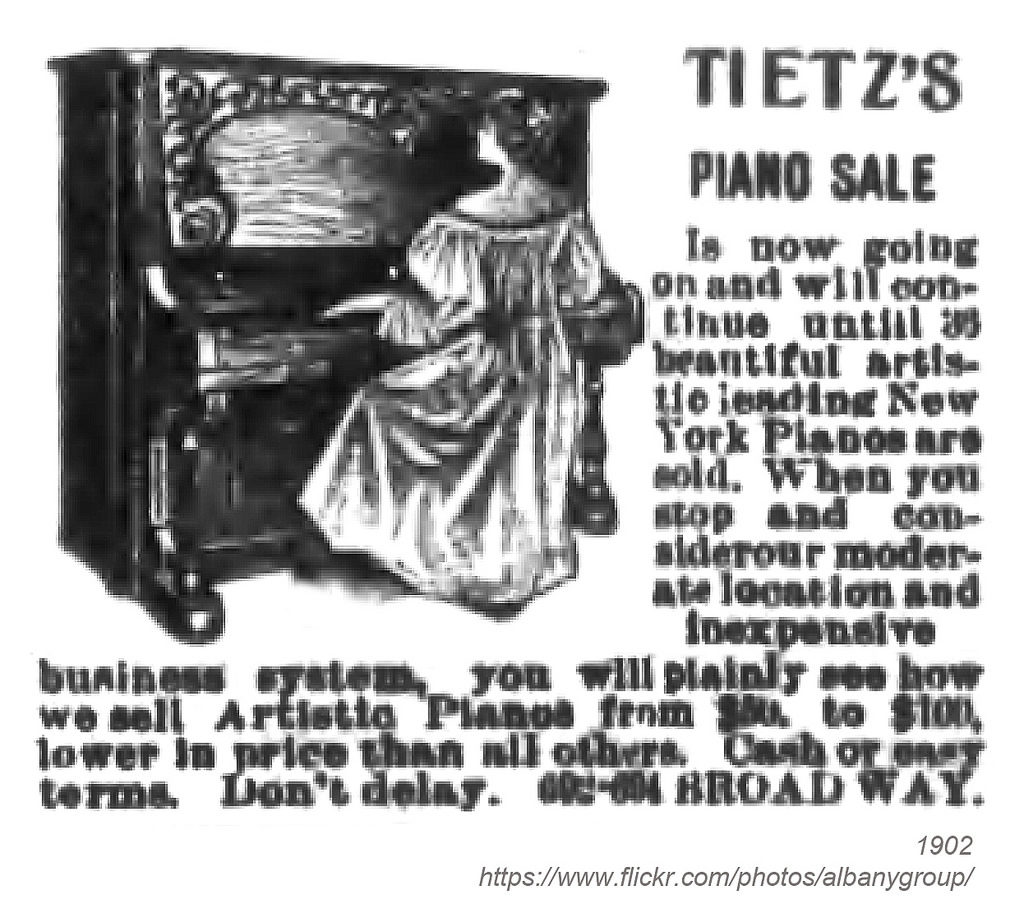 Howell, in his "Bi-Centennial History of the County of Albany," states that "George Johnson has made pianos many years," and also says that "Mrs. F.W. Tietz continues the piano making business begun in 1860." A Frederic Tietz was still making pianos in 1919, and was reported as the fifth generation of a musical family. They must never have been mass producers, but they were around for a long time.
Enough pianos. Hoxsie is moving on!