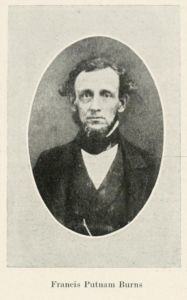 As we have mentioned, Albany had a very, very rich history of piano manufacture. There are many little rabbit holes to go down, but a lot of the names are at least a little familiar. So we were surprised to find one we didn't know, prominently featured in "Pianos and Their Makers – Men Who Have Made Piano History." It mentions Francis Putnam Burns:
"During the decade from 1830 to 1840 a coterie of piano makers lived at Albany, whose influence upon the piano industry of America has been of a lasting character. John Osborn came from Boston in 1829 and made pianos for Meacham & Company, dealers in musical instruments. F.P. Burns studied under Osborn in Meacham's shop, which probably was the first piano factory west of New York City."
It goes on to say that Francis Putnam Burns was born at Galway, New York, February 6, 1807, and that he learned cabinetmaking and studied piano making under "the genial John Osborn." Burns went out on his own in 1835. "Of an artistic temperament and an excellent mechanic, he would never permit piecework in his shop, impressing his workmen with the idea that a piano is a work of art, requiring the most painstaking efforts, without regard to time consumed in its construction." It appears to have run well for quite some time, until the Civil War. His son Edward M. Burns, an army officer wounded in some way came home and took over the business. "Although the United States Government retained him in military service for 18 months after peace was declared and desired his further service in the army, young Burns felt that filial duty demanded his devotion to his father's business. He picked up the remnants of the once flourishing business, injected new life and not only succeeded in maintaining the high reputation of the pianos, but had the great satisfaction of squaring all the old obligations in a most honorable manner. It was a loss to the piano industry of Albany when Edward M. Burns retired in 1869 to seek more remunerative activity in another field."
A Wikipedia article on F.P. Burns says that he initially partnered with Thomas Clemence in 1834-35, then began the F.P. Burns Company. He was awarded a diploma in 1847 for "best piano" from the New York State Agricultural Society, the forerunner to the State Fair.
The Wikipedia article also cites an 1884 article in the Santa Cruz Daily Surf in support of the idea that a Burns product was the first piano in California.
"It was made in Albany, NY by E P Burns [sic] and brought around cape Horn in the fall of 1849 by Capt Wilson, and was put together on the schooner where its delightful strains helped to vary the monotony of the long voyage. It was regarded as a great curiosity when it arrived in San Francisco and crowds flocked to see the instrument and listen to its melody."
An ad in the Argus from 1843, placing F.P. Burns at 83 State Street, said:
"The subscriber has on hand Piano Fortes, which he hesitates not to say will most favorably compare, in beauty of caseing, fine tone and elegance, with any instruments in the country. Believing that the best test of the 'durability' and excellence of a Piano, is its continued use by a competent judge, he does not ask the public to give the preference to his manufacture from the mere consideration that a good natured artist has consented to sign his name to a certificate already prepared as a quid pro quo for the free use of the instrument at a Concert. He desires that his Piano Fortes should have a fair trial, well knowing that such trail cannot fail to be satisfactory. He submits the following as one of many testimonials in proof of this fact."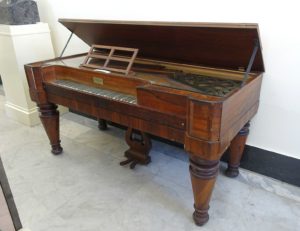 That was followed by a testimonial. In 1848, F.P. Burns begged leave to "inform the public that he is prepared to attend to the tuning, regulating and repairing of Piano Fortes. Being a practical Piano Forte manufacturer for a number of years, and having secured the services of R.J. Carmody as his Tuner, he can guarantee to give every satisfaction to those who favor him with their patronage. Orders for R.J. Carmody to be left at the store 81 State street."
An ad he took in 1847 claimed that he was the first Albany manufacturer who made and employed the valuable invention of the metallic frame in the construction, and "is the inventor and patentee of the Double Sound Board – one of the most serviceable and important additions ever made to the Frame."
In 1849, he moved from 81 State street to 5 James Street, opposite the Evening Journal office, where he would "keep constantly on hand a full assortment of his celebrated rosewood and mahogany 5, 6-1/2 and 7 octave Piano Fortes. Having been many years extensively engaged in this business, he flatters himself that he will be able to furnish instruments of the finest tone and most elegant finish at a price that must ensure purchasers, if they will but favor him with a call. These instruments being manufactured by himself, are warranted to give satisfaction, and will be sold at prices much below those of any other establishment in this city."
Consistent with the "Pianos and their Makers" account, the 1863 directory finds Edward M. Burns, as well as Francis, credited with a piano factory at Phoenix Place. They lived at 198 Swan. It appears that they went on through 1867. Then, in 1868, both Francis and Edward are gone; only Mrs. Francis P. Burns remains at the home.
Postscript – After we posted this, Julie O'Connor came up with significant additional information on the Burns family and the first (or maybe the second piano) that made it to California. For the piano's connection to the Donner Party, check out this investigation.