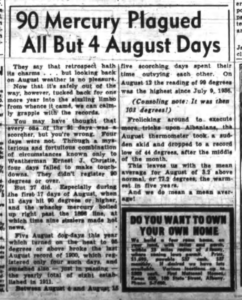 1944: The world was at war. Air conditioning was a rare feature in Albany homes and businesses. Factory work was still commonplace. And in August, the temperature reached 90 degrees in Albany on 27 days of a 31 day month.
"You may have thought that every one of the 31 days was a scorcher, but you're wrong. Four days were not. Through a mysterious and fortuitous combination of circumstances known only to Weatherman Ernest J. Christie, four days failed to make touchdowns. They didn't register 90 degrees or over. But 27 did. Especially during the first 17 days of August, when 11 days hit 90 degrees or higher, and the whacky mercury boiled up right past the 1896 line, at which time nine sizzlers made hot news . . .

Between August 4 and August 15, five scorching days spent their time outvying each other. On August 12 the reading of 99 degrees was the highest since July 9, 1936. (Consoling note: It was then 103 degrees!)"
The story notes that there was one record low of 44 degrees after the middle of the month, leading to a mean temperature of 72.2 degrees, 3.2 above normal, the warmest in five years.