Andrew Mace hepped us to one of those fascinating facts that we can't believe we didn't know. One of the Troy Facebook groups posted the cover of sheet music for Uncle Sam's Boys, composed by Jerome Hartman, "composer of the famous 'Beneath the Starry Flag,' 'On to Victory,' etc.," and published by the Koninsky Music Co. of Troy. But interestingly, Jerome wasn't Jerome. Jerome was Sadie Koninsky, and Sadie Koninsky was a prolific composer of her day, and part of a family that was a vital part of Troy's music scene in the first part of the 20th century.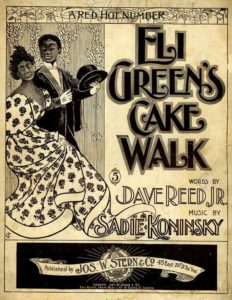 Sadie's Wikipedia entry says she was thought to have authored more than 300 pieces of music, and her well-known "Eli Green's Cakewalk" was the first cakewalk published by a woman. Perhaps because it was thought that only men could write marches, her marches were often published under the name of Jerome Hartman. For her musical legacy, someone at Ragpiano.com has done some exhaustive work on Sadie. Their article says she was one of five children of Harris and Mary Koninsky. Harris was a tailor, second-hand clothing dealer, bedding seller, furniture dealer, pawnbroker – apparently whatever he needed to do to survive. In 1890, they lived at 404 River Street, and the store was there too (today, the Photography Center of the Capital District). Sadie was the youngest of five, probably born in 1877 (there is conflicting information). Her three brothers, Edward, Maurice and David, were also musical. Sadie was trained as a violinist; Maurice played piano, and David the cornet.
Ragpiano says her first published composition was The Belles of Andalusia, a Spanish-tinged waltz, in 1894. The Troy Times wrote it up: "'Belles of Andalusia' is a Spanish waltz composed by Sadie Koninsky of this city and just published by M. Witmark & Co. of New York. The waltz is written in a minor key, and has the dreamy rhythm that comports with the subject. Miss Koninsky is one of a family of talented musicians."
She quickly composed and published more works. Perhaps it was the success of her "Eli Green's Cakewalk" in 1898, published by Joseph W. Stern in New York, that led the family to think about doing their own publishing, which they seem to have started in 1899. One of their first publications was Sadie's followup to "Eli Green's" called "Phoebe Thompson's Cakewalk." (You can listen to it here.) In 1901, David and Edward were listed as working at Harris Koninsky & Sons, which was then listed as a pawnbroker (Edward was also a notary public); the family was listed as boarding at 17 King. But Maurice and Sadie were listed as "M.N. & S Koninsky, music dealers," working and boarding at 19 King.
In 1902, The Troy Daily Times took note of one of their new publications, and was clearly in on the use of a nom de plume:
"The new military march and two-step, 'The Return of the Troops,' which bids fair to win instant popularity and take rank with the best marches of its class, has just been published by Edward M. Koninsky & Brothers [sic], music publishers, of this city. The march was composed by Jerome Hartman (Miss Sadie Koninsky), the author of 'Beneath the Starry Flag' march and many other popular pieces. Several hundred copies of the new march are displayed in the corner window at Frear's Bazaar, and the striking title page of the sheet of music, coupled with an effective grouping of military figures symbolizing the title, 'The Return of the Troops,' makes a most attractive display. Edward M. Koninsky & Brothers have just issued a new catalogue of music and music supplies."
This may have been the start of their retail sheet music business in the basement of Frear's Cash Bazaar, one of Troy's most famous department stores. For a brief time around 1900, they had an office in New York City, one of the music publishing centers. Edward decamped for Rochester and marriage; Sadie, David and Maurice never married, but were widely known in Troy musical society and active in the Jewish community. The three of them performed as Koninsky's Orchestra for years. In addition to the Koninsky name, they published as Goodwyn Music Publishers. In the 1930s, Maurice and Sadie advertised music lessons (Maurice, piano and voice; Sadie, violin) at their residence at 17 King Street. They performed at all kinds of events; Maurice formed the fire department glee club in 1934.
On his death, it was reported that Maurice began his musical career at age 11. "He and John Golden, prominent New York producer of shows, staged the 'Mikado' in Troy. Mr. Golden was also 11 at the time. During his eleventh year, Mr. Koninsky began playing the piano with Doring's orchestra."  Perhaps no surprise that in 1900, Maurice produced an "American-Japanese comic opera" titled "The Belle of Tokio." "The opera is full of laughable situations, due to the many complications that arise," the Troy Times reported.
"Mr. Koninsky was often called upon when a director or pianist of a show was ill or unavoidably detained. One of these instances occurred a number of years ago at Harmanus Bleecker Hall, Albany. A musical show to be presented by the Albany Harmonic Society was without a director and at the last minute Mr. Koninsky was called upon. He directed the show which contained some 300 musical cues which he read at sight. He was commended by musicians throughout the area for the amazing performance."
For 20 years, he conducted Koninsky's Orchestra on RPI station WHAZ, as well as the Maurice String Ensemble on WTRY, and a quartet on WGY.
A 1957 article in the Troy Times said that "Maurice, better known as Moe, played the piano and was the best known of the three. He was one of the radio trip on RPI's Station WHAZ for many years and on occasions substituted concert accompanists. William Noller, leader of the Troy City Band and later of Noller's Band, said: 'Moe had fingers like wings on the piano. He was one of the best. He knew harmony and he would play the newly issued numbers in the music department at Frear's where he always attracted a crowd.' David played the cornet with various bands and orchestras. He was the businessman of the family, according to those who knew them. David died in 1942 and Moe's death took place several years later. Sadie died in her 70s Jan. 2, 1952, in a small apartment in downtown Troy. Surrogate Maurice D. Isenbergh, who was her attorney, said she was receiving small royalties from her songs until her death." Sadie left an estate of $50,000 to friends in Troy, several Jewish organizations, the Shriners Crippled Children's Hospital in Springfield, MA, and her niece, "who received the bulk of it." She also left her violin to her niece with the provision that she "give the violin to a talented needy Jewish student, preferably a child, of the Eastman School of Music in Rochester." Sadie was buried at Berith Sholom Cemetery.
Want to know what "Eli Green's Cakewalk" sounded like when performed on banjos by the duo of Cullen and Collins in 1898? You're in luck. And if you don't know what a cakewalk was, well, there's Wikipedia to give you a nice glimpse into the complicated racial history of the cakewalk. Unfortunately, it has a direct connection to the minstrel shows that were so popular at the time, and which the Koninskys accompanied on many occasions. Many of their sheet music covers, while typical examples of the day, are purely racist images, which we won't be reproducing.