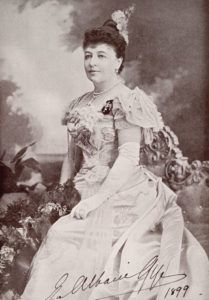 Well, if we're going to mention Professor DuMouchel, long a key part of the (sacred) music scene in Albany, we're going to have to mention someone who, after performing with DuMouchel very early in her career, carried the name of the city into international fame.
She was Marie Louise Emma Cécile Lajeunesse, in Chambly, Quebec. The year of her birth is subject to conjecture, anywhere between 1847 and 1852. She studied piano with her mother before she was four, and at five years of age her father, a music teacher, began teaching her piano, harp, and singing. The family moved to Plattsburgh, New York, in 1852. Emma's mother died in 1856, and the family (her father and two other children) returned to Montreal, where Emma and sister Cornelia became resident students where their father taught music, the Sacré-Coeur Convent in Sault-au-Récollet. She soon gained recognition for her voice, performing for a visit by the Prince of Wales, and later at a concert meant to help send both girls to Paris to study. Funds were lacking, however, and in 1865 their father brought them to the United States instead, performing in various locations (including the Plattsburgh concert she performed with Professor DuMouchel, with whom she apparently was already well familiar). The family settled in Albany (one article said she was 14 at the time). Reader Paul Nance helpfully pointed out that while her first performance wasn't in Albany, perhaps her first solo was (the nature of her performance for the Prince of Wales in 1860 isn't fully described in the source we used) – in a cantata concert that was part of the 1864 Army Relief Bazaar. She was engaged as the organist at St. Joseph's Church and on at least one occasion performed with her younger sister Cornelia at Tweddle Hall (in 1868). Finally in 1868 she was able to depart for her Parisian education.
She began in Paris, and soon moved on to Milan, where she was soon performing  Italian opera, singing 44 performances of three operas in the 1869-70 season. She became quickly and greatly successful. She adopted the stage name of Mme. Albani, which some have written was in honor of an Italian family but which quite clearly related to the city where she had lived for a few years. At least one article said it was because a patroness in Albany was the one who paid for her to finally go abroad, though no name is mentioned.
She went on to a remarkable career, always under the name of Mme. Albani. After her training in Italy, she made her London debut in 1872, and sang at Covent Garden for years and years. You can read the details in the Canadian Encyclopedia, where most of the above details originated. She toured the world, sang for Liszt and others, and performed for Queen Victoria. And, you know, sometimes had the Queen over for tea. The Schuylerville Standard ran an item in December 1890 describing their relationship, noting that once a summer Queen Victoria would drive from Balmoral Castle to the Scottish Highlands home of "Madame Albani-Gye, the famous prima-donna, where the latter entertains her at an informal tea. For years the Queen has made a practice of this, a compliment which Her Majesty bestows upon no other woman in the kingdom. It is a return for Madame Albani's appearance each year at Court to sing before the Queen, and to the prima-donna it affords an exceptional glimpse of England's royal sovereign. 'No outsiders are ever present,' says Madam Albani, 'and I see Victoria as a woman; never as a queen.'" Appropriately, Mme. Albani sang at Victoria's funeral.
She returned to Albany at least four times (and even went back to Plattsburgh). She performed in Albany in 1882 at Martin's Opera House (northwest corner of Beaver and South Pearl), and again in 1890. Her accompanist in 1882 was Prof. Frederick Denison, who on her death in 1930 recalled the experience: "She was a great singer, a fine musician, and very easy to accompany. She was a wonderful personality, a kind hearted, noble woman. I remember she sang three numbers that night. Her first was 'Casta Diva,' which the audience compelled her to sing three times. Then, with a sob in her voice she rendered 'Home Sweet Home,' and there were many tear stained faces in the audience. The other number was 'Angels Ever Bright and Fair.'"  The Times-Union reported that she was paid $1500 to sing those three songs, and that she stayed at the Delevan House and wrote Professor Denison a note of thanks and praise for his work.
In 1890 she performed two nights at Harmanus Bleecker Hall, performing first in Traviata and then in Rigoletto. Professor George Edgar Oliver was the manager: "In spite of her contract, Madame Albani sang as a special favor in the old high school in Eagle street. An enormous procession headed by a band led her from the hotel and I accompanied her on the piano at the school. She was in Albany twice after that, once at the hall and again at the skating rink in Lark street."
The Albany papers followed Mme. Albani quite a bit throughout her career. Her obituary, datelined April 3, 1930 from London, said that she took her name as a tribute to Albany (likely true), where she made her first public appearance ( not exactly true), and where she received the training which led to her later fame on the opera and concert stages of two continents (possibly true). It also said that "During the singer's rise to fame the DuMouchel brothers, her childhood friends in Quebec, were rising to the peak as organists, Edward at the Cathedral at Ogdensburg, Leandre at the Albany Cahtedral. Both went to London many times to see and hear Madame Albani. Edward DuMouchel and his brother of Albany died within a few years of each other. The friend of both, and the pupil of the Albany organist, was destined far to outlive them."
The long relationship between Madame Albani and the DuMouchel brothers was recounted in the Watertown Daily Times in 1920 as part of an article datelined Ogdensburg, reporting that a cable dispatch had arrived from London announcing that Mme. Albani had been granted a pension of $500 a year by the British government. The reason for the Ogdensburg interest was, of course, the connection to Edward DuMouchel, who had been in charge of music at St. Mary's Cathedral in Ogdensburg for more than 40 years, very much as his twin served in Albany. It reported that her childhood home of Chambly was where "the Dumuchel family seat is located," and that when she moved to Albany she studied and sang under Leandre DuMouchel. "Out of compliment to her teacher and the city where she gained her first public recognition the young artist adopted the name by which she was to become world famous." The newspaper reported that the brothers visited Mme. Albani at her London home during the trips abroad.
If you happen to be in Montreal and chance upon avenue Albani, that's named in honor of the singer, who took her name in honor of the capital city. She is also depicted in a glass mural in the Place-des-Arts metro station. But if you're looking for any memorial to her in Albany, the city whose name she carried around the world, we're not aware of any.
Thanks to an alert reader who had the thought to check YouTube, you can still hear Mme. Albani today: