Albany's Veterans Administration Hospital is nearly complete in this aerial view from June 12, 1951, from the Fairchild Aerial Surveys collection of the New York State Archives.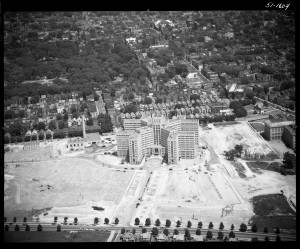 The new hospital rose on the site of the former Albany Penitentiary, which had moved twenty years before; when its buildings came down is not clear.
The view, with Holland Avenue at the bottom and Washington Park to the upper left, contains some great details.
For instance, it has been some time since there was a gas station at the northwest corner of Madison and Lark, where a Dunkin' Donuts has been located for quite a long time. On the northeast corner was the historic Clark Tavern, only recently reduced to rubble.
The hulking pile in this detail was School No. 24, built in 1893 by architects Fuller & Wheeler. Below it was the Albany Fire Alarm Telegraph Building, where the central alarm signals were received and relayed to firehouses. School No. 24 is gone, replaced by the Boys & Girls Club building, but the telegraph building survives as a senior citizens center, if a bit more crowded in than previously.
The neighborhood beyond the VA hospital hasn't changed a lot, in physical terms, though of course the changes wrought just to the left of the overall view in recent years have been very controversial.
This view is familiar enough, with the Washington Avenue Armory in the center, except for the "Mayfair" sign on the other side of Lark Street, and the now-gone Harmanus Bleecker Hall.
I'd love to know what this building was. It appears to have been on Monroe or Orange Street or thereabouts. I can't quite get it up to the resolution to read the sign.