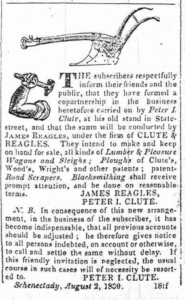 One of those odd little items that catches the eye caught our eye in going over an article from the Schenectady Gazette in 1948. "Barrows From Here Carried California Gold," it proclaimed, apropos of pretty much nothing. (Well there were some other stories on local history in the section, but still . . . )
"Many a nugget of good California gold and a lot more California dirt had the privilege of a deluxe ride in a made-in-Schenectady wheelbarrow.
"When the gold rush of '49 had the money mad slogging uncomfortably across the contintent, Clute and Reagles, who ran a wagon works up between Liberty and Chapel streets started turning out wheelbarrows by the 100. They shipped them clear around Cape Horn for sale to prospectors. The idea evidently paid off, because the wagon works were booming for some years after that."
We were intrigued – sometimes these bits of local history are a mix of fact and fantasy, so we wondered if indeed there was any truth to this. Well, we can say for certain that Clute and Reagles built wheelbarrows, anyway.
The Clute name is all over early 1800s Schenectady mercantile history. Peter I. Clute and others of his family were involved in all kinds of enterprises. Clute patented a plough in 1822In particular with regard to blacksmithing and barrow-making, we found a notice from 1830, written in the delightful form of ad copy that doesn't exist any more, along with a reminder that if you owed him money for his old enterprise, it'd be nice to pay up:
"The subscribers respectfully inform their friends and the public, that they have formed a corpartnership in the business heretofore carried on by Peter I. Clute, at his old stand in State-street, and that the same will be conducted by James Reagles, under the firm of CLUTE & REAGLES. They intend to make and keep on hand for sale, all kinds of Lumber & Pleasure Wagons and Sleights; Ploughs of Clute's, Wood's, Wright's and other patents; patent-Road Scrapers. Blacksmithing shall receive prompt attention, and be done on reasonable terms.
JAMES REAGLES,
PETER I. CLUTE
"N.B. In consequence of this new arrangement, in the business of the subscriber, it has become indispensable, that all previous accounts should be adjusted; here therefore gives notice to all persons indebted, on account or otherwise, to call and settle the same without delay. If this friendly invitation is neglected, the usual course in such cases will of necessity be resorted to.
PETER I. CLUTE.
Schenectady, August 2, 1830."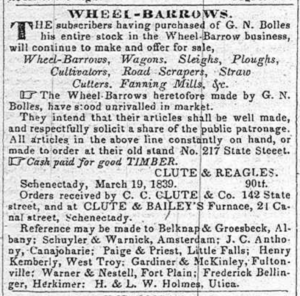 And we find ads specifically for wheel-barrows. In fact, in 1839, Clute & Reagles had bought the entire stock of G.N. Bolles, and presumably his patterns or plans. "The Wheel-Barrows heretofore made by G.N. Bolles, have stood unrivalled in market. They [Clute & Reagles] intend that their articles shall be well made, and respectfully solicit a share of the public patronage. All articles in the above line constantly on hand, or made to order at their old stand No. 217 State Street." Orders could be received at C.C. Clute & Co., 142 State street, or at Clute & Bailey's Furnace, 21 Canal Street.
Like many such operations, Clute's firm was subject to the occasional fire. On Sept. 27, 1853, the Schenectady Cabinet wrote that "The Wagon, Plough and Wheel-barrow manufacturing shop of Messrs. Clute and Reagles, at the east end of State-street, was destroyed by fire on Monday night of last week. Loss nearly $5000, of which only $800 was insured in the stock. As the fire originated in the north end of the shop, where no fire had been in use since last winter, it is strongly suspected that it was caused by an incendiary. The same premises, then owned by P.I. Clute, one of the present firm, was destroyed by fire thirty-three years ago. Messrs. C. & R. will continue their business, with no material interruption, in the adjoining furnace building on Barrett-street."
When Peter Clute died in 1870, at the age of 89, he was recognized as having been inbusiness in Schenectady more than 50 years. "He was the father of the Clute Brothers, proprietors of the extensive foundry and machine shops, situated on Liberty street, Schenectady. The deceased was also joint proprietor of the wheelbarrow manufactory and blacksmithing establishment of Messrs. Clute & Reagles, near Crescent Park." What was listed in 1853 as "Clute & Brothers, successors to P.I. Clute & Sons," at 49 and 51 Liberty Street, also went by the name Schenectady Furnace and Machine Shop, and made steam engines, lathes, machinery, axle arms, mill cranks and spindles, bark, corn and plaster mills, screws, railroad car wheels, plough castings, cider mills, nuts and screws. "Merchants would do well to call and examine for themselves." It has been noted that Clute Brothers provided the engines that moved the gears on the revolving turret on the U.S.S. Monitor (while the Albany and Rensselaer Iron Works, one of the many Corning operations, was a supplier of the ironcladding).
Larry Hart wrote that Clute's works were damaged a bit by an 1854 Fourth of July celebration. The Common Council awarded him $4.35 as compensation for "glass broken by firing cannon near his premises in the fourth of July last." Hart wrote that "This leads to teh surmise that the fireworks, cannon and whatnot probably took place in the area of the State Street hill, since Clute then was co-owner (with James Reagles) of the Clute & Reagles farm implement and wheelbarrow manufactory located at 77 Barrett St., not far from the noted gathering spot. Clute, by the way, retired in 1849 as proprietor of the iron mongery and blacksmith shop at Liberty and Wall Streets as his three sons took over the business."
Unfortunately, while we know they lasted until well into the 20th century, we don't find a definitive date of their closing.