One of the things Hoxsie misses about downtown Albany is the sound of the City Hall carillon ringing out at lunchtime. But while H.H. Richardson's City Hall building was equipped with a tower when it opened in 1883, it had no bells. They didn't come until 1927, in a major effort by two newspapers, the citizens of Albany, the mayor and ex-mayors, and an Albanian who happened to be a big fan of carillons. And its commemoration was a very big deal indeed.
The whole thing appears to have been initiated by William Gorham Rice, who deserves his own discussion and may well get it later this week. He was called the father of the American carillon movement, which tells us that there was once an American carillon movement. Locally, it got heavily under way when the Albany Evening News and the Knickerbocker Press pledged their combined support on January 21, 1926 to "what might be called the first community carillon in the United States." Contributions large and small were collected by The Press "and duly recorded." William Gorham Rice put up $5000 in memory of his wife's father, John V.L. Pruyn. Other large donations followed, but "among contributors were those who could afford thousands of dollars and those who could give but a mite. Each contribution was offered cheerfully and recorded in the columns of the Press company publications." There were 700 one-dollar contributions to a bell in memory of the late Mayor Hackett, "whose achievements and motto, 'Be Strong: Go Ahead,' as indelibly stamped upon city's annals [sic]." Ultimately at least $60,000 was collected. "Hundreds of letters and poems were received with contributions. These are all filed with the carillon records … Fully one-sixth of Albany's population, of all races and creeds, contributed."
"The sixty bells in the tower have forty-seven notes, the reason for this apparent discrepancy being that the last thirteen notes of the carillon scale are duplicated for the sake of volume. The largest bell is called the Municipal bell. It was bought entirely with small contributions. This well weighs about 11,200 pounds and is pitched in G natural, international pitch. The bells were made and installed by the John Taylor company, Loughborough, England …

"In the bronze inscription of the bells one reads more or less the history of Albany, second oldest city in the United States. The earliest history is commemorated in a bell given by Mrs. James Carroll Frazer for the Van Rensselaer family, patroons in Rensselaerwyck, from 1630, and prominent in the councils of the province in the pioneer days of New Netherlands.

"Then there is a bell, presented by the Dutch Settler's society, for all those settlers who come [sic] to Fort Orange in the early years of the seventeenth century.

"The last group, in historical significance, brings us to modern times, with the bell to Mayor Hackett, a token that his dream of The Port of Albany and the Deeper Hudson will be fulfilled. In this group also is the bell memorializing Governor Alfred E. Smith, given by Mr. Rice."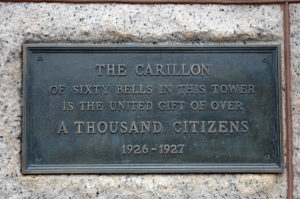 The News reported that "Carillons are to be found in many Old World cities and in a number of American communities, although in the latter, up until the Albany installation, they have been a matter of private or corporate, rather than municipal enterprise. The Rockefeller carillon, in New York city, is widely known, and there are other sets at Morristown and Plainfield, N.J.; Gloucester, Andover and Cohasset, Mass.; Detroit and Cranbrook, Mich., and Birmingham, Ala."
Was there a celebration? There was – September 18, 1927. For starters, they brought in Josef ("Jef") Denyn, of Malines, Belgium, "famed as the most expert carillonneur in Europe," to perform the first concert.  It took place on a Sunday night at 8:30 pm. Traffic was closed on Eagle street from State to Columbia and Washington Avenue from Eagle to Hawk – but, this being Albany, "double parking will be permissible in this zone during the concert. Motorists are asked not to sound their horn in applause as the noise will mar the beauty of the music." Special inspectors were put on the trolleys to ensure slow speed and quiet operation. It was broadcast live on WGY.
The Evening News described the bell player Denyn as a "world genius." "Bronzed of face, with his pure white hair matched by a silvery goatee, this small, wiry Belgian comes from Malines, or as it is spelled in English – Mechlin – home of the late Cardinal Mercier, World war hero and the 'savior of the carillons.' For forty years Mr. Denyn's genius has been given to carillon construction and playing." Denyn's father Adolf was also a renowned bellmaster. "Since the advent of the sixteenth century when a manual and pedal keyboard were added to bells, there have been bellmasters who were virtuosi. But such chimes could not be regarded as a means for the expression of real art until Adolf and Josef Denyn devised a series of movements for the then too primitive structure of carillon mechanism." In 1922, he founded the first and largest carillon school in the world, the Royal Carillon School "Jef Denyn," as it is known.
Denyn's program for the first concert was:
Rubens March – Peter Benoit
Albany, O Albany.
Two Chorals, J.S. Bach. a. Mein Jesu, dem die Serephinen. b. Jesu, meines Glaubens Zier.
Patriotic Songs – K. Miry. a. Wilhelmus van Nassouwen, b. De Vlaamsche Leeuw (The Flemish Lion), c. America, d. The Star Spangled Banner. This last song will be played by Frederick Recke, carillonneur at Morristown, N.J.
Rondeau for the Carillon – Mathias van den Gehyn.
Hebrew Melody – John B. Dykes.
Lead, Kindly Light – John B. Dykes.
Preludium in B for the Carillon – Josef Denyn.
Moments Musicaux No. 3 – Franz Schubert.
Staendchen – Franz Schubert.
Denyn stayed in the city for a number of days, with additional concerts promised before he departed for a tour of half a dozen other eastern cities where he would give carillon recitals.
The question was raised of why they sent to England for bells, when at least two bell foundries were in the area. It appears that Josef Denyn, who was at least a very good friend of William Gorham Rice, and possibly something more like a hero to him, was associated with the Taylor company. That alone may have set Rice's mind on Taylor as the maker. It was Denyn who tested the carillon at its manufacturing place and pronounced it perfect.