Growing up, my family lived next to a four-unit apartment house in Scotia, one of those places that was oddly transient on a street of homes where people generally lived for decades. There were young couples just starting out, divorcees figuring out their next steps, old people at the end. An interesting mix. And somewhere in there (several years before we were in the neighborhood) lived a man with an ancient Dutch pedigree, a strong interest in local history, a large civic presence, and a long list of published science fiction.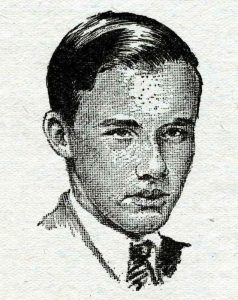 Peter Schuyler Miller was a descendant of General Philip Schuyler, born in 1912 into a branch of the family living near Schaghticoke. His birth announcement in the Mechanicville Mercury was listed under Stillwater; he was born at Samaritan Hospital in Troy, "8 lbs. to the good." He moved to Scotia in 1924, graduated from Scotia High School in 1927, then went to Union College for undergraduate and a master's degree in chemistry, in 1932. He was a chemist in GE's research laboratory (as was his father), did graduate work at Columbia University, and in 1938 joined the Schenectady school system as secretary for the adult education department and head of publicity for the department. He was the conservation chairman and a governor of the Adirondack Mountain Club, vice president of the Schenectady County Historical Society, president of the Mohawk Valley Historical Association, trustee of the Caughnawaga Museum at Fonda, member of the Bird Club of Schenectady. Oh, and he was an avid amateur archaeologist with a strong interest in the Iroquois, president of the Van Epps-Hartley chapter of the New York State Archeological Association, and member of the Mohawk Valley Hiking Club. He was a busy guy. In 1944, he was broadcasting a 10-minute newscast for children over WSNY two days a week, stressing "the geography behind the day's headlines and the children are asked to submit questions to be answered on the air." He was a speaker on conservation issues, on maps, on life in revolutionary times, on pre-historic Schenectady, among other topics. He did so many things that we can't really list them all. Among all his other activities, his authorship of science fiction stories received scant notice in the press, but he was a prolific author.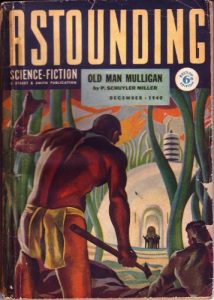 His Wikipedia entry says that his work appeared in such magazines as Amazing Stories, Astounding, Comet, The Magazine of Fantasy and Science Fiction, Marvel Tales, Science Fiction Digest, Super Science Stories, Unknown, Weird Tales, and Wonder Stories, among others. It also says he was a technical writer for GE in the '40s, possibly while he was working for the school system.
His father, Peter Schuyler Miller Sr., was a research chemist at GE, and the family lived in Scotia for many years. From the mid 1920s through at least 1936, when his father died, Peter Jr. lived with his father and mother at 302 S. Ten Broeck Street, a house that decades later was occupied by the grandmother of one of our childhood friends, right across the street from Mohawk School. In the early '30s, he wrote a substantial amount of short fiction, usually producing two or three stories every year, right through 1944; after that his output of short stories slowed. He started reviewing science fiction books in 1945, for Astounding Science Fiction and then Analog. In doing that, he collected a large correspondence, including letters from Isaac Asimov and Ray Bradbury; originally donated to the Carnegie Museum in Pittsburgh, they are now in a collection at the University of Kansas.
In 1952, when he was living in the aforementioned apartment house, it was announced that he was resigning from the city school system, where he was an assistant in audio-visual aids, to join the advertising department of the Fisher Scientific Company in Pittsburgh. At that time, it was noted that "More than 50 of his science fiction stories have been published since his first work of this kind appeared in 1930. Many of these stories have been selected for anthologies and a novel written in collaboration with L. Sprague DeCamp, 'Genus Homo,' was published in France in 1951 under the title "Le Regne du Gorille." He is in charge of the book review department of Street and Smith's 'Astounding Science Fiction' magazine."
Before he left the area, Peter Schuyler Miller gave the Schuyler Mansion  a four-foot cavalry sword worn by General Philip Schuyler during the revolution. On June 13, 1952, Mrs. Martha C. Mershon's fourth grade class at Schenectady's Hamilton School presented the sword on behalf of Miller. "Miller said the sword will add to the other effects of the Revolutionary hero being collected by the Schuyler mansion. The only time the sword has been worn in public since the general's death in 1804, he said, was when the French military leader Lafayette carried it in a reception in Albany in 1825." Miller said the sword had been obtained from Schuyler's son, Major Rensselaer Schuyler, in 1799 by John Vanderspiegel of Bennington, and was presented to Miller's great grandfather, Samuel G. Eddy, a local historian of Stillwater, in 1848. The sword had been on loan to the Schenectady Historical society (sic) from Miller's father since 1922. One of the students in Mrs. Mershon's class was Karen Vrooman, who was descended from General Schuyler through his daughter Elizabeth.
In 1969, Barnett Fowler mentioned in his Times-Union column that he had had the pleasure of running into Peter Schuyler Miller at a party in Glenvillle celebrating the golden anniversary of Clarence and Henrietta Van der Veer. Fowler said that at one point years earlier Miller had mentioned that Schenectady had been offered an estate on upper Chrisler Avenue, but the city wasn't interested. Fowler tipped off the YMCA, which got the estate for nothing and used it to build the Mont Pleasant branch of the YMCA.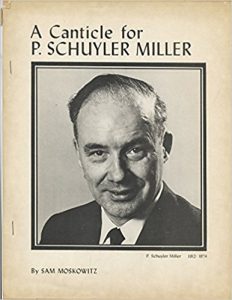 Peter Schuyler Miller was on an archaeological expedition, studying prehistoric sites, when he died on Blennerhassett Island in the Ohio River in West Virginia on Oct. 13, 1974. Interestingly, Harman Blennerhassett was a figure in the Aaron Burr conspiracy of 1811 – and Aaron Burr, of course, killed Alexander Hamilton in a duel in 1804. And Alexander Hamilton, of course, married Elizabeth Schuyler, in the home of General Philip Schuyler. Whether this was just coincidence, or whether he was there from a particular interest, no one seems to know. His obituary ran in the Schenectady Gazette on Oct. 17, 1974; it didn't mention why he had been in West Virginia or how he had died, but did note that he would be buried in Elmwood Cemetery in Schaghticoke.