Our research on Albany movie star Ward Crane a couple of weeks back led to an interesting reference to the business of his uncle, Ward Hennessy, who ran a hotel on the Albany-Schenectady road, just outside the city limits (you know it as Route 5, Central Avenue). What caught our eye wasn't so much the hotel, but the reference to it being what was known as a "Raines Hotel."
The Raines law was passed by the New York State Legislature March 23, 1896, one of the intermediate temperance efforts in New York State (there were some much earlier, and then there was that big one called Prohibition some years later). It imposed taxes and regulations on alcoholic beverages, and was one of several similar nativist efforts meant to control the morality of working class immigrants in particular. For one thing, it prohibited the sale of alcoholic beverages on Sunday, most working men's only day off, except in hotels. The hotels were allowed to serve on Sunday only to guests, and only as part of a meal or in the bedroom of the hotel. A hotel was defined as a place with 10 rooms for lodging and that served sandwiches with their liquor. Saloons soon began fitting out upstairs rooms as something like lodging applying for hotel licenses, creating the many otherwise inexplicably small, ratty hotels that dotted upstate cities for another century. As the great social reformer Jacob Riis wrote, many saloon – sorry, hotel – owners complied with the requirements by setting out brick sandwiches: literally a brick between two slices of bread. Sometimes there was a real sandwich, but woe betide the customer brazen enough to eat it. In other instances, the hotels did actually take to serving food.
The law, by the way, provided for a local option on the sale of liquor in "country districts and small towns," but not in the large cities of the state – again, controlling the immigrant, working class. The licensing price was high – in the city of New York, it started at $800, plus a bond worth twice that.
In "Suppression of the Raines Law Hotels," Rev. John Peters, Chairman of the Committee of Fourteen for the Suppression of the Raines Law Hotels, writes that the law requires that a hotel must have not less than 10 bedrooms, a separate kitchen and dining room, and comply with local hotel regulations.
"This law gives in practice an enormous advantage to the hotel. Being permitted to run on Sunday, the hotel is able, under pretence [sic] of selling liquor with meals, to maintain an open bar with comparatively slight risk of punishment, whereas the mere opening of the ordinary saloon on Sunday is in itself presumptive evidence that the law is being violated, and may lead to prosecution and conviction … One result of the Raines law was that hundreds of saloons, the majority of them originally decent and orderly places, were turned into 'hotels' with ten bedrooms, a kitchen and a dining-room. To cover the cost of the ten bedrooms, kitchen and dining-room, the proprietors were obliged to obtain some revenue from these rooms. In almost all cases there was no actual demand for such hotel accommodations; the result was that the great majority of these "hotels" became houses of assignation or prostitution. These are the so-called 'Raines Law Hotels.'"
So, unintended consequences of moralizing laws: nothing new. In Manhattan and the Bronx, there were 1405 registered hotels, which the committee estimated "not more than 250 could be counted as legitimate hotels." A crackdown on these hotels in 1906 resulted in 540 of them being closed that year, in New York City alone, which gives us some idea of the scale. "Of course a large number of these places took out ordinary saloon licenses, still continuing the illicit use of their ten rooms under one guise or another; but they no longer held hotel permits."
Ward Hennessy was listed as a cigar manufacturer at 624 Broadway in 1902, but later was the proprietor of a concert hall at Hudson and Union, "where the dispenser of fine baritone lyrics and melody was our over-fed old friend, Tom O'Neil," recalled Dave Cowan to the Times-Union's Edgar Van Olinda in 1943. "Three hundred pounds of entertainment, seated at the piano, playing his own compositions, including 'Let's Go Out A-Rowing, Tom.'" Unfortunately, no date for this is mentioned but we find another reference to Hennessy's "concert saloon" at 44 Hudson Avenue in 1906. (Union is now Dallius Street.)
"Captain Brennan's raiding squad of the second precinct got busy again last night, and a detail in command of the captain and Sergeant Coogan paid a visit to the concert saloon run by Ward Hennessy at 44 Hudson avenue. The patrol wagon was backed up against the door and all hands were given a free ride to the station house. Hennessy and five girls, who were charged with vagrancy, were taken in … Hennessy was charged with conducting a disorderly house when arraigned in Police Court this morning, and was represented by counsel and admitted to bail in the sum of $1,000. The girls were also bailed for further examination."
Perhaps that's what drove Hennessy out of the city – he  ran a Raines hotel outside the city limits, at a place on Albany-Schenectady Road that we can only identify as Stop 33 (oh, for a trolley map!). Van Olinda later reported that "Among the most convenient and popular establishments was Ward Hennessy's hotel on the Albany-Schenectady road . . . Ward Hennessy was a local politician of more than ordinary ability. It was in his place that many of the state's lawmakers gathered to discuss impending legislation. Doubtless, many of the laws on the statute book at the present time had their inception in Ward Hennessy's back room."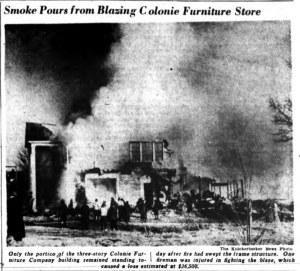 In 1909 there was a killing in Hennessy's hotel – shots were fired and a farmhand was beaten with a bottle – and the story was reported widely across the state as trouble of long standing between Colonie farmers and Italians who lived along the Schenectady turnpike. Possibly Hennessy decided to move on after that; he's listed as the proprietor of the Rosedale Hotel, at Stop 22-1/2. His previous hotel at Stop 33 became Lang's Hotel, and later still the Colonie Furniture Company, a short-lived venture of real estate dealer and builder Bernard F. Picotte. The building burned in 1944. Hennessy was dead by 1916. For someone who was supposedly politically connected, we'd have very few mentions of him were it not for Van Olinda's frequent recycling of a story about a hayride that ended at his hotel, and the success of his namesake nephew, Ward Crane.
Copyright secured by Digiprove © 2021 Carl Johnson