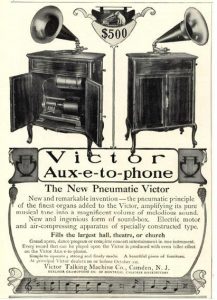 While researching Professor William Holding, who led a very busy orchestra that played on the Day Liner and in the Ten Eyck Hotel's grill, we ran across a story about the Professor related by old time columnist of old times, Edgar S. Van Olinda. Then we ran across it again. And again. And each time, it was more than a little different from the previous. Van Olinda was a columnist for the Times-Union who seemed to have known everyone and remembered everything, but he didn't necessarily remember the point of his stories retold over the decades. This is interesting, not only because the level of detail varies with each telling, but there are little important details in each one as well.
In 1942, this is the story he told:
We recall back in those days, before the event of music, Prof. Holding had a large reproducing machine near the band stand, called an Auxetiphone,  [sic] which stepped up the volume of tone by means of compressed air. On this particular evening, some of the boys from the Masonic temple–O, fellows like Bill Gillespie, Ed Easton, Fred White and other members of Masters Lodge, wont to gether together after the degree work for a little session in the Ten Eyck grill. As you may recall, the steward of the Ten Eyck was Ed Sherlock.
Prof. Holding had a lot of fine records and owned orchestrations which he and his men of the ensemble played as an accompaniment to the records. Often the musicians would put on an orchestral record and play along with it from their own scores. During the playing of one of these numbers, Ed Easton, turned to one of his companions and said without batting an eye: "You wouldn't think Al Rennie would let the orchestra practice while the customers are sitting around, would you?" A disgusted look from Mr. Sherlock. A little later, Mr. Holding put on a record of the greatest tenor of all time. At the end of the selection, dead-pan Easton again remarked: "Gee, I never knew Holding could sing like that!"
That was TOO much for Mr. Sherlock, his face getting redder every minute. "That's not Prof. Holding singing, you so-and-so. That's Caruso!" said the disgusted steward as he disgustedly returned to his cubicle off the kitchen. And no one laughed louder than Prof. Holding when told what caused such unseemly mirth following his artistic rendition of the orchestral part.
In 1964, Van Olinda remembered it this way:
Mr, Holding and his ensemble played on the Albany Day Line steamers, between this city and Kingston Point, and then would hot foot it up State Street to Mr. Rockewell's hotel. For the dinner hour Mr. Holding had an Auxetiphone machine near the bandstand, whose volume was stepped up with compressed air. His repertoire consisted, principally, of the current light operat [sic] medleys, and on request, would play excerpts from grand opera, using a Caruso Red Seal record, and playing the score with his orchestra.
One night, some of the kabitzers were sitting around the room, among them, Steward Ed Sherlock. When Caruso's magnificent tenor blazed forth in one of his famous arias, one of the lads turned to Mr. Sherlock and said:
"Gee, I didn't know Bill Holding could sing like that!"
Fixing the gentleman with a stoney stare, Mr. Sherlock replied: "Why, you ignorant churl, that isn't Bill Holding, That's the great Caruso."
And that was the end of a beautiful friendship.
In 1945, he gave his most elaborate rendering of the story, again beginning with a visit from the local Masons of Masters' lodge No. 5.
One night in particular, some of Masters' leading lights were seated around one of the many tables, among whom were the late Edward Easton, banker William Lane Gillespie and Ed Sherlock, steward of the Ten Eyck and a member of the lodge. Mr. Sherlock, an Englishman, was of a more or less serious disposition. Mr. William Holding, leader of the orchestra and his versatile musicians were playing request numbers, embracing everything from grand to light opera.
This same auxetiphone [not actually yet mentioned in the column], a stepped-up with compressed air victrola, was in use during the sojourn of the members of Masters lodge's inner circle. Mr. Holding had a lot of records of famous singers for which he had obtained the orchestrations. It was his pleasure to play one or more of the records, while he conducted the orchestra, furnishing the musical accompaniment which wasn't too prominent in the old horn recordings, pre-dating the present orthophonic method.
Mr. Holding decided to play one of the very popular Caruso recordings, something like "Una furtive Lagrima," and was just getting his musical teeth into the score. Caruso's magnificent voice was filling the quietude of the grill room, when Ed Easton turned to Ed Sherlock and said: "Gee! I never knew that Bill Holding could sing as well as that."
Fixing the Albany lawyer with a knowing look, Ed Sherlock said, disdainfully: "Why you darned ignoramus that isn't Holding singing; that is Caruso." And as the members of the group gave the laugh to Mr. Sherlock, he muttered something about being unable to fathom the American sense of humor.
There may yet be other versions of this story that Van Olinda thought was worth telling over and over again.
If this Auxetophone sounds a bit like a reverse karaoke, it pretty much was. It was specifically promoted for use just as Professor Holding used it, and the Victor Talking Machine Company provided the orchestrations that the musicians were to play: "In order to promote the use of the Auxetophone in conjunction with a small orchestra, Victor published scores that it called Orchestrations. Each of these scores was designed to be used along with a specific Victor record. When properly used, the famous singer featured on the record would be accompanied by live music. This was the next best thing to having the famous singer hold a concert in your home town." According to the Auxetophone website (one of those things for which we love the internet), they were made from about 1906 to 1915, and sold for the staggering sum of $500. If you want to hear one, you're in luck; or perhaps not:  "Have you heard the auxetophone? It is to be hoped not."