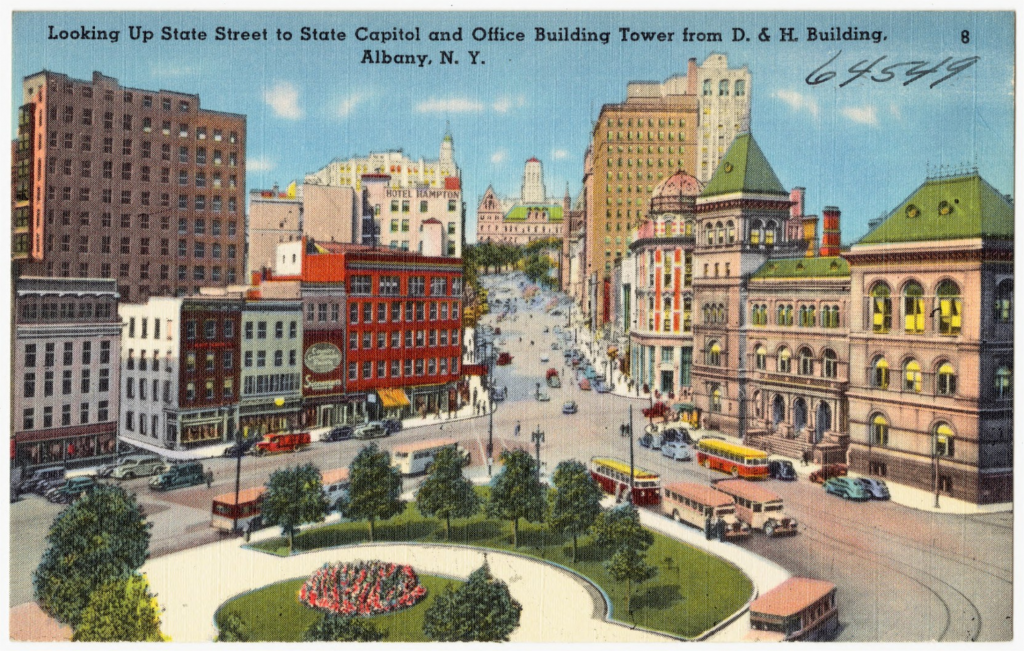 We're not sure of the date of this postcard, probably somewhere in the 1930s, but what's interesting is how little has changed. The Plaza in the immediate foreground no longer extends State Street around the area where buses and trolleys congregated, and the Hotel Ten Eyck, the tall building halfway up the hill on the right, has been replaced by the Hilton Hotel tower. The tall tower behind the low buildings on Broadway is still there.  Of course, a couple of other newer skyscrapers would now block the view up the hill a bit from here, but the major figures are still there. On the right, what was called the Federal Building and the Post Office (which it was before it moved into the adjacent building on Broadway) still stands, freshly cleaned we're told, and is part of the SUNY headquarters, which also took over the Delaware and Hudson Railroad Building from which this view was made. Just beyond that, on the other side of Broadway, with the curved front and dome is the First Trust Company Building, showing the design of Marcus Reynolds from about 1904.
On the left, a row of commercial buildings that still stands today. The corner building is best known as the long-time home of Coulson's newsroom. The two buildings to the left were locations for a paint business called Stoneman's – the big oval sign proclaims "Country Gentleman Paints." They started as a sailmaker and ship's chandler named Matthew G. Stoneman in 1848. They also went by the name "Painteria." To the far left, across the small opening of Beaver Street stands the Argus Building, once home to Albany's Argus newspaper and general printer/publisher. Up the hill, on the left side of State Street you can see the lovely top of the Municipal Gas Company building. And, of course, straight up State Street, the Capitol, beyond which is the Alfred E. Smith State Office Building (which helps date this as post-1930).
Paul Nance provided us with some interesting history on the tall block of ugly on the left side of the card, The Beaver (so named for its location on Beaver Street, one can hope). He said, "Another significant change since the 1930s is the absence of 9 Beaver, the 13-floor brick hulk on the left side of the image. The so-called Spite Building had no access to the top three floors ("elevator plan to be submitted later," according to the architectural plans), since their only purpose was to block the view from the Hampton Hotel's rooftop garden. Notice the light showing through the top floors: the opening were windowless, providing a home for pigeons. The building was finally demolished in 1969."
(As before, this postcard comes from the Tichnor Collection at Digitalcommonwealth.org)
Another very similar postcard from the same era is in the AlbanyGroup Archive.