When we talked about the former Hotel Borthwick the other day, we skipped over talking about another venerable business that occupied the ground floor of the more westward building, past the opening to the courtyard and, in this view, directly behind the horse. That was Bouton and Vine, wholesale grocers, at 76 Washington Ave.
When this picture was taken, which we believe was in the spring of 1919, the business was owned by George Bouton, who lived at 305 Hamilton. It appears that as this block of buildings was about to come to an end, so did George Bouton, who apparently was big in cigars as well. A journal called "Tobacco" featured the passing of both Bouton and the type of grocery business that also dealt in tobacco, in an article on Capital District happenings from January, 1919 that is, unfortunately, written in a folksy imagined conversation between two fictional characters named Stubb and Ash.
"This name 'Barnet' makes me think of George Bouton," interposed Jim Stuff, recalling the recent death of the senior partner of the old Albany grocery firm of Bouton & Vine. "Because George Bouton was somewhat interested in cigars and tobacco products himself. He jobbed quite a lot of tobacco supplies at one time. His place, on Washington avenue, just above the Capitol, was a shrine for the country trade. They bought a lot of stuff of George because they had every confidence in his old-fashioned Yankee integrity."

"Few of the old-time wholesale grocer-cigar houses remain," affirmed Sam Ash, thinking of the various Capitol District composite jobbers who once occupied and shared the territory with the original cigar and tobacco wholesalers. "Why, outside of Jonathan Levy in Schenectady, I guess the local concerns have all dropped out of the tobacco game, ain't they?"
Oy. Anyway, the business began as a partnership of Percival N. Bouton and S. Vine. George was listed as a clerk there in 1871. Chester Bouton, who lived with George and Percival, was in the flour business down at 317 Broadway with DeWitt Phillips. Percival , born 1844, died after George, in 1920, at which time his obituary said he had been connected with Bouton and Vine, "wholesale grocers at 49 Hudson ave., for 56 years," which would mean it began in 1864. It would appear that was where they moved after vacating 76 Washington. Percival's home at the time of his death was 54 Chestnut Street.
George was born about 1846 in Rensselaerville. In 1871 he was listed as a clerk at 76 Washington Avenue (and living at 159 Hamilton). He was an active board member of the YMCA, and was noted as having given the first dollar toward the "new" building in 1892. He last lived at 305 Hamilton, and died of myocarditis on January 9, 1919, at the age of 73.
After the deaths of brothers George and Percival, Bouton and Vine did continue on for some time at 49 Hudson; the 1923 directory lists the business as "Bouton & Vine (Samuel & Campbell)." A later directory seems to indicate that the business was continued by Samuel I. Campbell, but by 1933 it appears to be gone.
To the immediate right of the Bouton & Vine storefront, at 78 Washington, had been the Hill Bros. fish market, run by Walter Hill. He had been in the fish business for decades, though we're not sure when he settled in at 78 Washington. Walter was from England; in 1880 he was boarding on Howard Street in the home of a fruit dealer. The brother in "Hill Bros." appears to have been William. In 1897 they were at 37 Washington Ave, but at least by 1907 they were in this storefront. After this closure, we don't find either William or Walter.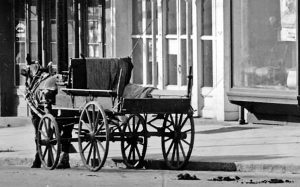 Just a reminder of what the streets were like before carriages became horseless.