After our brief entry on Latham "The" Hatter, an alert reader hepped us to the continued existence of a number of absolutely splendid hats by another Albany hatter by the name of John Mayell.
Howell's "Bi-centennial History of Albany," which is famously derivative and occasionally unreliable, counts among the pioneers of the Albany hat industry one William Mayell, "who came from England in 1795, settled in Albany, and began to make hats. In an advertisement in the newspapers in 1820 his store was designated as opposite the Eagle Tavern. He was at this time the most extensive manufacturer of hats in the city. Besides being a good mechanic, he made some pretension to science. He was an active member of the Mechanics' Society, and afterwards of the Albany Institute, of which he is said to have been the founder."  He also represented a ward of the city on the County board from 1823-28.
In 1844-45, Albany was lousy with hatters named Mayell. John Mayell appears in Hoffman's Albany Directory for 1844-45 with a "hat and cap store" at 27 Market Street (now Broadway), and residence at 61 Hudson St. At the same time, an Alfred Mayell had a hat store at 5 Market Street. William Mayell Jr. was a hatter at 25 Liberty Street. There was still William H. Mayell, who may have been our original hatter, listed at 181 Green Street, or another William Mayell at 102 Herkimer.
Let's assume that John and the others were probably sons of William. We know that John was already a hatter by 1827 because Col. Edward Frisby was apprenticed to him in his hatmaking operation by that date. More than that, and that in addition to 27 Market Street, Mayell may have operated at 377 South Market St., we don't know much about John Mayell. But, boy, a number of his splendid hats, and their splendid boxes, are still around for us to view.
First, and appropriately enough, from the collection of the Albany Institute of History and Art, we have a cocked hat box and hat (hat, tragically, not pictured), dated to about 1835: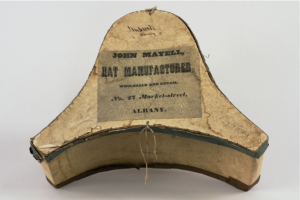 For a better view of what that cocked hat might look like, we have an example from an auction at Sotheby's, which sold off this "Military Officer's Chapeau de Bras," dated circa 1830, from the private collection of William H. Guthman, for $3,300:

Yeah, that's kinda splendid. Sotheby's is auctioning another one, this one dated to circa 1820 (but honestly, their guess is probably no better than ours):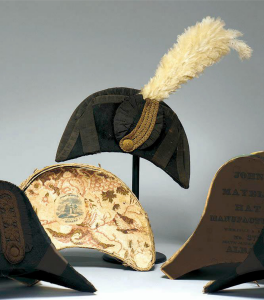 Historic New England also has a Mayell hat and its box on display, a tricorner silk affair that appears to have been owned by an L. Pruyn of Albany:
Another auction house, August Auctions, featured a Mayell creation, an old high hat with an incredible matching box, that was owned by Samuel Hand of Shoreham, VT: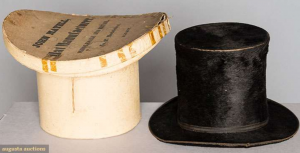 And just a topside view of that incredible hatbox: