Even before he developed the Wilson's Albany strawberry that transformed the entire strawberry industry, James Wilson, nurseryman of Albany, was a very successful horticulturalist. His work figures prominently in the report of the Committee on Flowers at the Fair of the New York State Agricultural Society, which was held at Auburn in September 1846. According to the Committee, Wilson showed 132 varieties of flowers at the fair, including 26 varieties of new and rare dahlias, 20 quilled German asters. 14 verbenas, seven phloxes, fuschias and others, including "an exquisitely arranged bouquet composed of thirty-six different varieties of choice and rare flowers, and also a beautifully arranged floral design composed of more than one hundred rare Dahlias, choice roses, Gladioluses, German Asters, Amaranths, Geraniums, Heliotropes, &c. &c."
For his efforts, he won awards for best floral ornament, best 25 varieties of dahlias, most beautiful bouquet, and best 12 varieties of roses.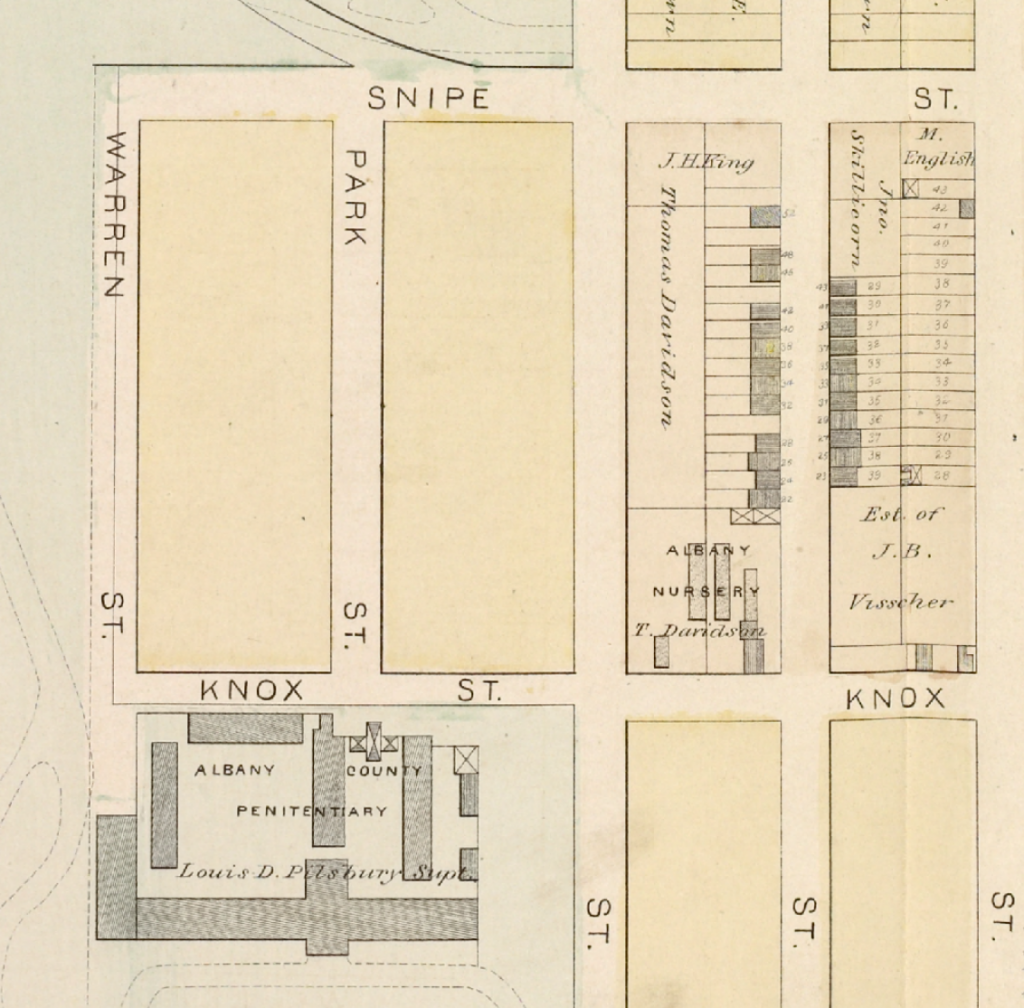 According to Howell's "Bi-Centennial History of Albany," Wilson was gardener for the Patroon, Stephen Van Rensselaer. He established his greenhouses with small fruits and trees in 1835, "on what was then a waste place in this city, at the corner of South Knox and Morris streets. His grounds were about three acres, on a sloping hill-side; this was carefully cultivated and planted with nursery stock and flowering shrubs." That land was essentially cater-corner from the Albany Penitentiary. He had previously been in business with Judge Buel, with whom he established the Albany Nursery under the firm of Buel and Wilson, according to an 1844 description that said there were three large green-houses containing thousands of exotic species.
After his death in 1855, his widow and son continued the business until 1866, when it was passed on to John Sprague, then Frederick J. Welch, and, around 1870, Thomas Davidson, whose name appears on the map pictured.
James Wilson was born in Scotland and died in Albany on June 27, 1855, from pleurisy at the age of 60 years, 4 months and 17 days, according to his burial card from Albany Rural Cemetery. Or, he was born in Scotland (Quigley) on Aug. 15, 1771 and died Nov. 9 1855. It would appear that two James Wilsons from Scotland died and were buried in Albany Rural that year.
By the way, Louis Menand (for whom Menands is named) was at the fair that year too, showing two "very beautiful bouquets arranged with exquisite taste and skill, and composed of 31 varieties of choice flowers."