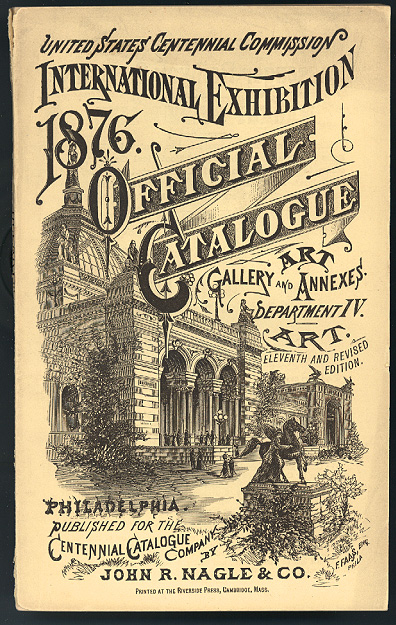 Last week we mentioned that Edgar Smith's dry air refrigerator, a product of Albany manufacture, was featured at the Centennial International Exhibition in Philadelphia in 1876, what was essentially the first world's fair held in the United States and a celebration of the tremendous progress, particularly industrial and agricultural progress, the young country had made in the course of its first century, and the extremely promising future that events seemed to portend. Thousands of items of manufacture were presented at the Exhibition; of those, hundreds were singled out for awards by an international jury – the awards were given in categories like "Clothing, Furs, India-Rubber Goods, Etc." and "Agricultural Machines, Implements of Agriculture, etc." Smith's refrigerator ("Will keep ice Twenty Days, and fresh meat Two Weeks") was a long way from the only item featured at the Centennial Exhibition.
The firms below were all recognized with awards – after their names are the things they were awarded for; in some cases, Burr's "Memorial of the International Exhibition" gave us some idea of what else they had shown.
Albany was represented by:
Newton and Co.: fire brick linings for stoves, ranges, and heaters. They were on Rathbone Street, and here's their great letterhead from 1863.
Mrs. Treadwell and Co.: seal skins (though the reference to Mrs. Treadwell is confusing; the company was well-known as George C. and then George H. Treadwell).
Graves, Bull and Co: shoe lasts and patterns.
Thomas Feary [sic: Fearey] and Son: shoes. We've spoken of Thomas Fearey, makers of the Hatch flexible shoe, before.
Smith Refrigerator Co.: dry air refrigerator, "containing fruits and meats that have been long kept."
Jason Gould [sic: Goold] and Co.: sleighs. The Goold family was renowned for making the Albany sleigh, the very model of Santa's sleigh, and after the horseless carriage took over, they got into auto bodies and existed until 1951. they showed sleighs, carriages, and coaches on runners, seven in all worth $8000.
Henry Q. Hawley, gas heating and cooking furnaces and water motors. We couldn't find anything about Hawley, until we found a "Memorial of the International Exhibition" that said that Hawley was a Philadelphia agent for the actual company,  Henry A. Haskell. The engine was "a motor that costs $40, to run sewing machines, &c., by the supply through the pipes of city water works." The gas apparatus, ascribed to Hawley, was a furnace for heating and cooking by gas. "Cost, two cents an hour. Burns without flame and does not poison the air."
P.K. Dederick and Co.: perpetual baling press. Dederick's company was the Albany Agricultural and Machine Works, a massive factory in Tivoli Hollow. Three sizes of the baling press were shown: hand, horse, and steam. "The largest will press twenty tons of hay per day, requiring to operate six horse power. In a building located east of Agricultural Hall is a large display of farm wagons, portable steam engines. All the machines are well built."
Wheeler, Millick and Co.: horse hay rake and straw preserving rye thresher. Also given as Wheeler & Melick Co., New York State Agricultural Works. They were established in 1830 (according to the Memorial), employed 125 men and had capital of $186,000. They exhibited "threshing machines, one-dog power, double and single horse powers, a rye thresher that leaves the straw straight for binding, tread and lever powers, a combined thresher and cleaner, thresher and shaker, and forms. The entire display has been sold to the Japanese Government."
William A. Wood Co.: reaping machine.
Charles Fasoldt: astronomical tower clock. He exhibited "very handsome and accurate astronomical and tower clocks."
E.D. [Erastus Dow] Palmer: sculpture. To say the least.
Regents of the University of N.Y.: Full set of reports and documents (in the category of Education and Science).
Dudley Olcott: Native English Setter Dog (who received a special award – he was a good dog, Brent).
Mrs. C. Hewitt Pfordt: embroidery. We'll speak more of her soon.
Troy was represented by:
The Albany and Rensselaer Iron and Steel Company was demonstrating its Bessemer steel and wrought iron rails, bars, forgings, axles, spikes, nails and horseshoes. This was the company of Amasa J. Parker. They also showed "a fine array of rails, twisted to show their quality."
Henry Burden (though it was typed as Burgden) and Sons were awarded for wrought iron bars and horse and mule shoes, and for its horseshoe machine model. We've written about Henry Burden quite a bit.
The Henry J. Seymour Chair Co.: chairs.
E. Waters: Paper cans for kerosene oil, and of course paper boats. The "Memorial" said "The firm has been established about nine years, and employs 15 men. Their exhibit consists of one six-oared coxwain gig, forty-six feet six inches long, twenty-five inches wide, and weighs 195 pounds. Value, $350. One four-oared shell, thirty-eight feet long by sixteen inches wide, weighs 78 pounds. Value, $260. Double shell, thirty-four feet long and fourteen inches wide, weighs 39, and is worth $160. One single shell, twenty-eight feet long by twelve inches beam, weighs 30 pounds. Value, $115. Also, a single scull, twenty-six feet long by eleven and a quarter inches beam, weighs 20-1/4 pounds. One Adirondack gig. All the boats are made of paper and furnished with the latest improvements. In all the races in the United States this year, the winning boats were made by this firm. They also exhibit kerosene oil cans and camp stools made of paper. Also, a water-tight joint, in which the tongue is made of prepared paper, and fits into a groove, where it swells when touched by water."
Harrison and Kellogg: castings of malleable iron and coach wrenches. They also showed gearing and screw-wrenches.
Ludlow Valve Manufacturing Co.: sliding stop valves and fire hydrants. Ludlow had a lovely letterhead. They showed a large water valve of 36 inches, and a full set of small brass valves.
Empire Portable Forge Co.: portable forge.
Albert L. Betts: wire machine. He was showing ready-made wire fencing.
W. and L.E. Gurley: transits, levels, compasses, etc. Not sure why we've never written about Gurley before – they may be the only area business that exhibited at the Centennial Exposition that is still in existence. They showed "Civil Engineers' and Surveyors' instruments exhibited in a neat room in the aisle. Value of exhibit $15,000. Hands employed, 114. Capital used, $350,000."
Swett, Quimby and Perry: graphic parlor stove and Empire heating range.
Fuller, Warren and Co.: stoves, furnaces, ranges, etc. One of the area's major stove manufacturers, Fuller, Warren lasted until 1951. They also had operations in Chicago, Cleveland and New York at the time of the Exposition. "The building containing this exhibit is located on Fountain avenue, west of Machinery Hall. It has the sides of glass, thus affording light sufficient to minutely examine the concrete. The decorations are chaste and elaborate, and make one of the most attractive edifices on the grounds. In the interior are shown their theaters, ranges, cooking and parlor stoves of every description. Upon many of these the most prominent parts have been nickel plated. Several of the stoves were kept running during the entire exhibition, so that they might be easily understood by visitors. To make and continue this display the firm have been to an enormous expense, though the praise elicited from all, and the favor with which they have been received have partially reimbursed them."
West Troy, now known as Watervliet, was represented by:
James Roy and Co.: shawls. They showed "Woolen cloths and shawls in profusion, and very elegant."
J.M. Jones and Co.: street car for two horses. It was described in the Memorial as a "Handsomely finished street car."
Schenectady, not yet really an industrial town, had only one representative awarded in the exhibition: G. Westinghaus [sic] and Co., showing their horse and steam powered threshing machines. George Westinghouse definitely left his mark on Schenectady and was very well regarded in the agricultural implement world. His son became just a little more famous.
Cohoes was represented by:
William Harrabin: anti-friction top rollers. The Memorial listed him as "Wm. T. Horrobin," and said he was a maker of top rollers and other appliances for cotton factories, pipe cutting and threading machines, transverse wheel card grinder, miniature knitting machines, and Snow's standard water-wheel governor. They had been 16 years in business and employed 150 hands, with capital of $200,000.
Star Knitting Co.: underwear. Star was one of about 17 mills running in Cohoes at the time.
Campbell and Clute: upright rotary knitting machine.