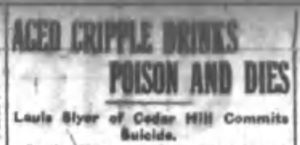 From a far less sensitive time, the Times-Union ran with this headline in 1903: "Aged Cripple Drinks Poison and Dies." They were speaking of Louis Slyer, reported as 75, 79 or 80 years old depending on the edition of the paper you read. Slyer was "formerly a well-known resident and property owner of the West End," who committed suicide in the hallway of a building he had previously owned and lived in for many years on Lexington Avenue. Police speculated that he came to his old home to die; he was living at Cedar Hill in Bethlehem at the time when he took a vaseline jar filled with strychnine back to the old homestead. The details reported were fairly grisly, but the next day, Sept. 24, 1903, the Times-Union provided a little more about Slyer, who was known as Pigeon Louis:
"Pigeon Louis'" Death.

In the death of Louis Slyer, who committed suicide, the West End loses one of its best known characters. For years he has been known as "Pigeon Louis" because of his fondness for pigeons. At one time he had no less than a thousand pigeons, while his ambition was for even a larger number. He was eccentric in many ways, and it is said that he lost his leg in an effort to drive rheumatism out of the limb. Somebody told him to "bake the leg" and he put it in an oven, baking it so badly that it had to be amputated. Despondency is given as the cause of his suicide.
A character, indeed. In 1874, he was fined $3 for assault and battery. In 1876, Slyer got into a fight with his son-in-law Conrad Emsler, who had been separated from his wife for two years. Emsler showed up unbidden at Slyer's home on Second Street, near Perry, but was sent on his way. He tried to come back in through a window, whereupon Slyer (and daughter) attacked Emsler in the head with an axe. Somehow an axe didn't give Slyer the upper hand, and he got stabbed eight times for his troubles. "Considerable blood was drawn." Both survived, and both faced charges. We wouldn't be surprised to find more, similar stories about him. We'd be delighted to learn more of his pigeon obsession, but, alas, that didn't make the papers.