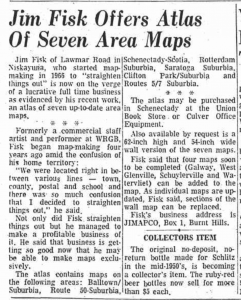 Hoxsie is at the age where he has probably forgotten more than he currently knows. And then he'll run across an old article and the light will go off: "Hey, I used to know that!" For instance, this article from the Schenectady Gazette in 1970 was a reminder that local television personality Jim Fisk, a legend among local baby boomers as the "Uncle Jim Fisk" who hosted the Freihofer BreadTime Stories show, was also the man who put the Capital District on the map. Literally. He founded JIMAPCO, which for many years was the premiere (and sometimes the only) choice for local maps.
According to his obituary (he died Jan. 8, 2011), Fisk was a Glens Falls/Hudson Falls native who studied math and theatrical set design at Yale. After serving as an officer in the Army during World War II, he came back home and started work as a staff artist for WRGB in 1945, and became the host of the Freihofer show in 1956, where he finished the "squiggles" of children.
According to the Gazette article, he began mapmaking in 1965 in an effort to clarify lines where he lived in Niskayuna. "We were located right in between various lines – town, county, postal and school and there was so much confusion that I decided to straighten things out." By the time this article ran, business was "getting so good now that he may be able to make maps exclusively." He was releasing an atlas of seven area maps: Balltown/Suburbia, Route 50-Suburbia, Schenectady-Scotia, Rotterdam Suburbia, Saratoga Suburbia, Clifton Park/Suburbia, and Routes 5/7 Suburbia. (Mapmaking was a strength; consistent approach to hyphens and virgules, not so much.) The atlas could be purchased at Union Book Store or Culver Office Equipment.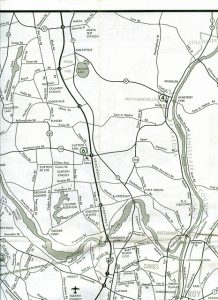 In the early days, the maps were certainly not beautiful, particularly by later full-color standards, but they were clean and easy to follow. The business grew, and Jim Fisk retired, leaving it to his son, David. When David and his wife Christina retired earlier this summer, the retail store on Route 9 in Round Lake closed but the online business continues and paper maps are still for sale there and at Wilderness, Water & Woods on Route 9.
The internet and online mapping is a wonderful thing, but in a future where paper maps no longer exist, how will future historians look back and figure out what was where?