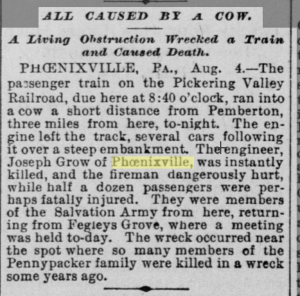 Hoxsie was surprised to search through an online archive of California newspapers and find more than a few stories that originated in his newish hometown of Phoenixville, PA. Some were of tragedy, some were of no consequence at all, but all were printed a long way from where they happened. In this case, the San Francisco Call of August 5, 1895, told the tale of tragedy on the Pickering Valley Railroad the day before:
"The passenger train on the Pickering Valley Railroad, due here at 8:40 o'clock, ran into a cow a short distance from Pemberton [sic; Kimberton], three miles from here, to-night. The engine left the track, several cars following it over a steep embankment. The engineer, Joseph Grow of Phoenixville, was instantly killed, and the fireman dangerously hurt, while half a dozen passengers were perhaps fatally injured. They were members of the Salvation Army from here, returning from Fegleys Grove, where a meeting was held to-day. The wreck occurred near the spot where so many members of the Pennypacker family were killed in a wreck some years ago."
The Pickering Valley Railroad opened in October 1871, running from Phoenixville (where it connected with the Reading at what is now called Columbia Station) to Byers in Upper Uwchlan, near Eagle. It primarily served as a milk run, but also carried passengers, sometimes to tragic results. More on that next week.
A tiny bit of Pickering Valley Railroad track remains, up on the wall along Bridge Street, leading into the old Reading station. You can see it here.