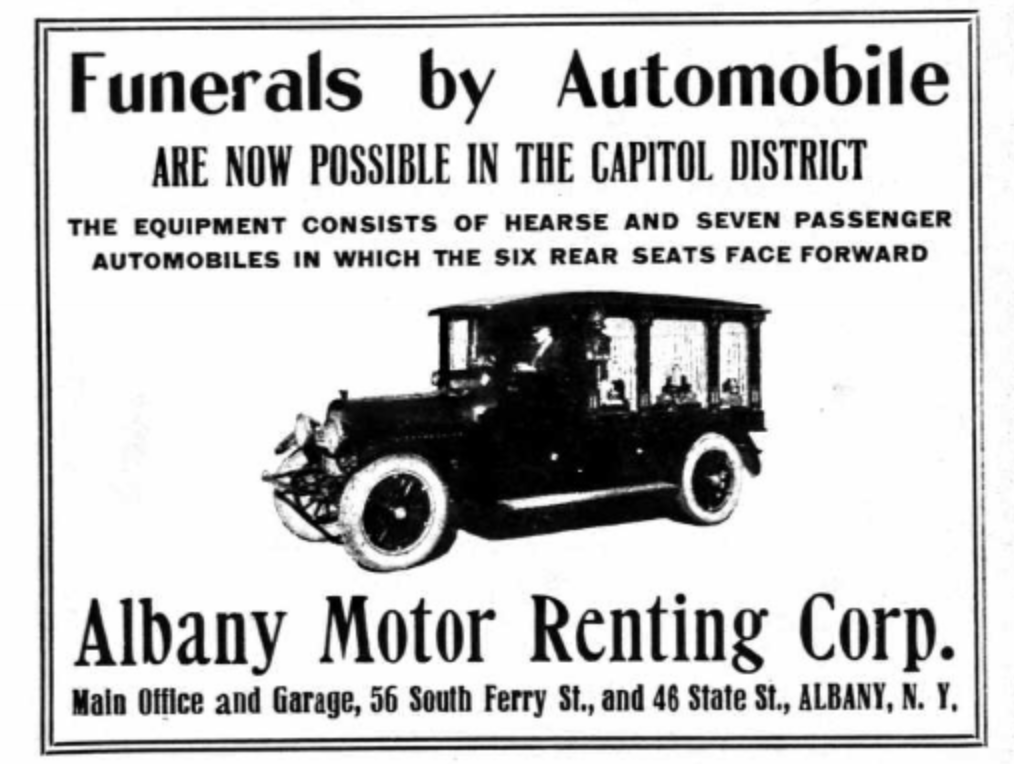 In case you were wondering when funerals by automobile became possible in the "Capitol" District – it would appear that the answer is 1920, which is when the Albany Motor Renting Corporation was formed (president: Spero Loscaris) and this ad appeared in the Albany City Directory. Its 56 South Ferry Street location, where they also sold Socony gasoline, is now merely a parking lot; 46 State Street is an older, not terribly noticeable building that currently houses Cook's Cafe.  They apparently succeeded a company named Allen & Arnink Auto Renting Company. Presumably, hearses weren't all they rented, as they also show up in county records as having provided auto service for the Board of Elections in 1920, and even in Albany, the dead voters don't require transportation.
The company also later owned a large garage that still stands on Lancaster Street, and rented hearses, limousines, and regular old cars. In 1953, the company branched out considerably, focusing less on the dead and more on the not-quite dead by getting into the ambulance business:
Ambulance service calls from the Albany Police Department will be handled by Albany Motor Renting Corporation from its garage at 166-168 Lancaster St., on a per-call basis, Mayor Corning said today.

The firm which rents hearses and drive-yourself cars asked the city for the opportunity to provide the service, and informed the Mayor, after a meeting of its directors yesterday that one ambulance would be ready for service tomorrow. A second ambulance will be added soon, the Mayor said he was informed.

Two-way police radios will be used in the ambulances. The service is strictly a private one, the Mayor said. The city pays for emergency calls at the rate of $15 a call. Welfare case calls are paid by the Albany County Welfare Department. There is no contract between the city and Albany Motor Renting Corporation.
In 1969 they were still renting out of the Lancaster Street garage. As late as 1973, Rensselaer contracted with the company to provide ambulance service.