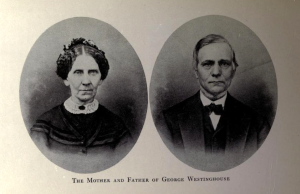 Somehow we've never talked much about George Westinghouse. One of the all-time industrial greats, the man who did more than anyone to achieve the modern electrical transmission system (after having invented a way for locomotives to stop reliably), Westinghouse was also a private man who didn't invite publicity, unlike his ally Nikola Tesla and his rival Thomas Edison, both of whom couldn't get enough press. Perhaps that's why we know so little about his life, which began in Schenectady.
First, let's talk about his father, George Westinghouse Sr., the grandson of a Westphalian immigrant. Biographer George Prout offered this backhanded compliment: "Three generations in the flanks of the Vermont mountains could hardly evolve as complete a Yankee as six generations, but in this case the product was reasonably satisfactory." He was born in 1809 in Pownal, Vermont, one of twelve children; after marrying Emmaline (sometimes Emaline or other spellings) Vedder in 1831, he took his bride to the wild west, to farm on the banks of the Cuyahoga River in Ohio. They apparently didn't care for it, and came back east, first to Minaville in Montgomery County. It was there, according to "George Westinghouse; His Life and Achievements" by Francis Leupp, that George Sr. saw a neighbor's new threshing machine, and started thinking of ways to improve it. His wife encouraged him to change occupations and become a maker of machinery, but they found Minaville wanting as a proper factory location and decided to relocate to Central Bridge, a now obscure location that was then notable for its access to roads and relative proximity to Schenectady, which was beginning to boom. Leupp writes that
 …a patent he had taken out had begun to bring returns, he made over most of his farm work to hired hands and spent his days at the bench. His mechanical operations gradually outgrew the original shop, and an extension had to be added. This, in its turn, meant more capital and more help, both of which were forthcoming from the neighborhood, where the people had come to recognize in him a man of more than ordinary ability. His inventions included improvements not only in threshing machines, but in winnowing appliances, endless-chain horse powers, and several allied devices, as well as a seed-scraper for broom corn, which attracted notice by its ingenuity.

Increased domestic expenses, together with a business competition which was already making itself felt, led Mr. Westinghouse to consider means of reducing the cost of his machines. Though he could make the wooden parts in his shop and do the assembling there, he had to buy all his metal castings in Schenectady and haul them over by wagon – a tedious and expensive process when the roads were out of repair. When, therefore, his business had sufficiently expanded, he decided to remove both factory and family to Schenectady, and in 1856 the change was made. Two partners named Clute having joined him, the firm bought a building formerly used as a cement mill, on the south bank of the Erie Canal near the junction of Washington Avenue and the River Road, and turned it into a shop. The main part of this is still standing, though almost hidden by the pretentious structures which have grown up around it; and one can trace from a neighboring elevation what the elements have left of the old sign, 'G. Westinghouse & Co.,' painted in black letters on the rough limestone surface of the eastern gable end.
Eventually, in 1856, George Sr. established a shop for making agricultural machinery, mill machinery, and small steam engines in Schenectady. He held at least seven patents for "horsepowers, winnowers, thrashing machines, and a sawing machine." The works of G. Westinghouse & Co. "long stood at the gate of the great works of the General Electric Company." They were along the canal at the south end of Washington Avenue, then Rotterdam Street. One of Larry Hart's books shows former Westinghouse buildings in 1919, before they were torn down to make room for International General Electric Building 36. He also apparently had a building at Dock Street, nearer to the canal and State Street.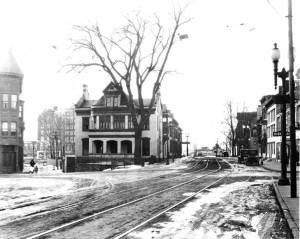 The family lived in three homes, finally settling at 16 State Street, which is now Liberty Park across from the old YMCA building. Each of the family's sons was brought into the business in some way. Eldest son Jay attended Rensselaer Polytechnic Institute, and was found to be a manager more than a mechanical man: "he had executive ability and a wise discernment, including a bent for managing men without friction . . . and before long he was transferred to a desk in the office, where he met customers, engaged workmen, and kept the accounts."
The next son, John, had a strong mechanical bent, favored metal-working over carpentry, and devoted spare time to "what we should now call 'social work' among the less favored elements in the community. He was particularly successful in rescuing 'gang' boys from a life of crime and starting them on paths toward useful citizenship."
Third son Albert "showed from the outset less taste for mechanics, his chief natural inclinations being toward books. He enjoyed good literature, and argued ingeniously any question which arose in the domestic circle. In the opinion of family friends, he might have had a brilliant career if educated for the bar."
Leupp's account includes some stories that are probably fanciful, including a lengthy story about how George Sr. was so taken up with an invention that he didn't realize his wife was about to give birth to George Jr., and was informed of the birth by a neighbor when he got home from solving a problem at the shop.
Of George Sr.'s once-thriving company, it's safe to say that his son's accomplishments, first with railroad air brakes and later in the field of electricity, thoroughly overshadowed his father's, to the point that trying to research the father's work online is almost futile. Ardrey's 1894 "American Agricultural Implements," which takes the interesting approach of outlining pioneer manufacturing centers by city, describes Westinghouse's works as "A Pioneer Thresher House:"
The Westinghouse Company, of Schenectady, N.Y., is one of the oldest thresher houses in America, having been established in 1836 [in Central Bridge] by the late Geo. Westinghouse. The first product consisted of tread-powers, "ground-hog" threshers and fanning-mills. Various improvements were made, and in time "separators" were built, and other implements were also manufactured. The business was conducted by Geo. Westinghouse individually until 1851, and from 1851 to 1883 by G. Westinghouse & Co., his sons joining in the business as partners. In 1883 the house incorporated as the Westinghouse Company, the surviving sons remaining as principals. Various styles of threshing machinery are manufactured for grain, beans and peas and other crops, and also a rye thresher, with binding attachment for the straw.
We don't find much more than this about George Westinghouse Sr. or George Jr.'s brothers. John, Albert and George all served in the Civil War. John was an engineer officer in the Navy. Albert served in the Army, was captured and exchanged, then returned as a 2d lieutenant with the 2d New York Veteran Volunteer Cavalry; he was killed leading a cavalry charge in December 1864. George Jr. also served, although he held back for at least a couple of years at his father's insistence because he was so young when the war began (Prout says he ran away to enlist at 15, when war broke out, but that his father prevented this). He became an engineer in the Navy, and was already working toward his future, having patented a rotary steam engine. A touching letter from father to son during the war is posted at the Smithsonian's site.
Then there was that other George Westinghouse.