Munsell's "Annals of Albany" gives us this description of Thanksgiving in Albany, 1847:
[Nov.] 25. Thanksgiving day; dark and gloomy … A foot race at the Bull's Head; principal competitors Steeprock and Smoke, two Indians: Smoke won the race by 50 yards, making 10 miles in 1h. 11s.; the track heavy after a rain; 500 spectators supposed to have been present … Brilliant northern light in the evening.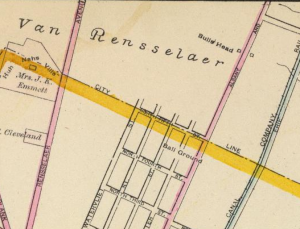 The Bull's Head, according to Phelps's The Albany Hand-book, was the second site of Albany's cattle market, coming after it moved from Washington Ave. (at Gallup's, between Swan and Lark). It was north of the city on the Troy Road, and in the 1840s hosted the New York State Agricultural Society's annual show, effectively the State Fair (which then rotated among cities); the site later became part of Mid-City. It featured a racing oval that was used in horse races and, at least on this particular Thanksgiving day, foot races.
There was also a Bull's Head Tavern there for many years, at least through 1901, listed as opposite Garbrance Lane (now Simmons Lane). Much earlier, the Bull's Head was run by Josiah Stanford. A biographer of his notable son, Leland Stanford, concludes that Lafayette was entertained by Stanford in 1824 or 1825, most likely at the Bull's Head.