Branching out a little bit, because it's our understanding that Philadelphia has a little bit of history, too, and we've wondered about this one for a while now.
Taking a bike ride through Philadelphia's other great cemetery, West Laurel Hill, just about a year ago, we ran across this cryptic headstone. On one side, it is titled "All the World's a Stage And All The Men and Women Merely Players." Below that is a list of 19 names. The other side is titled "Guests of Edwin Forrest," and below that, another 16 names. Well, that struck us as curious. Who were these guests of Edwin Forrest? And who was Edwin Forrest?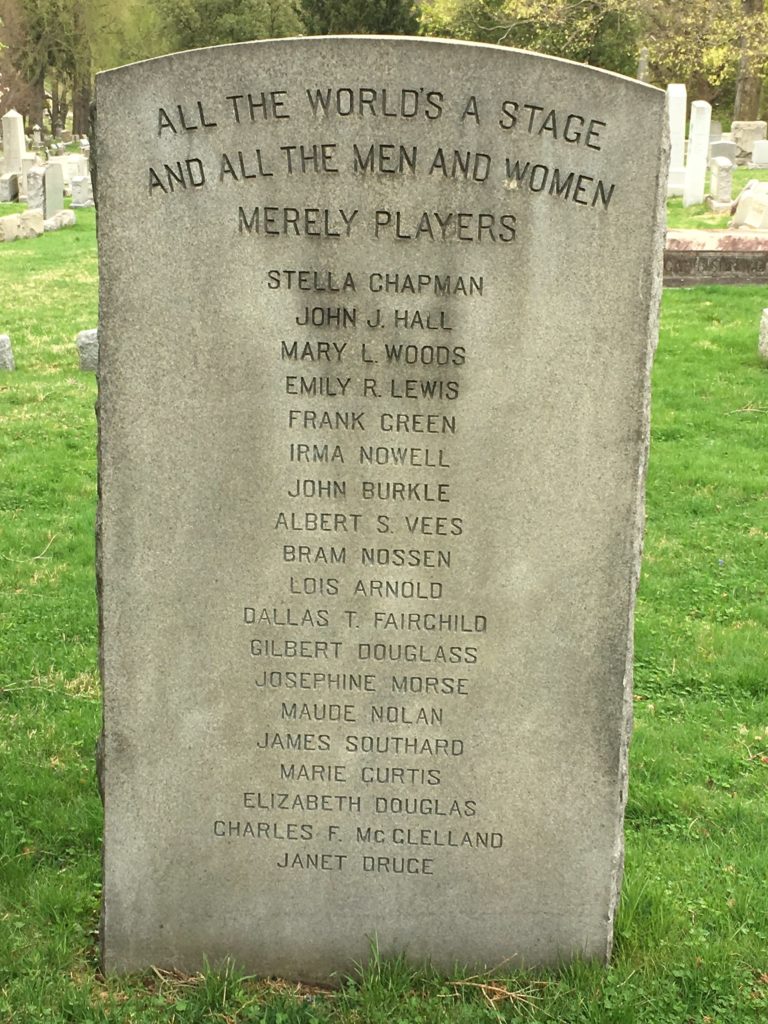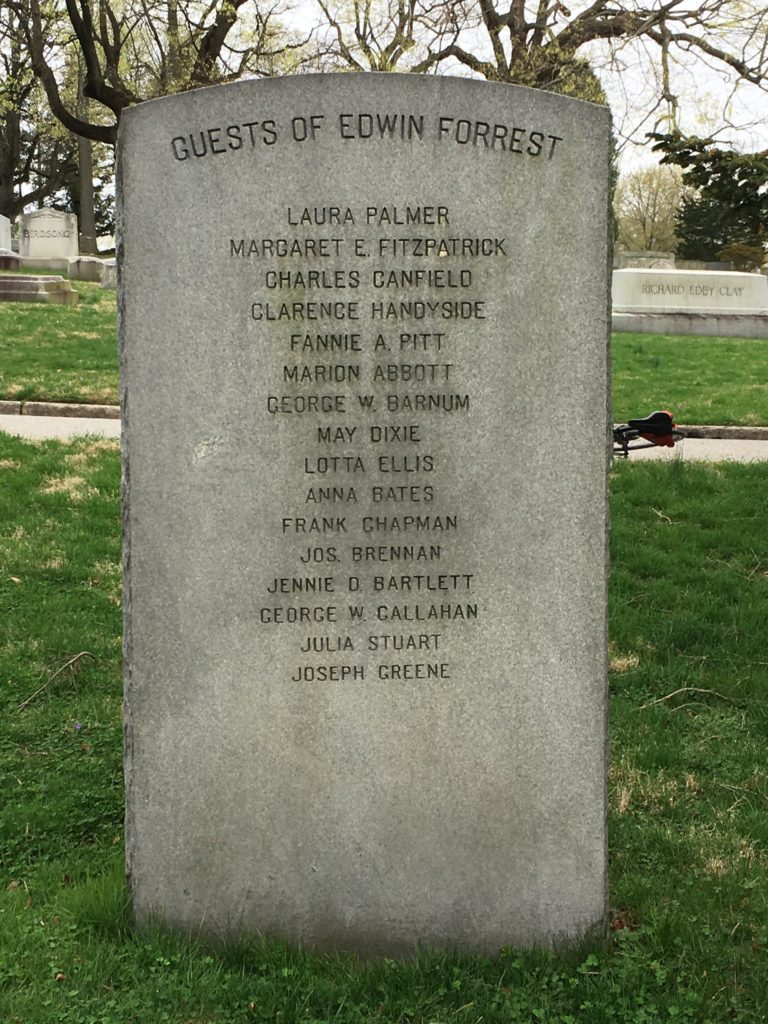 Edwin Forrest, it turns out, was a highly regarded early American actor, often called the first American-born actor to star in the English language classics. Forrest was born in Philadelphia in 1806, and maintained a lifelong association with the city. As the website for a Philadelphia school named in his honor says, "Many people thought that America was too backward a place to produce great actors. But Edwin Forrest thought that the plays of Shakespeare and other English authors were his birthright too, and by the time he was thirty he was a star on both sides on the Atlantic Ocean." He rose to national and overseas stardom, amassing a fortune which he used for such purposes as promoting cash prizes for plays about America, and establishing a retirement home for actors too old or sick to work.
Forrest made his first legitimate stage appearance in Philadelphia at the South Street Theatre at age 11 (about 1817). Apprenticing in other trades after his father's death in 1819, Forrest volunteered at an 1820 lecture on the effects of nitrous oxide (it was the parlor trick of the day – we wrote about a similar demonstration in Schenectady in 1867), and performed a soliloquy from Richard III that led to an audition and his formal stage debut at the Walnut Street Theatre in 1820. (All this from his Wikipedia entry). A sculpture of Forrest as Coriolanus remains in that theater. He set out touring the country, first becoming famous for blackface performances. He moved into Shakespeare and other roles, performing back and forth between New York and Philadelphia, and sailed across the ocean for a season of Shakespeare parts in London in 1836.
The Albany Connection
Because we check pretty much everything for some kind of Albany, Schenectady or Troy connection, we did have to look into whether Forrest had ever appeared in the area, and indeed he did. His biography by James Rees indicates that he came to Albany early in his career:
"I'll master it yet," were the words uttered by Forrest as he went over the wonderful points of Shakespeare's great tragedy of Othello; with this resolve and the highest aspirations that ever agitated the mind of youth, he wended his way to Albany, N.Y. He had better inducements to go hither, than those of larger cities could hold out. Charles Gilfert was the manager of the Broadway and Albany theatres, and it was with him Forrest engaged to perform in these cities."
This was early, but not so early that he couldn't demand $100 a week, a staggering sum. "By this time Forrest had achieved a certain degree of fame." He would soon be commanding $200 a night at Walnut Street.
Paul Nance was good enough to add this detail to Forrest's time in Albany:
Forrest's appearances in Albany were both in the theater on South Pearl Street, once in its original dress as the Albany Theatre, the next when (after 25 years as St. Paul's Church) it had become the Academy of Music. In 1825, Forrest was only about 20 years old, and a hell raiser. A drunken brawl led to a night in the Albany Jail at Howard and Eagle, and a Shakespearean dressing down the next morning by a police justice.
More on the Pearl Street Theater and Gilfert here.
Edwin's brother William, who also acted, went into theatrical management. In 1831, he was part of Jones, Forrest & Duffy, managers of Philadelphia's Arch Street Theatre, but he was also part of the firm of Duffy and Forrest of Albany. We've written about the Duffy side of the firm before, as William Forrest's partner William Duffy was stabbed (or possibly shot) on the stage of Albany's Green Street Theater in 1836 by a disgruntled actor named John Hamilton.
Edwin Forrest also took on a tour across upstate New York in the last year of his life, starting in Rochester on Feb. 26, 1872, moving to Syracuse, Utica, Troy and then Albany beginning on March 18.
How big was Forrest, in today's terms? There may not be a modern comparison. Do any modern actors inspire riots and death? The 1849 Astor Place riot in New York City was a melee between fans of Forrest and his rival William Charles Macready. Forrest's fans, protesting Macready's performance at the Astor Place Opera House, were fired upon by police, and 22 people were killed. (Yes, there's a lot more to that story.)
Forrest's Homes and Legacy
Forrest had some grand homes. In 1852, Forrest built a castle-like estate on the banks of the Hudson River, named Fonthill, which later became the College of Mount Saint Vincent in the Bronx.
In Philadelphia, he owned a home at 1346 North Broad Street in the Yorktown neighborhood, as well as a country estate in Holmesburg. The North Broad Street manse was actually built for a local brewer in 1853-54, but Forrest bought it in 1855, and lived there until his death in 1872. It was later owned by The Philadelphia School of Design for Women, later known as Moore College, which used it until 1960. It's fitting that Forrest had installed a theater wing onto the building, as it is now occupied by New Freedom Theatre, which we're sure would have delighted Forrest.
Actors in his day were not beloved, and, as today, very few became rich, or even got by. Forrest appears to have been well aware of his great good fortunate, and most willing to share it. He frequently welcomed fellow actors into his home. In his will, Forrest provided for the creation of a retirement home for actors and actresses, which was incorporated in 1873. According to the Historical Society of Philadelphia, the home was intended to house up to twelve aging and infirm actors, who could live at the home free of charge. It initially operated at Forrest's country estate, Springbrook, in Holmesburg, North Philadelphia. In 1928 it was relocated to a manor house in Fairmount Park at 4849 Parkside Avenue, where it remained until 1986; it was merged with the Lillian Booth Actors' Home of the Actors' Fund of America in Englewood, New Jersey.
And thanks to the HSP, we know that in fact, one of the benefits of the home was burial expenses, and a burial plot at Laurel Hill. The Edwin Forrest Home papers held by HSP include a map of a Laurel Hill cemetery plot with a corresponding list of the deceased (unfortunately, that record isn't available online). Now, the particular marker we found is in West Laurel Hill, so we don't know if these are somehow different, but we suspect this is the plot the papers refer to. And many of these actors' names show up in the index to those papers.
We've tried to do a little bit of research into these names, but honestly haven't found a lot about them. Most of them would probably be forgotten entirely, their graves perhaps unmarked, had it not been for the generosity of Edwin Forrest. You can read more about his remarkable life in this volume. (You can also find quite a lot about him in "The Romance of American Theatre.") Edwin himself, alas, is not in Laurel Hill; his burial was in Old Saint Paul's Episcopal Church Cemetery in Philadelphia.
The Guests of Edwin Forrest
Just for the record, these are the names of the guests of Edwin Forrest inscribed on the headstone in West Laurel Hill Cemetery:
Stella Chapman
John J. Hall
Mary L. Woods
Emily R. Lewis
Frank Green
Irma Nowell
John Burkle
Albert S. Vees
Bram Nossen
Lois Arnold
Dallas T. Fairchild
Gilbert Douglass
Josephine Morse
Maude Nolan
James Southard
Marie Curtis
Elizabeth Douglas
Charles F. McClelland
Janet Druge
Laura Palmer
Margaret E. Fitzpatrick
Charles Canfield
Clarence Handyside
Fannie A. Pitt
Marion Abbott
George W. Barnum
May Dixie
Lotta Ellis
Anna Bates
Frank Chapman
Jos. Brennan
Jennie D. Bartlett
George W. Callahan
Julia Stuart
Joseph Greene
Copyright secured by Digiprove © 2021 Carl Johnson