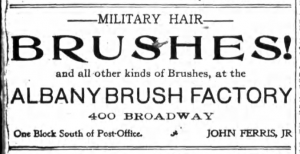 We know that way back when, the Albany Penitentiary was supposed to be a model reformatory, one where prisoners were expected to be silent and work for their keep. In fact, From the time of its opening in 1846 on a plot of land behind what is now Hackett Middle School, the Penitentiary, a joint effort of the City and County of Albany, was intended to be self-sufficient. Partly, it drew in revenues from other counties, states and even the Federal government for the keep of their prisoners. Partly, it depended on the labor of its prisoners, who worked at making chair seats and shoes. Apparently, they also made brushes for an outfit called Albany Brush Company.
Like the other companies involved, Albany Brush Company was an independent concern that contracted with the penitentiary for labor to manufacture their products in the workshop on the Penitentiary grounds. (In fact, in 1858, with regard to shoe manufacture, there were complaints that "near one-half of the convicts then received were drunkards, who were sentenced for only ten days," which made them useless to the manufacturers. It's not clear when Albany Brush began using prison labor. It had been the Brinkerhoff and Armour Brush Company, and renamed Albany Brush when it was bought by John Ferris.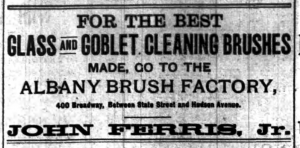 This ad from 1893 offers their glass and goblet cleaning brushes (an item that has pretty much disappeared from modern life), and cites their address as 400 Broadway, south of the Post Office. 1893 was the same year that the company's shop at the penitentiary burned on January 9:
Fire was discovered last night in the packing house which adjoins the brush shop in the penitentiary. The flames spread to the brush shop, and that structure was soon a mass of flames. The packing house was completely gutted and the brush shop badly damaged. The brush plan is owned by the Albany Brush Company. Loss to building, $1,000; insured. The brush company estimates its loss between $10,000 and $12,000 on stock and machinery, which is covered by insurance.
The company started up again; in 1895 their telephone was listed as being at the penitentiary. Albany Brush Co. began at least as early as 1880, but the use of prison labor ended in 1899, which was noted as having reduced the earnings of the prison, with only a laundry contract remaining.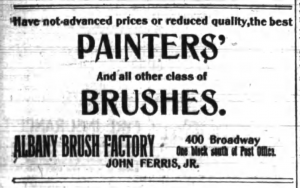 They seem to have run from at least 1880 until at least 1945 (we know because a wedding announcement that year said the bride worked there). John Ferris died in 1939 at the age of 87; he had retired in 1934. Like all good Albanians, he was buried in Albany Rural Cemetery.