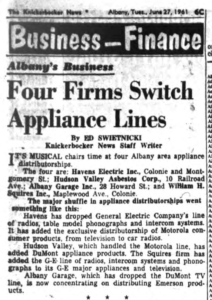 We'll admit we were confused when, searching for something else, we found this business brief from the Knickerbocker News in 1941 announcing that four area appliance distributors were switching the lines they sold. Initially, our confusion was over Albany Garage dropping the DuMont TV line. This was confusing because Albany Garage was a parking garage. But it was also an auto sales center, appeared to have some recreational facilities, and sold appliances.
But what really caught our eye was the name of the company that was relinquishing Motorola in order to get hold of the DuMont line: Hudson Valley Asbestos Corporation.
Hudson Valley Asbestos was, by all other accounts, just what it sounded like: an asbestos insulation contracting business, founded in Albany in 1922 by Marshall Pursel. But at some point, it also got into the appliance business, and, as so often was the case in those days, that also meant that they got into the record business.
An ad from the Times-Union in 1932 says:
The Hudson Valley Asbestos Corporation, 170 Central Avenue has been efficiently serving the the public for some nine years, specializing in heat and cold insulation for the home and factory, automotive products, electric refrigeration, radio for the home and automobile. One is sure to find outstanding values and willing service.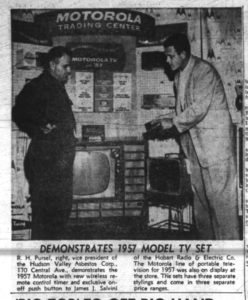 They're listed as one of Albany's record distributors in Billboard magazine in 1948, and, as shown here, were still selling televisions in 1957, though by this time they'd gotten back on the Motorola wagon. (And who wouldn't? They had a wireless remote control timer and an exclusive on-off push button!) That R.H. Pursel is shown demonstrating the new Motorola removes any question of whether the mention of Hudson Valley Asbestos in the appliance trade is just a series of unfortunate typos – Robert was Marshall's son. In 1965, they were selling Emersons at their showroom at 10 Railroad Avenue. They also sold sewing machines.
Later on, in 1974, Hudson Valley Asbestos would become entangled in an anti-trust case against Tougher Heating and Plumbing and E.W. Tompkins. By then Hudson Valley had branched into other unspecified areas, but were still engaged in some form of insulation contracting, which is what they were fighting over. Asbestos restrictions were just starting to come into play at that time. We can't put a closing date on the operations of Hudson Valley Asbestos, though in 1970 their Railroad Avenue location was given over to a corrugated container manufacturer, so perhaps the retail operations were done by then.
Having even dared to mentioned asbestos, Hoxsie expects to hear from some spambot lawyers.