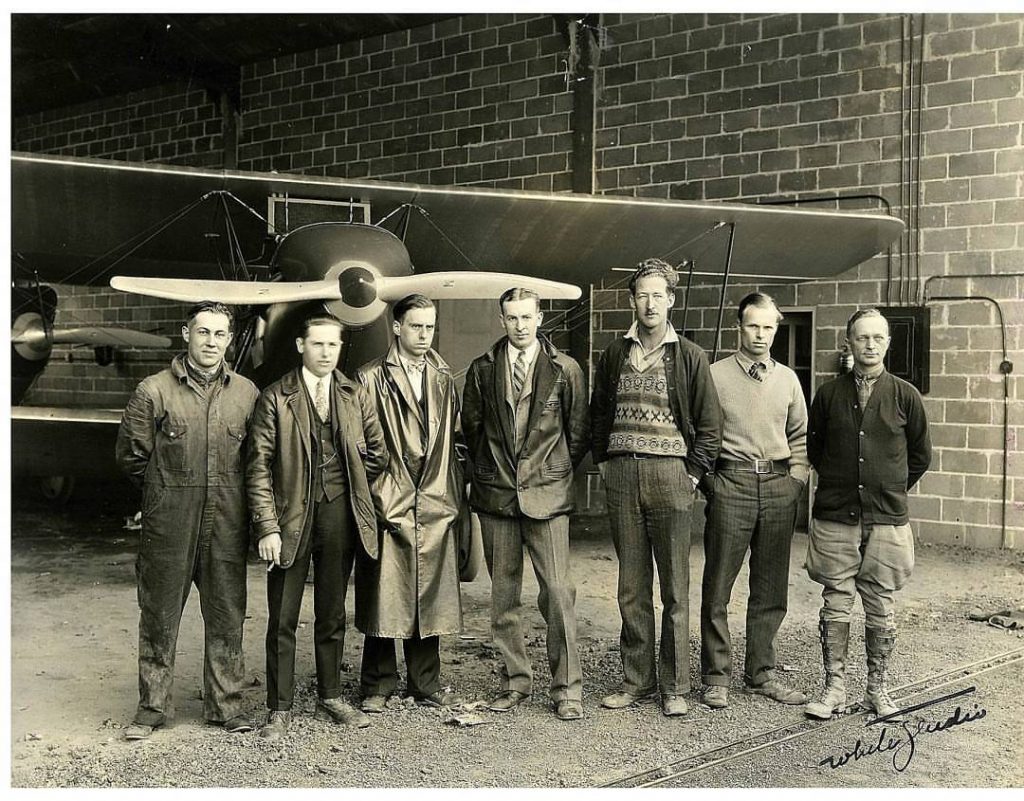 Sometimes we run across a name from local history and have to wonder how it's possible that the person in question isn't better known. And then we get vexed by trying to know them better, at the remove of a century or so. Such is the case of Victor Rickard.
While Albany had an airfield starting in 1909 (Quentin Roosevelt Field, on Westerlo Island land now occupied by the Port of Albany), Schenectady didn't get into the air transport game until 1927, when there was a wave of airport building across the country and the tri-motor airplane brought the promise of safer routine travel. In April of 1927, $100,000 in stock was offered to purchase land and develop the airport at Thomas Corners; by July, it was enough of an airport that Charles Lindbergh visited. Other famous flyers like A.F. Hegenberger (first trans-Pacific flight to Hawaii) and Bert Acosta ("the bad boy of the air") visited that year. It all happened pretty fast. And in every article one can find about the airport, one finds mention of local flyer Victor A. Rickard. In fact, he flew the first plane to land at the airport, June 1, 1927 (coming from a small runway off Route 5 near Amsterdam)
Aero Digest wrote in 1927: "Schenectady Airport is gradually taking the shape of a high-grade port. It is situated on the main highway north, with direct entrance from same, and but three miles from the heart of Schenectady's business section. It covers 195 acres of land located above the lowland fog area of that particular vicinity and excellent soil, with good natural drainage . . . A flying school and a taxi service has been operated on the port since July by a local aviator, Victor Rickard."
Originally from Middleburgh or East Cobleskill in Schoharie County, Victor Arthur Rickard attended Aviation Mechanics School at the U.S. Naval Training Station in Great Lakes, Illinois in 1920. The earliest local mention we find of him is actually from the New York Times, but datelined Schenectady, from June 24, 1923, with the headline: "Cheats Death Twice in Plane and River." The cheater was not Rickard, but his parachuting passenger, John D. Smith of Chicago:
Smith attempted to descend by parachute from an airplane piloted at 2,000 feet by Victor Rickard, who directs a flying field near this city. The parachute, failing to open, caught in the landing gear of the plane, leaving Smith hanging some 15 feet below. His attempts to climb to the cock pit were futile and Rickard signaled that he would drop him in the Mohawk River. The aviator planed to a few feet above the water and Smith jumped. He could not swim, however, and sank, but was pulled ashore by L.W. Geweke, patron of a swimming school near by.
The next mention we find of him is in the Salem (Washington County) Press in 1925, in notes from Greenwich:
"Victor Rickard with his mechanic flew into town Friday morning with a new standard bi-plane and after circling about over the village alighted on the flat west of Elm avenue and announced that he was a teacher in a Schenectady aviation school and was ready to take up passengers on twelve-minute trips. Andrew Sallans was the first to venture and his enthusiasm was certainly good advertising, for the plane was busy the greater share of the time it remained here."
Rickard lived on the Amsterdam Road in Glenville in 1925 (possibly near Barhydt Rd.). He was 23, a "commercial flyer," and listed as a "friend" living in the home of Darwin Mott; with him was his wife, Elmira ("wife of friend"), who was 18. It appears they were married that year.  In 1930, they were renting (at $55 a month) at 11 North Ten Broeck Street in Scotia, a building that still stands as the "TenBroeck Apartments"; he was listed as "Aviator Schdy Airport."
At first, Rickard flew from what we think was probably later known as Gay Valley Airport on the Amsterdam Road. A 1927 article in the Schenectady Gazette said that Rickard was "one of the best-known 'birdmen' in this section of the country. He has ben in the 'flying game' for 12 years and for the last six years has been engaged in commercial aviation. Pilot Rickard is accredited with close to 2,000 hours in the air." He started flying out of the Thomas Corners airport in August of 1927, with a new Waco three-passenger cruiser plane, which was almost the first airplane ever stolen from a municipal airport in October, 1927 – someone fueled the plane, cut the ground ropes and removed the wheel blocks and motor cover. "A wing and the fuselage were damaged when someone stepped through them during the fueling process. This apparently blocked the flight plans." He was soon named superintendent of the airport.
In 1928, he was noted for flying his "big Stinson cabin plane" from Glens Falls to Boston in less than two hours, "eliminating a train journey of 12 hours for Miss Anna Tarrant of the former city," who needed medical treatment.
That was also the year that Victor Rickard and Christy Mathewson (son of that Christy Mathewson, a student engineer at General Electric's research laboratory and a student flier) decided to mix the brave new world of flying with the brave new world of radio and produce what we hope were the first radio flying lessons.
"Schenectady's airport is going on the air. Tomorrow night at 8 o'clock WGY will broadcast the first of a series of flying lessons from the airport with the airport surroundings, including the roar of the Waco, for realism. Seated in a comfortable chair, with a walking stick, umbrella or broom, the listener by following instructions closely may gain the rudiments of flying. The flying lessons are prepared in the form of playlets, running about a half hour … With Mathewson in the opening lessons will be Victor Rickard, manager of the airport and head of the Inter-Cities Transport Service, Philip Lucas, chief pilot and instructor, and William Luke, superintendent of the flying course in which 50 men are now enrolled … WGY engineers have made a temporary studio of the great flying field as it was considered necessary to get the actual plane motor sounds in establishing contact, taking off, throttling down, etc. A Ford motor also enters the radio picture by way of contrast … Frank Oliver, director of the WGY Players, has been engaged in directing the aviation players in their parts. The lessons will be continued for several weeks, offering practically an entire course for those interested. Thus Schenectady, one of the first cities in the country to have a fully equipped and modern airport, will have an important part in promoting air consciousness wherever WGY and sister short wave transmitters 2XAF and 2XAD are heard. Messers Rickard, Lucas and Luke, who have capered in the air, will send their voices by the same medium, at a much faster pace than they will ever fly, to remote corners of the world."
Later on, in 1930, he flew with Lindbergh during one of Lindy's visits, testing out a new compass. Rickard was noted in many local papers all over the state, offering lessons, and showing up with air circuses. In 1931, he headed a squadron of planes that would "swoop low over the city Memorial day morning to drop flowers upon paraders in the annual tribute paid by veterans and citizens to America's war dead. Again, at the ceremonies in Crescent park and at Vale Cemetery the pilots will scatter petals down upon the graves bearing the bronze markers and small flags that betoken a military connection." We last note him in 1935, when he joined F.H. Taylor Airways in Watertown as chief pilot. By the time he filled out a draft card in 1942, he was 40 years old and living in Mount Lebanon, PA. And that's the last we know.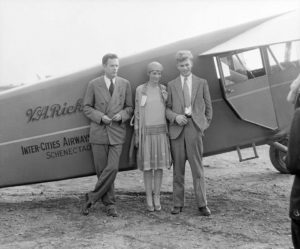 Long after we first published this, Paul Garrow turned up this undated photo of Victor Rickard with Amelia Earhart and an unidentified fellow. We're still trying to work out when and where this may have been taken. Given that Ms. Earhart was involved with Beech-Nut, it could have been during that time, but it could also have been when she came to the New York State Fair in 1929.