This was originally posted on my old blog back in 2010. This has some minor updates.

For years I meant to get a picture of this marker, located next to a defunct Friendly's restaurant not far from our old Albany neighborhood, where Southern Boulevard meets Delaware Avenue. The shopping plaza and the Friendly's were brand new then, back in 1990, and I even had some vague memories of the big brick factory building that had been on the site just a couple of years before. home to the Albany Hyatt Billiard Ball Co. The marker proudly proclaims one of the least-known historic facts about Albany – that it was here that the first practical plastic, celluloid, was invented and developed into commercial products.
First Plastic
Celluloid – Invented 1868
by John Wesley Hyatt
First Use – Billiard Balls
Albany Billiard Ball Co.
The Plastics Pioneers Assoc.
While it has the appearance of an official Education Department historic marker, this was most likely a privately placed marker, perhaps installed when there was some controversy over the possible redevelopment of the site in the mid-'80s. Thanks to this marker, I've always been proud to know the location of the development of celluloid. Except, of course, that it's wrong.
While the final version of the Albany Hyatt Billiard Ball Company manufactured at this distant location, in the late 1800s this was farmland, part of the town of Bethlehem and served by the Normansville post office. The closest thing to industry was a paper mill on the Normanskill. And the location of the factory isn't the only cloudy part of this story.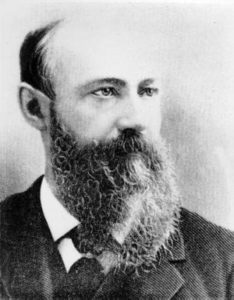 John Wesley Hyatt was born in Starkey, New York, on the west side of Seneca Lake on November 28, 1837. When he was sixteen, he went to Illinois and became a journeyman printer. He (and later, his brother Isaiah) came to Albany and worked in printing. His interest in invention is shown by his patent of a knife sharpener in 1861. The story goes that Phelan and Callendar, a major manufacturer of billiard tables in New York City, offered a $10,000 prize for the creation of a composition ball to replace ivory. Years later, in 1914, the New York Times related that Hyatt entered that competition in 1863, and that "it was by accident that Mr. Hyatt discovered the chemical product that has brought him fame the world over. He was accustomed to use collodion for cuts while working at the printing trade. One day a bottle of collodion overturned, and it was after watching the solidification of the collodion that he got the idea of making celluloid."
Whether celluloid was invented in 1863, 1868 or somewhere in between, Hyatt filed for a patent in 1865 (granted in 1870), and continued working as a printer for several years, living at 32 Chestnut St. and later at 149 Spring St. He must have been working on business arrangements during that time. In 1867 Hyatt was with Osborne, Newcomb & Company, checker manufacturers at 795 Broadway. By the end of 1869 Hyatt had turned his invention into a number of commercial products, all being manufactured in Albany. In that year, the Osborne, Newcomb was sharing space with the Hyatt Manufacturing Company, making billiard balls, checkers and dominoes at 795-797 Broadway (now a gas station/convenience store just north of Livingston Avenue). By the end of 1871, the billiard balls were being made by the Hyatt Manufacturing Company at 19 Beaver Street, just west of Broadway. His brother, Isaiah Smith Hyatt, took up the checker and domino business as the Albany Embossing Company, a few blocks south at 4 and 6 Pruyn St. The material was also apparently put to pioneering use in dental plates, by the Albany Dental Plate Company. Despite numerous references to this company in the histories of celluloid, I find no reference to this company in the city directories of the time.
There are numerous hints that all was not well with the finances of any of these companies. Even in the year in which Isaiah was listed in the city directory as President of the Embossing Company, the New York Times wrote glowingly of the enterprise and identified Robert C. Pruyn, of one of the most established families of Albany, as its head. 4 and 6 Pruyn Street was also home to the Albany Saw Works, an established firm run by Pruyn ("manufacturers of extra cast steel circular, mill, gang, cross-cut and other saws.") (If you're confused by how all these businesses existed at the same address, come back tomorrow – we'll have maps.) The Times also spoke of embossing wood, not celluloid, and of the company having been burned out twice in the previous two years. One has to wonder whether those fires were related to a persistently reported quality of the new celluloid material – that it was explosive. The oft-repeated stories of exploding billiard balls are unlikely to be true, but it cannot be denied that cellulose nitrate was a dangerous material to work with, at a time when workplace safety was not a primary concern. (Hyatt's later factory in Newark, NJ suffered 39 fires in 36 years, killing 9 and injuring 39.)
That same article in the Times, written at the very close of 1871, effused over the Hyatt Billiard Ball Company,
"who make billiard balls of a composition which, when colored, can hardly be distinguished from ivory balls, and which, in addition to many other advantages, are claimed to be much more durable. They certainly have this one superiority over ivory balls, that whereas ivory is always apt to be unequal in density, giving a tendency to irregular direction and to 'wabbling,' the composition balls have an unerring center of gravity from the mere fact of their being composition — every component part being thoroughly mixed and disseminated throughout the ball." The Times went on to describe the manufacture of the composition balls: "These balls are composed principally of "gun cotton," reduced to a fine pulp and molded. The other ingredients are as yet a secret, which the makers do not desire to make public. After molding, the ball is put in a globular press, and reduced about one-third in bulk. It is then put away to be dried. When partially dry it is put into a bowl of quicksilver to test the uniformity of its centre of gravity. If not true in its balance it is thrown aside; if true it is again pressed and again put on the shelf to be thoroughly dried before it is taken to the turner and the polisher. Three months elapse from the day of molding till the time when a ball is ready to be sent to purchasers. The balls cost about one-half the price ordinarily charged for ivory balls."
The history of the company gets foggy from there. One account says that the Albany Dental Plate Company changed its name to the Celluloid Manufacturing Company and moved to Newark, New Jersey, in 1873. By all accounts, the Hyatts did move to Newark and developed new machinery and new uses for celluloid. In 1881 they founded the Hyatt Pure Water Company, and ten years later Hyatt established the Hyatt Roller Bearing Company of Harrison, New Jersey. He was even an early bio-fuels enthusiast, converting spent sugar cane into fuel. Honored by the Society of the Chemical Industry with its Perkin Gold Medal (named in honor of the inventor of mauve) in 1914, Hyatt died in Short Hills, NJ, on May 10, 1920. But J.W. Hyatt's move to New Jersey wasn't the end of celluloid manufacture in Albany.
A 1985 Schenectady Gazette article on the future of the Delaware Avenue factory says that Hyatt had raised $2000 from investors and borrowed work space from Albany machine shop operator Peter Kinnear, "who later gained control of Hyatt's business. Ultimately, Kinnear enlisted the aid of his son-in-law, Albany architect Charles Ogden, to create the billiard ball factory on Delaware Avenue." Peter Kinnear, now a prominent resident of Albany Rural Cemetery, was in 1870 part of the firm of McElroy & Kinnear, brass founders at 68 Beaver St. Whether Kinnear was an early investor or not, he does seem to have been the savior of celluloid in Albany. Howell's "Bi-Centennial History of Albany" in 1886 wrote:
"The Albany Billiard Ball Company was organized in 1875, succeeding the Hyatt Manufacturing Co., organized in 1868, which was the pioneer manufacturing company in the world to make composition billiard balls. The factory, corner Grand and Plain streets, is a three-story brick building, 68 by 50 feet in dimensions. The billiard balls are now made from bonsilate, a product of another Albany industry, which is mentioned elsewhere. The colors of bonsilate balls are permanent, and they will not burn. Pool and bagatelle balls are also made.

The officers are: Peter Kinnear, President and Treasurer; J.W. Hyatt, Vice-President; Louis Dietz, Secretary; and B.P. Wayne, Superintendent.

The bonsilate billiard balls are taking the place [of] all others for perfection of finish, durability and of cheapness."
This is followed by a biography of Peter Kinnear, indicating that in May 1884 he purchased the lots at the corner of Beaver and Grand streets, known as No. 64 and 66 Beaver street. "Here Mr. Kinnear made great improvements, so marked in their character as to entitle him to the credit of having beautified that portion of Beaver street in which his factory is located."
It writes of his foundry business, and then says,
"Nor does his identification with this community stop with his interest in this business, since he is also President of the Albany Billiard Ball Co., President of the Bonsilate Button Co., and a Director in both the Bonsilate Co. (limited) and the Newark Filtering Co. With the history of the manufactory of billiard balls in Albany, Mr. Kinnear's name is prominently identified. The most unique industry in Albany and, indeed, the only one of the kind in the world, is that of the Albany Billiard Ball Company. This Company was organized in 1875, and is the legitimate successor of the Hyatt Manufacturing Company, organized in 1868, which was the pioneer in the attempt to make composition billiard balls. It is not our purpose to go into the details of the trials and failures of the original organization in its experiments to produce billiard balls of pyroxiline and later of celluloid that would take the place of ivory. Let it suffice to say that thousands of dollars were spent and much valuable time lost in experimenting with little or no practical results, until the formation of the present Company, since which time, by the use of perfected processes and machinery, the invention of J.W. Hyatt, the Company has succeeded in producing billiard balls that are more perfect than ivory balls, while at the same time they are far less expensive.

The management of the Company is in the hands of the following named officers: Peter Kinnear, President and Treasurer; J.W. Hyatt, Vice-President; Lewis Dietz, Secretary; and B.P. Wayne, Superintendent; all gentlemen closely identified with the industrial advancement of this city. Mr. Kinnear's identification with this enterprise dates from a time when failure and disaster had stripped it of the confidence of most of the capitalists of Albany. He had faith in the scheme, and unbounded faith in Mr. Hyatt, through the utilization of whose inventions he was certain success would be won for it. At considerable personal trouble and no small temporary sacrifice, he invested in the enterprise, taking risks which made some of his friends tremble for the results; and he induced others of Albany's progressive men to take stock in the Company. The result has more than justified his most sanguine hopes. The enterprise is one of Albany's notable successes."
The Bonsilate Company, at the corner of Church and Pruyn streets, was organized in 1878. "The factory is four stories, brick, where 20 workmen are employed. This company produces bonsilate in bulk and in manufactured goods . . . Bonsilate is the discovery of John W. Hyatt, the inventor also of celluloid. it has been improved by Charles S. Lockwood. it is already used in making many articles of utility and ornament, for which its qualities of hardness, elasticity, susceptibility of taking any color and a high polish, render it very valuable. It is also a non-conductor of electricity, and incombustible. It is valuable as a substitute for ivory, jet, coral, celluloid and all like substances." It was widely known as the Bonsilate Button Company. The president of Bonsilate was Albany Saw and Albany Embossing's Robert Pruyn, the president was Peter's son David Kinnear, and Peter Kinnear was a director. John Hyatt, long decamped to Newark, was listed as a board member and "Expert." The company only lasted until January 1888, when the New York Times noted its closure:
"The Albany Bonsilate Company, one of the largest concerns of the kind in the country, to-day concluded to wind up its affairs and close the business. Among the stockholders is John W. Hyatt of Newark, N.J., the inventor of bonsilate and celluloid. The company has been doing business since 1881, having been organized in Newark with a capital stock of $100,000. It was believed that there was a great future for the company, but it has steadily lost money."
Through 1899, at least, Albany Billiard Ball Company remained on Grand Street, at the corner of Plain, a site now covered by the South Mall Arterial. It's the close of the century and we're still nowhere near Delaware Avenue. But at some point there was a move to Delaware Ave., for by 1928 (there's a big gap in available directories online), ABB was finally at our "historic" site at 483 Delaware Avenue, with Ronald Kinnear as President and Treasurer, and Kenneth C. Ogden as vice president and secretary.
And there it sat, quietly making billiard balls some miles from the original site of the manufacture of celluloid, decaying, waiting for redevelopment and the placement of a marker that commemorates an important event in Albany's industrial history in exactly the wrong place. You could make an argument for putting the marker in front of the vacant lot at 795 Broadway, or as close to the corner of long-gone Plain Street as you can get, but celluloid was not invented way out on Delaware Avenue.