Yesterday we talked a little bit about Schenectady's Edison Hotel, and its predecessor, the Givens Hotel. In researching that, we tripped upon an article from the Gazette back in 1936 that gave a brief account of a number of even earlier hotels in Schenectady, so we thought we'd pass that along.
Pearson's "A History of the Schenectady Patent in Dutch and English Times" wrote that the first innkeeper was probably Jacques Cornelisse Van Slyck, the son of a Dutch carpenter and a French-Mohawk woman, who was a licensed innkeeper some time prior to 1670, with an inn located at the corner of Washington avenue and Cucumber alley. The Gazette wrote, "On account of being half Indian Van Slyck stood in great favor among the Indians, although the selling of liquor to them was prohibited. So also was the fur and peltry trade with them barred yet these inns afforded a convenient place for clandestine trade." It was a noted and frequently ignored provision of Schenectady's charter that fur trading was only to take place at Albany, and that Schenectady was to remain a farming community.
Pearson wrote that in 1671, "Cornelis Cornelise Viele, through the commissaries of Albany, petitioned Governor Lovelace for the right to open another inn in Schenectady, basing his claim upon services rendered with the Mohawks and upon the fact that Van Slyck had not suitable accommodations for strangers, which Viele promised to provide."
Cornelise Viele received another license in 1671, "on the ground that he wanted to conduct a better place than that kept by Van Slyck." His inn, which we may take for the first hotel of any sort in Schenectady, was at the south corner of Mill lane and State street. It may be noted in the granting of a license to Antonia Slaaghboom. Antonia was the widow of Arent Van Curler, the founder of Schenectady, who drowned in Lake Champlain in 1669. In recognition of the loss of her husband, and of a loss of house, barns and corn due to fire, Juffrouw (Widow) Van Curler was granted a license as an innkeeper with the exclusive right to sell liquor to native Americans, which she did from her home at the corner of Union and Church streets until her death in 1675. Pearson says "Governor Lovelace licensed her to trade with the Indians, it being thought also that her license would stop the quarrels of the other two tapsters, Cornelis Cornelise Viele and Acques Cornelise Gautsh [Van Slyck], the Indian." The order said directly: "The matter of difference between ye two Tappers at Schanechtide, not thought fitt any order shall be made therein further, this Liberty to the Widdow probably being a means to defeat both their Expectations." Whether it did is not clear (Pearson hints at a violent encounter the following year), but Viele's inn continued for many years, and he was succeeded by his niece's husband Douw Aukes. Pearson writes "It was here that the traditional merry making was held on the eventful night of 8 Feb., 1690." Aukes returned to Schenectady after the massacre, although his wife, two children and a slave were killed on that night, but it is not clear if he continued an inn; he is listed as a "victualler."  In 1719, Aukes conveyed his property to Cornelis Viele, son of the man from whom Aukes had received the inn.
After the massacre and the rebuilding, Caleb Beck opened an inn on Front street around 1698 and ran it for many years. Jacobus Cornwell also had a tavern on Front street around that time. Whether he offered accommodations we haven't learned.
Robert Clinch established his hotel near the corner of State and Water streets about 1770. It was at this location that General George Washington was entertained upon his second visit to Schenectady, in 1782. "This hotel continued as one of the leading public places until the great fire of 1819 when the building was burned. St. George's Masonic Lodge held their meetings in a room at Clinch's till 1799," the Gazette wrote. Most of what we found spells his name "Clinch," but the marker noting the site of the hotel has him going by "Clench." The marker used to be in Liberty Park along State Street across from the former YMCA building; with the reconstruction of the park we don't know if it has been saved. The Gazette wrote that Clinch's son Thomas ran a hotel in the Arent Bradt building at 9 State street until 1830. This was later known as Sharrath House.
In 1785, Reuben Simonds ran a tavern on Church street between State and Union.
In 1793, John Hudson opened the Schenectady Coffee House at the southwest corner of Union and Ferry streets. Hudson also ran stage lines to Albany and Troy, making his hotel a convenience for travelers.
Another stage coach owner, Moses Beal, had a tavern as early as 1793. He ran stages to Albany, Johnstown, and Canajoharie.
Then came Arent Bradt's tavern, in 1798, on the site that would later be the Givens Hotel, and then the Edison Hotel. And then, the Edison Building, which still stands.
In 1819, and possibly well before, there was a tavern on the corner of Union and Jay streets. Its offer for sale noted that it had a "two-story large barn and a never failing well of water" as well as apple trees, gooseberries, cherries and currants.
In 1841, there was a place named Tammany Hall, kept by J. Felthouser at 20 Union street, and a hotel opposite the railroad station run by T. Irish. There was also a Railroad House at 159 State street, run by P. Whiteside. There was a Miller Tavern on the west side of Washington avenue, south of State street, and a House at Home on the north side of State, between Church and Washington.
The City Hotel occupied the southeast corner of Dock street (now Erie Boulevard), where the Masonic Temple now stands; it later became Fuller's Hotel, and lasted until about 1875.
East of the railroad tracks, there was a Drullard's Hotel and a Commercial House. The Carley House gave way to the Eagle, gave way to the Vendome, at the corner of State and North Center, now Broadway. (Then it became the site of the Woolworth's – which was we've previously noted started out as a W.H. Moore's – and what it is today, we haven't a clue. There was an American House at State and Clinton, later the site of Schenectady Savings Bank, and a Hildebrand's Hotel farther up State, just below Steuben.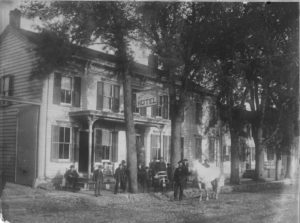 There was also Scrafford's hotel, located on Washington Avenue where later the Van Curler Hotel Garage would be located, across and just south from that much grander hotel. The image above is from 1905.