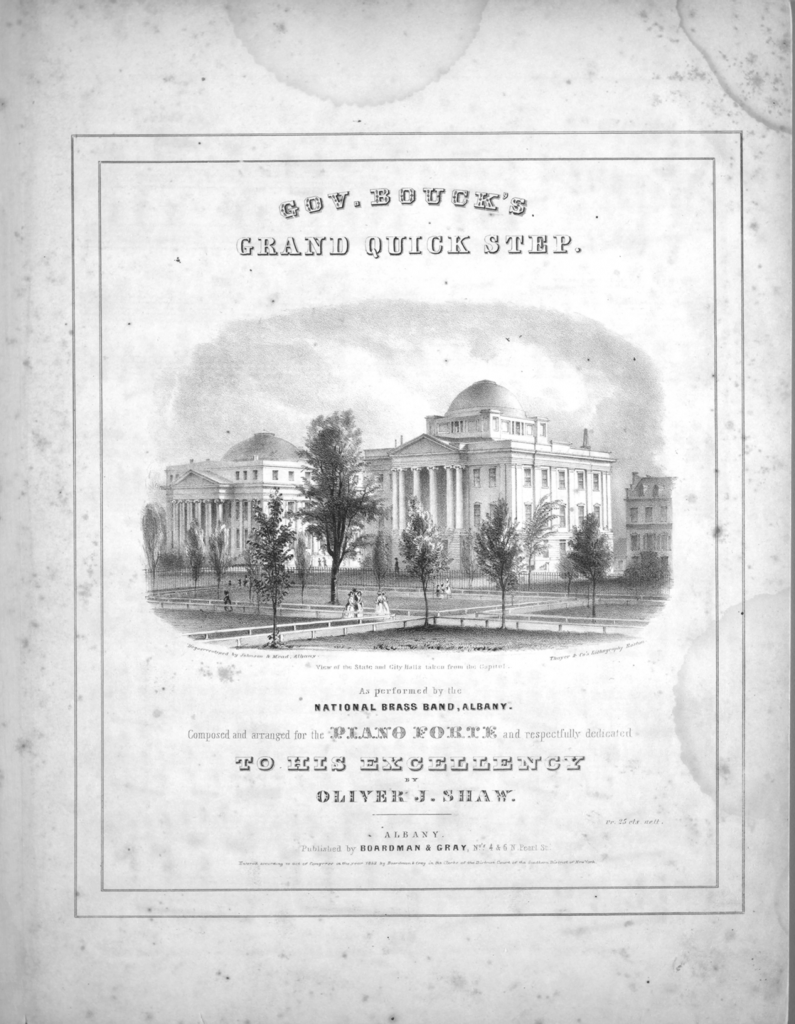 More historic Albany sheet music, the product of historic Albanians. This one (again from the Lester Levy Sheet Music collection at Johns Hopkins) is "Gov. Bouck's Grand Quick Step," as performed by the National Brass Band, Albany. It was composed and arranged for the piano forte, "and respectfully dedicated to his excellency," by Oliver J. Shaw. The music was published by Boardman & Gray, of 4 & 6 North Pearl Street. Like our last entry, this is a very Albany work.
The music was in honor of William C. Bouck, who had been an Assemblyman and Senator from Schoharie County before spending 19 years as a Canal Commissioner.  "He was known as "white horse" Bouck, in the days when the Erie Canal was being built. Bouck was responsible for carrying the pay for the workers at the western end of the Erie Canal project. He carried the full saddlebags of money regularly to the workers, alone, riding a white horse, and never once was molested or robbed." Madison County's Bouckville is named for him –it's where the Chenango Canal connected to the Erie Canal, making a connection to the Susquehanna river.  In 1840, Bouck ran for governor but lost to William Seward; in 1842 he ran again and won. It was that event that was celebrated in song by Oliver J. Shaw.
Oliver J. Shaw's name was put down as Ollaver in the 1850 census. He was 36 and a "musick" teacher who was born in "Road Iland". When he died in 1861 in Portsmouth, New Hampshire at the tender age of 48, his occupation was listed as "Professor of Music." (The cause of death was "Dropsy on the chest," another term for edema.) We don't find much about his tenure in Albany other than a mention in association with a concert in 1846. A book called "Emily's Songbook: Music in 1850s Albany" said that he "was a popular musician, church organist, music teacher, and composer during his stay in Albany," and that he arrived here in 1841 and moved on to Utica in 1852.
Boardman & Gray, of course, was the biggest of the piano makers in a city that once could have justified the nickname "The Piano City." In 1842, it was relatively new, and it makes sense that a piano manufacturer would also publish music for its customers to play, but we haven't previously run across music published by them.
The cover litho, "View of the State and City Halls taken from the Capitol," was from a daguerrotype by Johnson & Mead of Albany, about whom we find pretty much no information, but it's a wonderful view. The building to the left, of course, still stands, as the New York State Court of Appeals. It was known as State Hall then and was brand spanking new in 1842, which may be why it was included on music meant to celebrate a new governor. To its right is Albany City Hall, but not the one we're familiar with — this is Philip Hooker's lovely edifice, which opened in 1832. Unfortunately it burned in 1880, leading to the construction of the 1883 Richardson masterpiece we have today.
The music in its entirety is here.