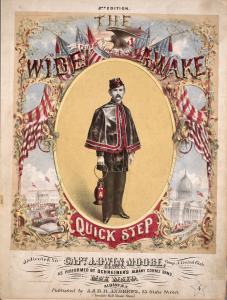 Well, here's another piece of all-Albany sheet music that we just had to share. It's 1860's The Wide Awake Quick Step!
A brief history of early American and Civil War music reports that "The 'Wide Awakes' were an early Republican political group that supported the election of Abraham Lincoln for president in 1860. The Wide-Awakes were Unionists that wanted to show that they were alert and ever vigilant in defense of the Federal government in Washington."
The music was composed by Max Mayo, who apparently was also an Albanian but about whom we can't find much. In fact, the only mention we find of Max Mayo is not a favorable one – in an edition of the New-York Musical Review and Gazette, a correspondence from Albany dated January 5th mentions him as having accompanied two operatic concerts given by Miss Lucy Escott (also given as Eastcott): "All the accompaniments were played too heavily by Mr. Max Mayo, a common but very unnecessary fault, which ought to be remedied."
Published by A and D.R. Andrews of 85 State Street, the Tweddle Hall Music Store. A. Andrews is likely Alfred, who was an organist who lived at 21 Lancaster; D.R. may have been Daniel Andrews, a compositor who boarded at 253 Hamilton.
Apparently the music was performed by Schreiber's Albany Cornet Band – Howell's "Bi-Centennial History of Albany" identifies Schreiber as Stephen Schreiber, and says the band "for several years did a large business. It disbanded in 1869." Schreiber and the band were headquartered at 83 Green Street, in a building called Washington Hall. They are found playing all over the place.
The piece was dedicated to J. Owen Moore, "Comp. A Central Club." In 1861, J. Owen Moore lived at 70 Philip St.; in 1863, he was listed as a Captain, 3rd Regiment, living at 28 Dallius (now Madison). In 1869, he was listed as an undertaker, with a factory at 117 S. Pearl, an office at 32 N. Pearl, and a house at 74 Hudson.
The lithography was by Harry Pease, who boarded at 777 Broadway, along with three other Pease men, Richard, Richard Jr., and Earl. Richard was the founder of the Pease agricultural implements concerns and, along with Harry, Pease's Temple of Fancy, where they created the first printed Christmas card in America.
Feeling energetic? You can find the whole work here. Hoxsie's hoping someone will record these pieces for us.