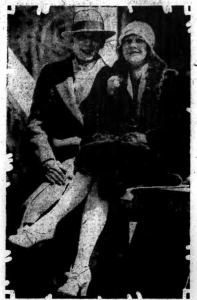 Continuing our discussions of 1920s star performers who started out in Albany. Today, Harry Lash, vaudeville performer and a double for Groucho Marx.
Harold Lashever was the son of Max and Dora Lashever,  immigrants from Russia whose language was German. Max came here in 1890 and worked in clothing manufacturing, living on West Van Vechten Street. His name was originally Loshevsky; in 1902 he had it legally changed to Lashever. He and Dora were nationalized in 1900. When he was 18, in 1920, Harold was working as a salesman for a news association. He had three younger brothers.
1923, at Proctor's in Schenectady: "Miss Ruby Raymond, Charles Stewart [sic] and Harry Lash constitute the Ruby Raymond trio. They have woven a series of dances into a story entitled, 'The Ambitious Urchins.'" Around this time, he was described as "an Albany boy who recently advanced from the ranks of an amateur performer."
1924, at Proctor's Grand: "Monday's bill brings back to Albany Harry Lash, who started his vaudeville career here after winning first prize in the opportunity contest. He is assisted by Charlie Cerussi in an offering called 'Variety a la Carte.'" They were billed as Cerussi & Lash, "Two Boys with Pep and Personality," and the Opportunity Contest had been in April 1922. Another article on the appearance said they had appeared in the "Passing Revue" which played in New York for a full season.
At some point, Harry hooked up with Charlie Stuart, his boarding school friend, and they got appearances in vaudeville, performing in something called "Strange People" at the Loew's State in Brooklyn in 1926
In 1927, featured a picture of Mr. and Mrs. Harry Lash, headlined "Harry Lash Truly Glad to Return to Home City and Proctor's Grand."
Son of Mr. and Mrs. Max Lashever Springs Surprise on Annual Visit by Bringing Bride With Him.

"And folks, I can't begin to tell you how much pleasure it gives me to be playing before this audience. There will always be a soft spot in my heart for Albany, for I was born and raised here. In fact I was born in a house on the very site, etc. and even etc."

Any person who attends the theatre has heard the above eulogy given more than once and has never put any too much faith in it. But if Harry Lash, of the comedy team of Stuart and Lash, should say these lines during his act at Proctor's Grande this week, they would be the truth and nothing but the truth.

For Harry Lash really is a "local boy," who is actually glad to play in Albany. The son of Mr. and Mrs. Max Lashever of 744 Myrtle avenue, with whom he is staying while in Albany, Harry has a host of friends who remember him back in the old days at school 14 and at Albany High school, and will remember the interest that he always took in the theatre. In fact, it was his performance in a Y.M.H.A. show six years ago that gave Harry the idea that he should try the stage as a career.

At least once a year, Harry manages to play Albany. This year, however, he brought a surprise with him. Last Tuesday in Providence, R.I., Harry was married to Miss Irma Powers of Denver, Co.., who has graced several Broadway shows.

Mrs. Lash declares that her retirement from the stage is only temporary and that she will soon return to the realm of the footlights.

"Glad to get back to Albany," says Harry. "You bet I am. This 'local boy' stuff has been worn threadbare, I know, but when I assert my feelings toward Albany, you can bet that it isn't the bunk."
Stuart and Lash continued on the Loew's circuit for a number of years, and eventually they ended up on the Keith circuit. The Syracuse Journal in 1931 gave us more detail on Harry Lash than his hometown paper appears to have done, with a story on how "Keith Comedians Owe Success to Schools" –
It has been said that the theatrical profession is one that you can't learn in school. Denial of this is made by two who should know, Charlie Stuart and Harry Lash, those two very funny men who headline the stage show at Keith's currently.

School gave Charlie and Harry their start in show business. Strangely it was not attendance at school that did it, but being frequently expelled was responsible.

The pair met at a New York boarding school after each had been shown the doors of every public school in the Bronx and Albany. Comparing notes, Charlie found that too much entertaining and not enough studying brought Harry to the boarding school from Albany, and the records showed that he was there for the same reason.

The frequent expulsions from school didn't curb the desires of these two young men to entertain their fellow students, and they soon found themselves on the outside of the boarding school looking in. Both decided they had had enough of school, and, being interested in stage careers, began looking around.

Meanwhile they had to eat, so Charlie found himself a job on the old curb market and Harry became an experienced soda fountain operator. Then the stage opportunity came at the old Hamilton theater in New York, where amateur follies were produced. Charlie got a job in the show and recommended Lash for another spot. Thus the team of Stuart and Lash was born.

That was nine years ago. After the Hamilton Follies the pair signed up with an act and during their third week in vaudeville played the Temple here. After a few weeks' work Charlie and Harry began to find out about some of the hardships of the show business. When they worked everything was great, but when they didn't – well, they were hungry.

Times have changed now, however. Stuart and Lash can take their place with those at the top of the vaudeville ladder, and those who have been host to them at dinner say it's plenty easy for them to be funny.

Stuart and Lash could get by in any town on their own merits, but now they are surrounded by one of the outstanding intact shows on Keith time. The boys still spill secrets on each other and Harry dropped a hint to ask Stuart about Miss Loretta Fisher, beautiful and talented dancer in the same show and far, far into the night love-sick Charlie talked and talked about Miss Fisher.
In 1936, Harry was noted in a brief in the Flushing North Shore Daily Journal for having signed for a role in "Where's Elmer?" an MGM feature. We don't find that that actually happened, but it's interesting that Harry was enough of a name to warrant a brief out in Flushing.
In the Chicago Tribune, Sept. 4, 1936, we learn that Harry Lash and his partner Stuart were doing some fill-in work for the Marx Brothers, with Harry taking the role of Groucho. Headlined "Marx Brothers See Doubles Try Out Gags," the story provided some fascinating insight into the film-making process:
So that the three Marx brothers can see themselves as they look to others while they do their comedy bits, Groucho, Chico, and Harpo have put three vaudeville performers to work representing them. Billie Dooley enacted the Harpo part in rehearsals. Harry Lash of the vaudeville team of Stuart and Lash is Groucho by proxy. Skins Miller represents Chico.

One will find the three brother comedians sand makeup and wardrobe, sitting alongside Director Sam Wood and Writer Al Boasberg while they "look at themselves."

The scene today was supposed to be a hotel room with Groucho making comedy love to a pretty girl. In rush Harpo and Chico as paper hangers and proceed to hang everything in sight, including Groucho, the girl, and themselves. For two weeks they will be working out their comedy this way and then will be ready to go to work once again.
The movie was "A Day at the Races." IMDB reports that Harry Lash was an uncredited racetrack spectator.
That wasn't his first uncredited role – from 1936 to 1940, he played such uncredited roles as "friend of drunk," "reporter," "second taxi driver," and "hot dog concessionaire." In fact, his only credited role was in 1937's Headin' East, playing Spud, "Lohman's henchman."
We're not sure what happened after that; we lose track of Harry. It's from IMDB that we learn that Harry died May 29, 1949, in Los Angeles.