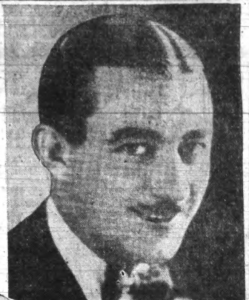 In the early days of film, one of the first stars was Albany's Ward Crane.
Born in 1890, Ward Crane was a "young good looking boy … very popular with his classmates at C.B.A. and quite a young man about town. Ward Crane went to New York where the first movie studios were located, later journeyed to Hollywood and in an incredibly short time, became one of the most important leading men in an industry that was only in its infancy … He was the patent leather haired type of movie villain or hero as the script called for and was always sure of a good handclap at his entrance on the screen by those who knew him 'when.' After a short but successful career on the screen, he joined the Navy in the World war. He became ill and died at Saranac Lake and is buried in St. Agnes Cemetery, Albany." That came from an Edgar Van Olinda column in 1937.
His IMDB profile says that he was the son of a railroad engineer, and had a career in government, "serving as confidential stenographer and then secretary to Governor William Sulzer." Sulzer was impeached, and Crane got a commission in the Navy. Stationed in San Diego, he met movie stars including Allan Dwan, who suggested Crane try the movies. The bio also reports that he had pleurisy and attempted the rest cure in Saranac Lake, but developed pneumonia and died at the age of 37.
The T-U gave him a good send-off when he died, with numerous photographs of his funeral procession and stills from his movie career. "Ward Crane, Albany youth, was buried today with full military rites from St. Patrick's church while thousands of his movie admirers and Navy comrades paid tribute. The traditional 'taps' was sounded at the grave in St. Agnes' cemetery. Crane had won his way into the motion picture realm by serving Uncle Sam in the Navy during the World war. The funeral today was conducted from the home of his father. Thomas F. Crane, 501 Central avenue, thence to the church with military processional." (Later in the article, his name is given as John J. Crane.)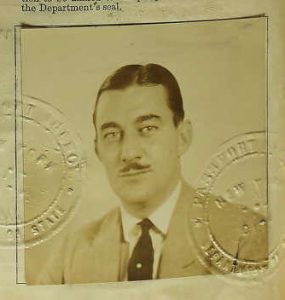 The T-U gave yet another version of his rise to stardom. A graduate of CBA, he then took a commercial course at Albany Business College and received an appointment in the Capitol. "Former Governor William Sulzer was greatly impressed with Crane and made him his private secretary. He had the opportunity of acting in the same capacity under the late Governor Martin H. Glynn, but left the state service after the impeachment of Governor Sulzer." When war came, he enlisted in the Navy. As an ensign, he was assigned to a naval station "in the vicinity of Los Angeles," and there became acquainted with "celebrities of the motion picture colony." He made a good impression, and at the close of the war received offers to be in the movies. "The profession appealed to him and in addition he had the backing of Douglas Fairbanks and others." He doubled for Norman Kerry in his initial appearance on the screen, and then received a supporting role in "The Luck of Irish." He later appeared with Marion Davies, Irene Castle, Marie Prevost and others, and he was best man for Buster Keaton at his marriage to Natalie Talmadge. He was also a friend of Jack Dempsey, and hung around Dempsey's Saratoga Springs training camp in 1927.
He appeared in a classic of the time, "Sherlock, Jr.," as the villain opposite Buster Keaton. A year later, in 1925, he was Count Ruboff in Lon Chaney's "The Phantom of the Opera."
A short film from 1913 appears in his IMDB credits, indicating perhaps an earlier interest or opportunity, but from 1919 to 1928 he appeared in 47 films. Of interest, in a 1920 feature called "The Scoffer," directed by Allan Dwan, Crane appeared as "The Albany Kid." What that role may have entailed is not made clear, but a movie that features a mistress named "Alice Porn" has to be worth checking out.
In 1931, this little snippet appeared in the Binghamton Press:
"Irene Castle McLaughlin, former dancing and motion picture star, has not yet forgotten the late Ward Crane, movie actor. While visiting in Albany the other day, Mrs. McLaughlin placed a wreath of flowers on her former dancing partner's grave."