We ran across an odd little article from the Times-Union in 1928 that raised more questions than it answered:
"Harnett to Rule on Smith Auto Sticker
A ruling may be made within a few days on the use of Al Smith windshield stickers. Motor Vehicle Commissioner Harnett will return next week from the Democratic convention at Houston and the ruling may be made at the time.
At one time the bureau banned pictures of bathing beauties from cars. Whether this applies to potential presidential nominees is a debatable question."
In 1928, Governor Alfred E. Smith was working toward winning the Democratic nomination for the Presidency. What these windshield stickers might have looked like we can't determine, and whether they blocked a driver's vision we don't know. We've been unable to find Harnett's decision.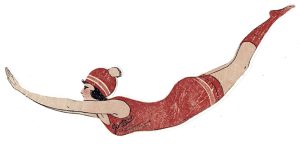 The bathing beauty stickers, however, we did get a lead on. In September 1927, some of the women who were featured on the stickers attempted to visit with Commissioner Charles A. Harnett, who was conveniently out of town. They were the Lottie Mayer Bathing Beauties, who were performing a water ballet at Proctor's Grand Theater. An ad from a performance that year in Syracuse called Lottie Mayer and her Bathing Beauties "America's Greatest Spectacle," and noted that the performance featured "The Jantzen Girl – The Original Diving Girl Poster Model." From posters to windshield stickers – we can't figure out if there was more than one woman pictured, but apparently there was indeed a vogue for featuring Jantzen stickers on the windshields of cars. They may have even provided hood ornaments. (So apparently those Playboy decorations and even less decorous mudflaps seen on trucks these days are not a new idea.)