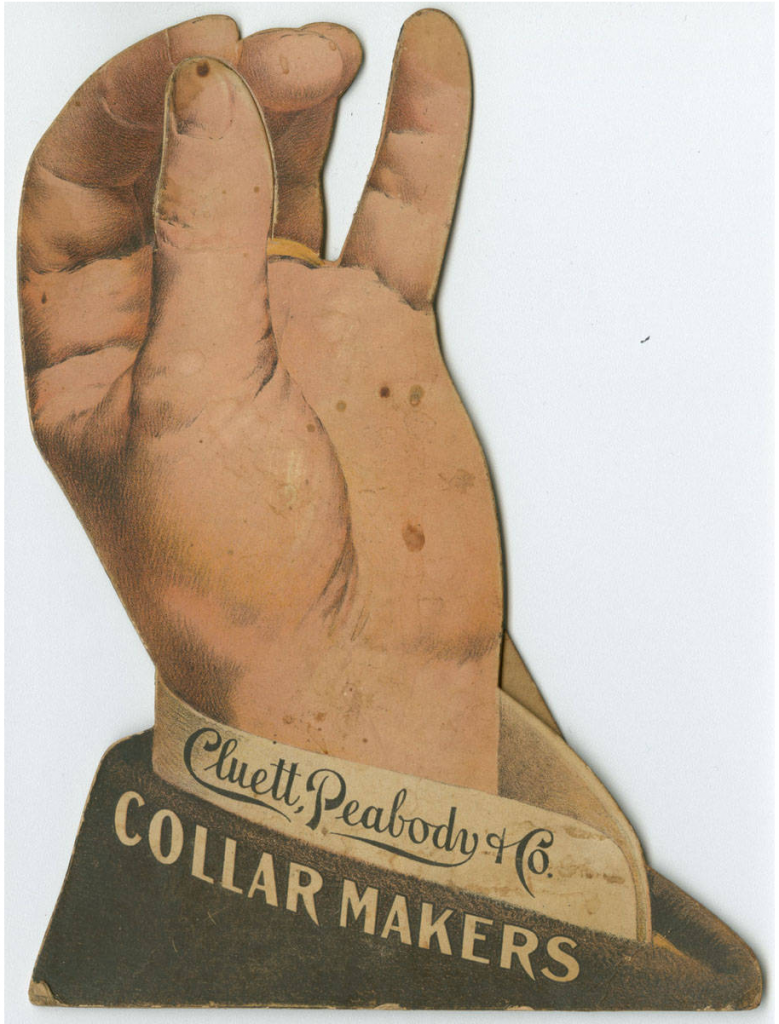 Did you know Benjamin Franklin founded a free library? Okay, you probably did. Did you know that library still exists, as The Library Company of Philadelphia? And did you further know that the online collections of The Library Company of Philadelphia include some items of interest to Capital District history nerds? Well, now you do.
This, for instance, which is a trade card and point-of-sale cutout from about 1900, promoting the legendary Cluett, Peabody & Co., one of the several makers of collars who made Troy the Collar City. That they chose to advertise collars with a display of a cuff might be a little confusing, but yes, cuffs were made of detachable cellulloid in those days as well. Want to advertise collars? Show a little cuff.
Cluett, Peabody was the largest, and the longest-lasting of all the collar companies. As with many Troy companies, they went through many forms and names. They started as Maullin & Blanchard, in 1851, at 310 River Street. According to Anderson's "Landmarks of Rensselaer County," George B. Cluett had been in charge of the manufacturing department when he was admitted to partnership in 1861, and the company became Maullin & Cluett in 1862. Joseph Maullin died the following year, and George Cluett, J.W.A. Cluett and Charles J. Saxe formed George B. Cluett, Bro. & Co., with a factory at 390 River Street.  Saxe left in 1866 and another Cluett, Robert, rose to partner. In 1874 R.S. Norton's name was added to the firm, and they moved to 74 and 76 Federal Street, where they would remain until destroyed by fire on March 20, 1880. "Before the fire was extinguished a new location was found at 556 Fulton street." In 1891, Geo. B. Cluett, Bros., & Co merged with Coon & Co., another prominent collar maker, to form Cluett, Coon & Co., which brought along Frederick F. Peabody. In 1899, the company became Cluett, Peabody & Co., and after 48 years of pretty much perpetual name changes, decided to settle down and focus on collars and cuffs.
By the way, the detachable collar was invented by a Troy woman, Hannah Montague.