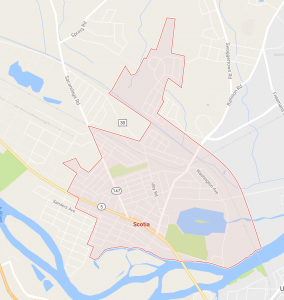 Hoxsie is nothing but rail talk these days, and combine that with news about the old hometown and it's not possible to skip this one.
What is now the Village of Scotia is actually one of the oldest places in the area, with Alexander Lindsay building a home there in 1658, three years before Schenectady was established. But as a governmental entity, it didn't seek incorporation until the early years of the 20th century, when it chose to become a separate entity from the Town of Glenville. That would seem simple, but it got hung up in a battle with the New York Central and Hudson River Railroad, which opposed the creation of the village.
In 1902, the Albany Evening Journal reported that the New York Central had secured an injunction restraining the residents of Scotia from proceeding with incorporation of the village. In 1901 there had been a special election and proposition for incorporation. "At that time an action was brought by Messrs. Maynard and Collins, taxpayers of Scotia, to have the election set aside on the grounds that the town clerk at the time he issued the call for the election was not a resident." That action failed, and failed again, and it looked like incorporation could move forward, until the New York Central brought opposition "on the grounds that, in defining the corporation limits, the railroad was unfairly treated and a larger share of the company's property was included for the purpose of taxation than was necessary and just." In other words, some of the NYC tracks had been gerrymandered in to the village. Given that the village's northern boundary was proposed to extend just far enough to include the tracks, the railroad may have had a point.
That fight went on into 1904. A 1954 Schenectady Gazette article on the village's 50th anniversary said that then "the railroad grew tired of its fight against the persistent efforts of the villagers, and the injunction was vacated when the railroad counsel 'took a vacation.' The village elected Dr. Herman Vedder Mynderse, whose home is now Lake Hill House, as its first president."