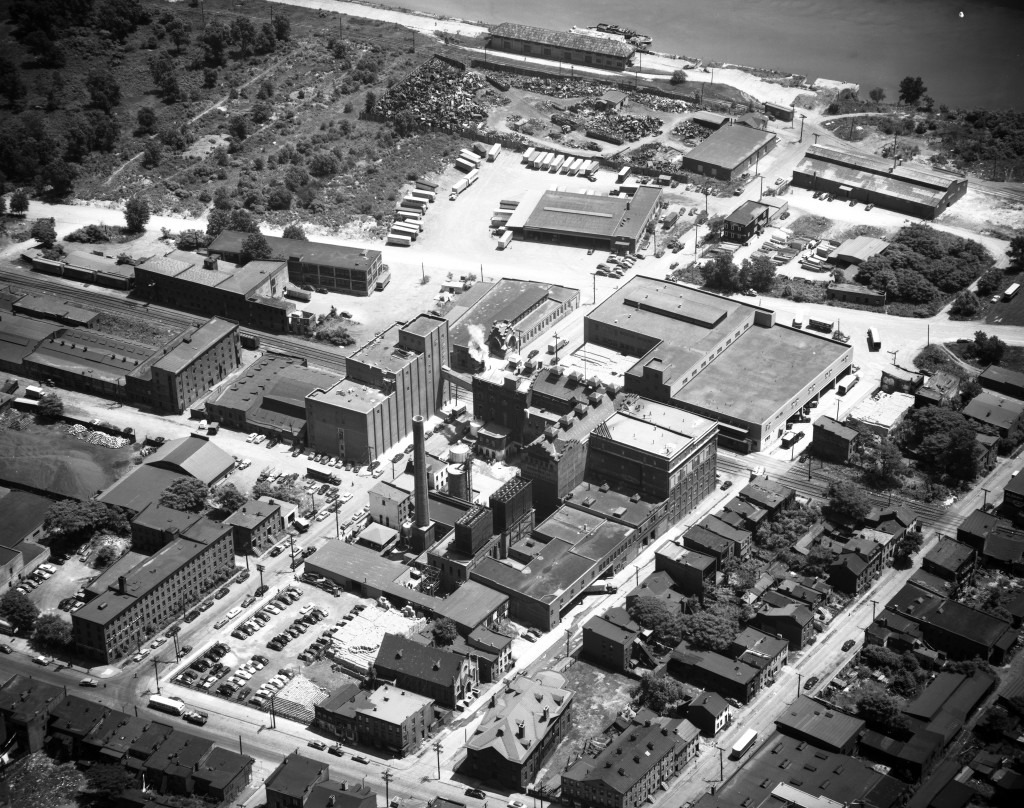 We were originally going to just skip over this aerial of the Schaefer Brewery from 1951 (from the New York State Archives) because Hoxsie is a temperance site and others are far more interested in Albany's brewing history. But then we zoomed in and, holy cats! is there a lot here. Dead center of the shot, sandwiched between North Ferry on the left and North Lawrence on the right, just a block east of Broadway is the mammoth complex that was once Quinn & Nolan's Beverwyck Brewery, now better remembered for the short time it spent as the Schaefer Brewery. (It was Beverwyck from 1878 to 1950, and Schaefer for a scant 22 years after that. Seems unjust to remember it as Schaefer.)
Most of the brewery is gone today; a few of the more modern buildings in this shot, beyond the railroad tracks, still stand. But more than that, nearly everything else in this picture is also gone. Incredible.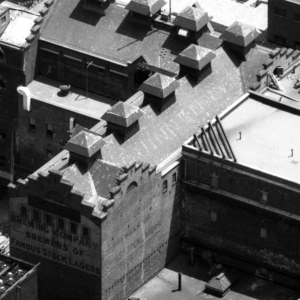 So for starters, there's the matter of the roof of the brewery. On a building that dates to a time when there would have been no nearby vantage point from which to enjoy it, it would appear that "Quinn [&] Nolan" was prominently displayed in slate.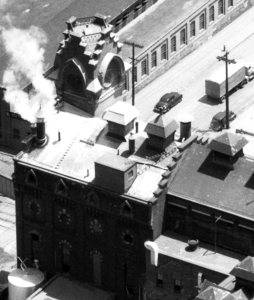 The landmark tower of the old brewery, featured prominently on advertising for Beverwyck.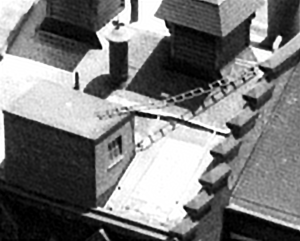 Close in a little bit, and we can see a ladder situation that might not meet with OSHA standards today.
All around, men working on roofs. It was a nice day in June.
Stacked up right against Broadway, where St. Peter's Hospital used to be, what appears to be an endless pile of kegs. And behind that, what? Boxes?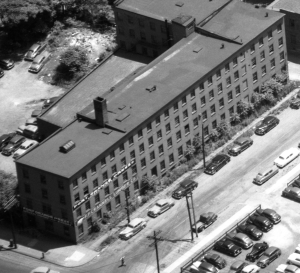 Looking further north to the corner of Broadway and North Ferry, there is one building that still stands. It began life as the Boardman & Gray Piano factory, built sometime after an 1860 fire destroyed the previous factory. Boardman & Gray moved up to North Pearl Street, and this building has housed any number of businesses ever since, including, when this was taken, the Fort Orange Press. We think the sign for F.F. Crannell was simply pointing down the street.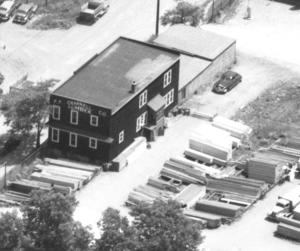 Because here's F.F. Crannell Lumber, down the street.
Over on Learned Street, buildings sandwiched between the street and the railroad tracks. Some of these buildings, or parts of them, still stand. The arched roof in the foreground is Silver Fox Salvage.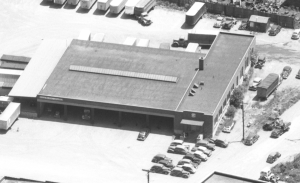 This building across Erie Boulevard at North Ferry is still there.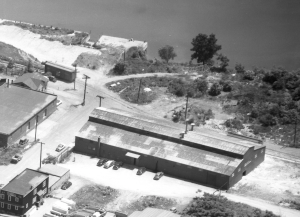 As is this warehouse. At one time it was the warehouse of Treffiletti grocery wholesalers; it's currently the archive storage facility of the Department of Environmental Conservation.
On the riverfront, at the northernmost extreme of the photo, what appears to be a warehouse and wharf. Can't recall ever having seen this before. It would be along the bike trail and I-787, north of the current boat launch and below the navigation light.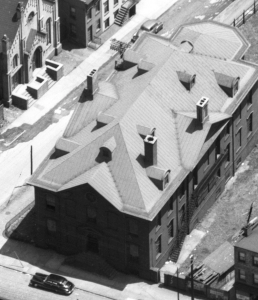 Back at Broadway and North Lawrence, evidence that one of the oldest buildings in Albany lasted at least until 1951. This was School No. 13. It was originally built as a State armory in 1799, and converted to school use in 1859. Don't know when it came down.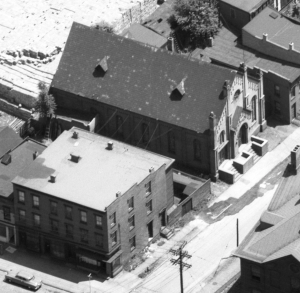 Across Lawrence, a church that apparently was no longer a church. Thanks to some folks in the Albany…The Way It Was Facebook group, it appears it may have been the Broadway Methodist Episcopal Church, but only for a very short time. It appears to have been used as a pork packer in 1878, then Scott Paper Mills in 1907, and the Capitol Chemical Company. When it was torn town, we have no clue.
Over on Colonie Street, an entire neighborhood that existed in 1951 and doesn't exist anymore. Including an oddly configured fire escape / back stair.
One last thing – some of the foundation of the old brewery building along North Lawrence is still there.