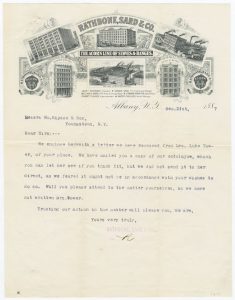 The first Rathbone in the stove business in Albany, Joel, was highly sucessful; his country estate, Kenwood, later became a Catholic convent and girls' academy. His nephew John also went into the stove business, and with Grange Sard manufactured the Acorn line of stoves and ranges. Not only can you find their advertising ephemera through a quick Google search, you'll also find some of the stoves are still available. The firm dated back to 1830 with various other names partnering up with a Rathbone. It became Rathbone, Sard & Co. in 1873. Howell, writing in 1885, mentions that the North Ferry Street factory, near the canal, had were five modeling floors, five cupola furnaces, 90 tons of iron melted daily, and 75,000 stoves a year produced.
Grange Sard didn't do too badly for himself, either, the son of a tailor who quickly became a partner in an established stove business, ultimately becoming its president, and who had his city home, familiar to anyone who was walked State Street near the park, built for him by H.H. Richardson, who usually spent his time on things like the State Capitol and Albany City Hall.
Not entirely clear what was going on in this 1887 correspondence from the Biggert Collection, though it would appear that Mrs. Luke Tower wrote directly to the Rathbone, Sard factory, perhaps trying to get around the local Youngstown, NY distributors of William Ripson and Son.