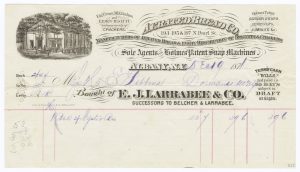 Some academic collections serve a maddeningly singular purpose, but in this case that purpose serves Hoxsie well. Within Columbia University's Avery Architectural and Fine Arts Library resides The Biggert Collection of Architectural Vignettes on Commercial Stationery. Luckily for us, this fascination with architectural vignettes produces some magnificent reminders of historical buildings in the Capital District.
This is the billhead of the Aerated Bread Co. of 193, 195 and 197 North Pearl Street in Albany. Sadly, the location near the corner of Wilson Street is no more than a vacant lot today, but once it housed a graceful old building in which E. J. Larrabee & Co. (successors to Belcher & Larrabee)  made "Egg, Cream, Milk, Graham and Lemon Biscuit, and every variety of Crackers" as well as "Holmes' Patent Ginger Snaps, Lemon Snaps, Jumbles, &c." They were also the sole local agents for Holmes' Patent Snap Machines.
The Larrabee companies were prominent in the development of the cookie and cracker business nationwide; Belcher and Larrabee was formed in 1860, becoming E.J. Larrabee in 1871. In procuring the newest dough-mixing technology from England, they also procured the services of John Holmes, creator of the aforementioned "snap" machines, who went on to build one of New York City's most prominent cracker factories, Holmes & Coutts, manufacturer of the "Sea Foam" biscuit.
The billhead was printed by the prominent Albany printer Weed, Parsons & Co. It was made out in 1871, and though the handwriting is hard to follow, it would appear to be to a Joseph (?) Gibbons for one bushel of oyster crackers.