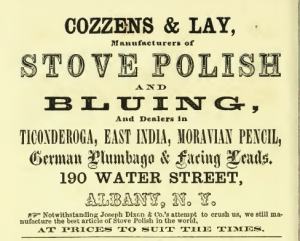 I could put in a phenomenal amount of effort to explain what was going on in the northern New York graphite mines, what sort of a stranglehold Joseph Dixon & Co. was holding over its competitors, and how he who controlled pencil leads held the fate of a free press in his hands. Or I could just explain that graphite from the Ticonderoga area was a key element of stove polish as well as pencil leads, and that Cozzens & Lay of Water Street in Albany really didn't like Joseph Dixon. Perhaps having created the first wood and graphite pencil made him snooty (whereas stove polishing would make one sooty).
But here we have the declaration from Cozzens & Lay: "Notwithstanding Joseph Dixon & Co's attempt to crush us, we still manufacture the best article of Stove Polish in the world."
Despite setting their prices to suit the times, we all know the "Dixon Ticonderoga" pencil, and their competitor only leads us to imagine a lot of 5th graders snickering when the Cozzens & Lay pencils were handed out.
By the way, the Dixon website seems to think the average American dolt can't pronounce "Ticonderoga," and therefore they provide elaborate instruction.