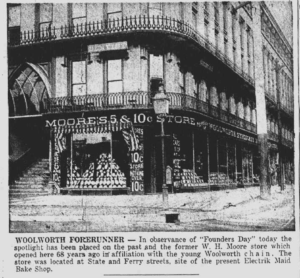 Everybody remembers the old Woolworth's in Schenectady. But what they don't remember is that it wasn't a Woolworth's, at least not originally – it was a W.H. Moore's.
William H. Moore was a native of Saratoga Springs, born in 1841; his family moved to Watertown as his father found work with the Rome, Watertown and Ogdensburg Railroad. Willliam went into dry goods, and was a partner in the Augsbury and Moore Dry Goods Store in Watertown, New York, when he gave a young Frank Woolworth, from Rodman, NY, his first job. Although Augsbury and Moore was a fine store catering to the carriage trade, and young Frank showed up for his interview without suit or tie, William Moore took a chance on the young man, who offered to work unpaid for three months in exchange for board and lodging. Moore (this according to the Woolworths Museum site) proposed an apprenticeship of six months, with pay starting in the fourth month. Woolworth began work in March, 1873. Later denied a raise, Woolworth went elsewhere, but came back to work for Moore and a new partner. In the midst of continued depression in 1877, Moore hit on the idea of clearing surplus stock, pricing it all at five cents, and brought in additional merchandise that could sell at that price. Woolworth, essentially a window dresser, gussied up the display and put up a sign that said "Any article on this table 5 cents." This kinda gave him an idea, and he went off to try it in Utica (where it didn't go very well) and Lancaster, PA, where it was a hit. Woolworth's Great Five Cent Store was soon expanding, with branches in Harrisburg and Scranton run by his brothers. The Woolworth brothers expanded by engaging family and former co-workers to open their five and dime stores.
While Woolworth was expanding, Moore and his subsequent partners did not do well, and he closed out his business. Eventually he went to Woolworth, who offered to back him in any business enterprise, sold him goods at cost, and helped him establish a new store in Watertown. With this backing, in 1896, he started another five and ten cent store in Schenectady with his son, L.W. Moore, as partner – W.H. Moore and Son, at State and Ferry streets.
In 1911, Woolworth created a "big combine," as the Utica Herald-Dispatch put it, announcing a world-wide combination of five and ten-cent stores capitalized at $65 million, embracing 600 stores in the U.S., Great Britain and Canada. Two of those stores were Moore's in Watertown and Schenectady. In discussing the new enterprise, Woolworth gave full credit to William Moore:
"I worked under Mr. Moore as an employe in those days. He taught me the business," said Mr. Woolworth. "One day he decided on a little counter, three by five feet, in a corner of his store, to put in a line of five-cent goods and sell them only on that counter. There is where the five and ten-cent business started."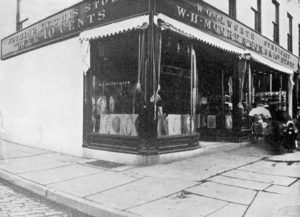 At some point W.H. Moore & Son moved to the familiar location of State and Broadway. When it stopped being called W.H. Moore is not clear, but Moore himself died in May of 1916, aged 74, after a trip to the dentist – which is reported to have put Woolworth off dentistry for the rest of his life.