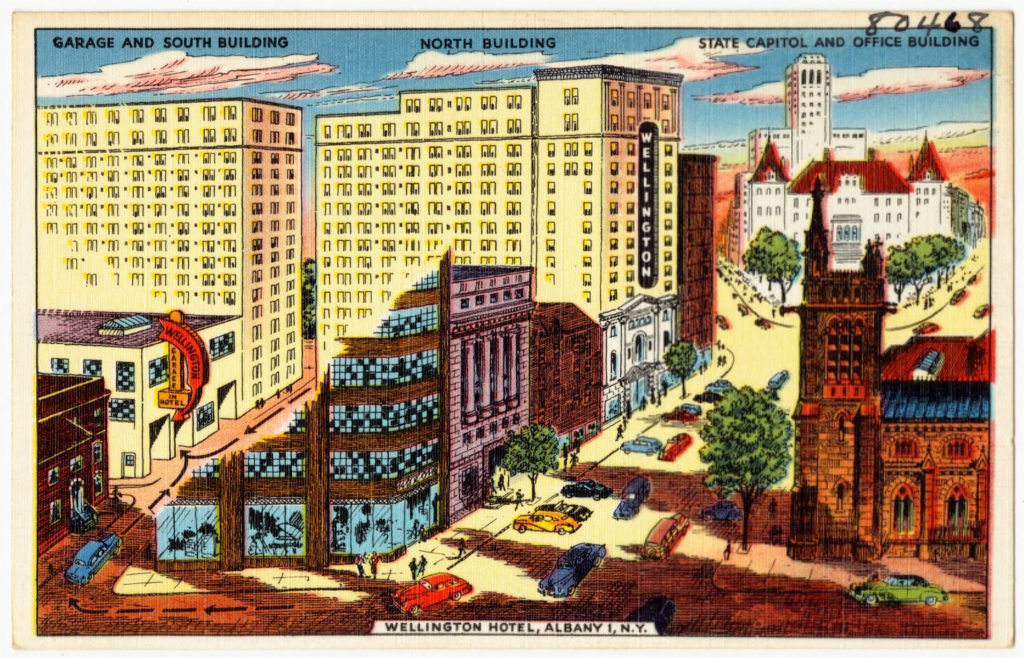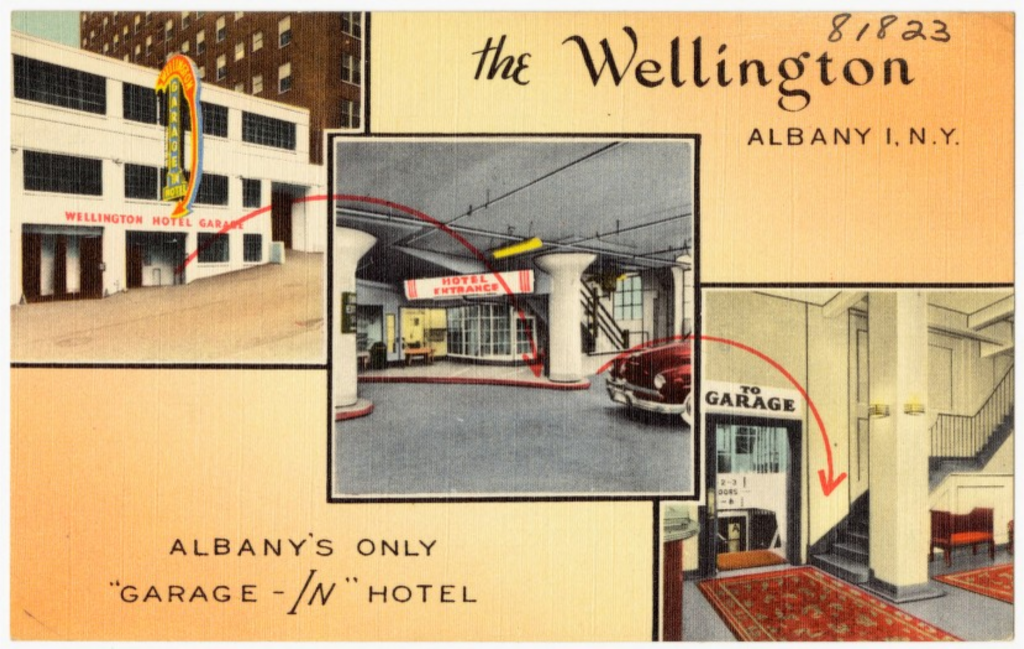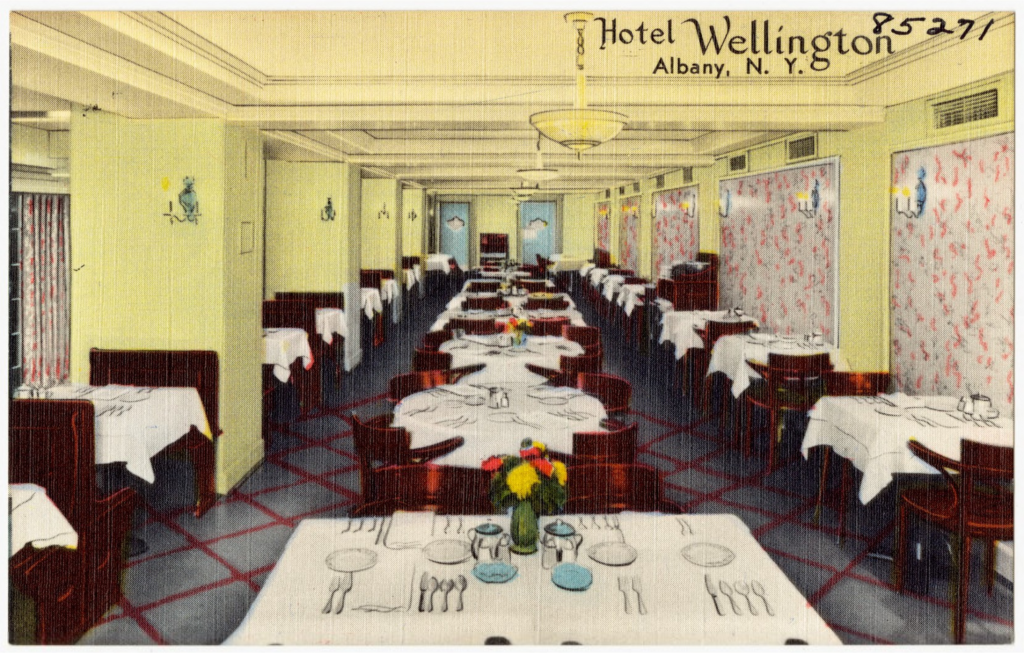 We've shown the top postcard before, but thought it would be nice to put together these three postcard views of Albany's famous Wellington Hotel, the longest survivor of the grand hotel era in the Capital City. It started as a small hostelry on State Street with only 17 rooms, when it was bought in 1911 by a musician who had played in hotels and on steamboats and then decided to try his hand at the hotel business. That was Claude J. Holding, who expanded the Wellington to 200, then to 400 rooms. His July 24, 1949 obituary in the Times-Union said that '"he gained wide recognition when he established the first 'built-in' garage in this section of the country. The innovation permits hotel guests to enter an elevator immediately upon leaving their cars."
The expansion of the Wellington was big news in 1914, with the Times-Union saying it would compare favorably with the classiest apartment hotels in New York city. "It will be one of the most modern apartment hotels in the country, lighted throughout with electricity, equipped with electrical elevators and with running hot and cold water in every room. The breakfast and tea room which will be situated on the main floor of the Howard st. part of the building will be elaborately decorated and elegantly furnished and will be one of the daintiest and most attractive places for dinners in Albany and vicinity. The present dining room will be converted into the offices of the hotel. The present reception room will be altered and redecorated. There will be an elevator in the new and old parts of the building. The aim has been to make the hotel strictly fire proof in every detail. In the Howard st. part there will be 103 rooms, and 50 additional rooms will be afforded by the 'L' making the total number of rooms in the hotel about 200."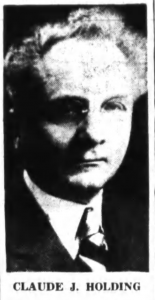 Claude was the son of a famed orchestra leader named Willis Holding, who was the music master at the Ten Eyck Hotel; Claude started playing with his father's orchestra before he was 12. He played violin and viola on the steamboats between Albany and Kingston, and studied under Richard Arnold, master of the New York Philharmonic, who made Holding a member of the Arnold Sextet. He was a member of theater and operatic orchestras and "played in the band at performances of Maude Adams when she starred in 'The Little Minister.'" While he gave up the music profession for hoteling, he did continue to conduct the YMCA orchestra for many years.
Claude was also active as a founder and president of the Albany Society Council, trustee of National Savings Bank, president of the Albany Auto Club, member of the Chamber of Commerce, legislative chairman of the New York State Hotel Association, director of the New York State Chamber of Commerce, director of the American Automobile Association, and member of the Fort Orange Club. He was 74 when he died. One of his sons, Reynolds Holding, took over after that, and eventually sold out to the Carter hotel syndicate,  "a chain outfit from New York," as columnist Edgar Van Olinda put it.
After endless stops and starts to redevelop the Wellington and its neighboring buildings, the Berkshire Hotel and the Elks Lodge, the Wellington and its annex were finally taken down, leaving only its facade fronting a new development. The site is now taken up by a parking garage for the Renaissance Hotel, which is what they're calling the DeWitt Clinton these days. The garage survived on Howard Street until very recently, but was finally demolished to make room for the new Capital Center.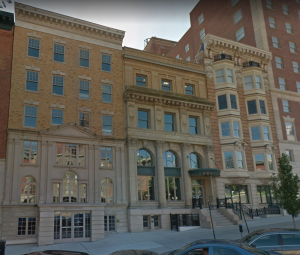 On the left side of this Street View you can see the reworked facade of the Wellington, not quite the same as in its glory days, but way better than it was for many years.