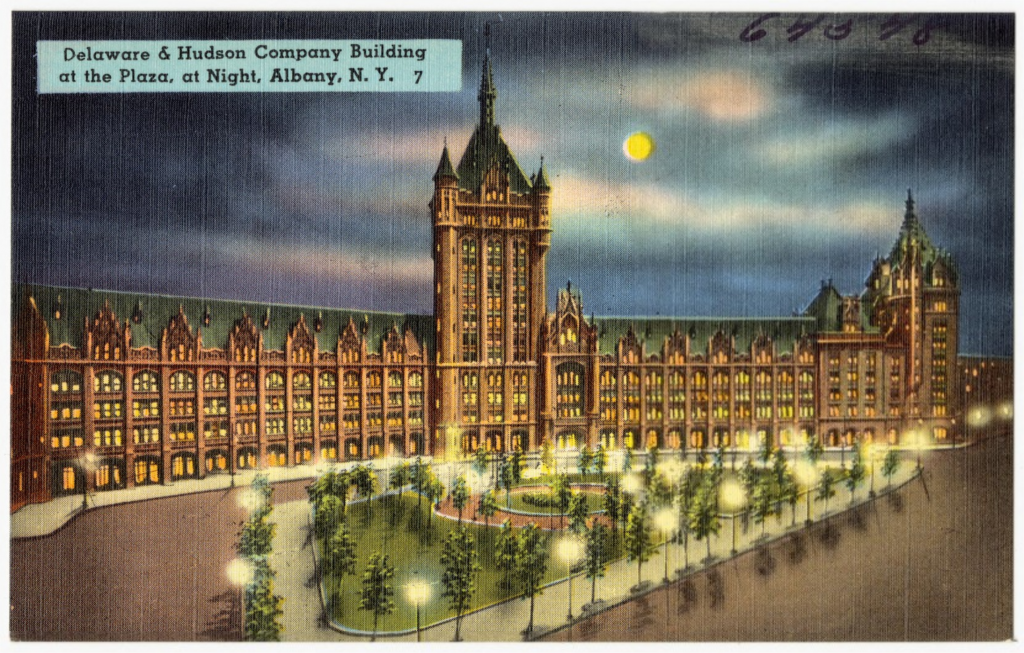 On the one hand, this is such a common Albany view that we hardly think about it. On the other hand, who gets tired of looking at the Delaware and Hudson Railroad Building, the headquarters of what was once one of Albany's great railroads? And on the third hand, it's the D&H Building at night, with the trolley loop in front of it, The Plaza, ringed in trees and lights. This was architect Marcus T. Reynolds's crowning achievement, completed in sections starting in 1914-15 and finally done in 1918. The structure to the right is actually the Albany Evening Journal building, built for the newspaper founded by Thurlow Weed in 1830 but which would only last until 1925. The photograph is a little fanciful in its lack of trolley tracks, or trolleys. Everyone who remembers that they shipped off to war from this building is, unfortunately, wrong – although there was a freight terminal just north of it behind Dean Street, this was never a railroad station, just a rather grand office building.
The building the D&H occupied prior to this one still stands on North Pearl Street.
Another undated card from the Tichnor Collection at Digitalcommonwealth.org.