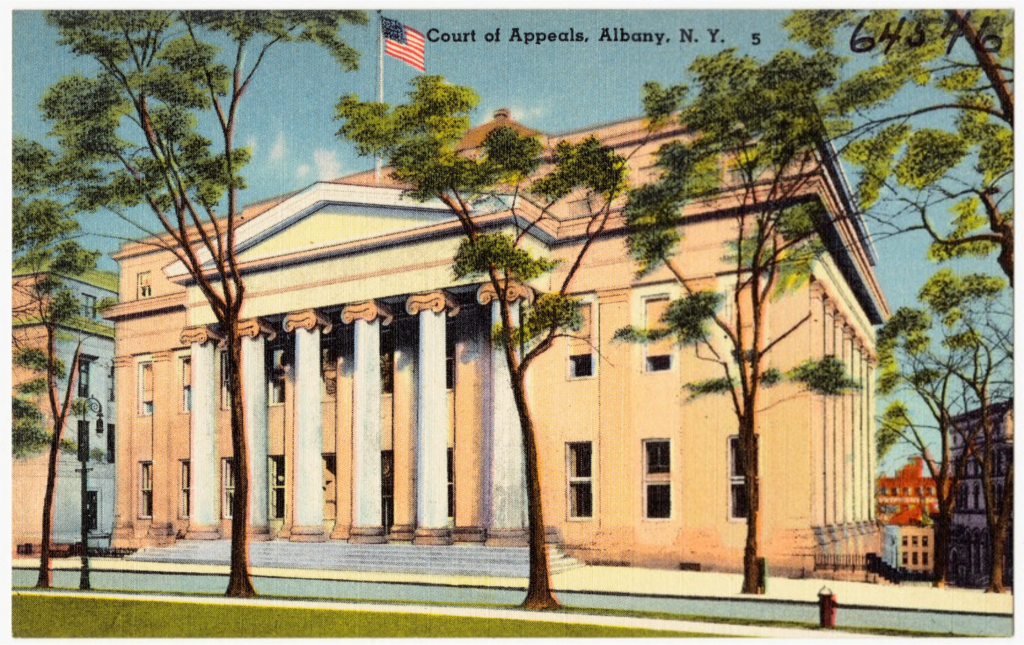 Still mining the Tichnor Collection from digitalcommonwealth.org, with this lovely postcard view of the New York State Court of Appeals building on Eagle Street, just north of City Hall, across Pine Street. For those not familiar, this is the highest court in New York State's court system (those imbued with common sense are usually surprised to find that state Supreme Courts are the lowest level of state court — but are supreme over local courts). This stretch of Eagle Street is just a touch off the main routes, and some people are surprised to find this and the county courthouse (just visible to the left) tucked away in a quiet setting across from Academy Park.
Originally, this was built as the State Hall. State courts then were housed in the Capitol (the old one). Besides the much smaller old Capitol, the State also had offices in the Old State Hall at the corner of Lodge and State. Lack of space to a push for a new ace and concern about fire destroying records led to the push for construction of this new State Hall, and local architect Henry Rector was commissioned to design this building, which opened in 1842. (Time has been unkind to Rector's work, with the only other surviving example being a row of houses on Westerlo Street in the Pastures.) It originally housed the state chancellor, Register of Chancery, the clerk of the Court of Appeals and the Supreme Court, as well as the attorney general, the auditor, Erie Canal appraisers and commissioners, the comptroller, and the state engineer and surveyor-general. The Court of Appeals remained in the Capitol, and stayed there when the new one was built as well. However, a need for better court space led to a renovation and the Court of Appeals moved in in 1917. A second, much more extensive renovation, was completed in 1959, including a replacement dome and rebuilt foundation. Another round of renovations took place beginning in 2001, again replacing structural elements of the dome, but this time also adding on to the building.
In Waite's "Albany Architecture," Anthony Opalka writes that the marble for the building was quarried by inmates at Sing Sing Prison, down the Hudson River at Ossining.