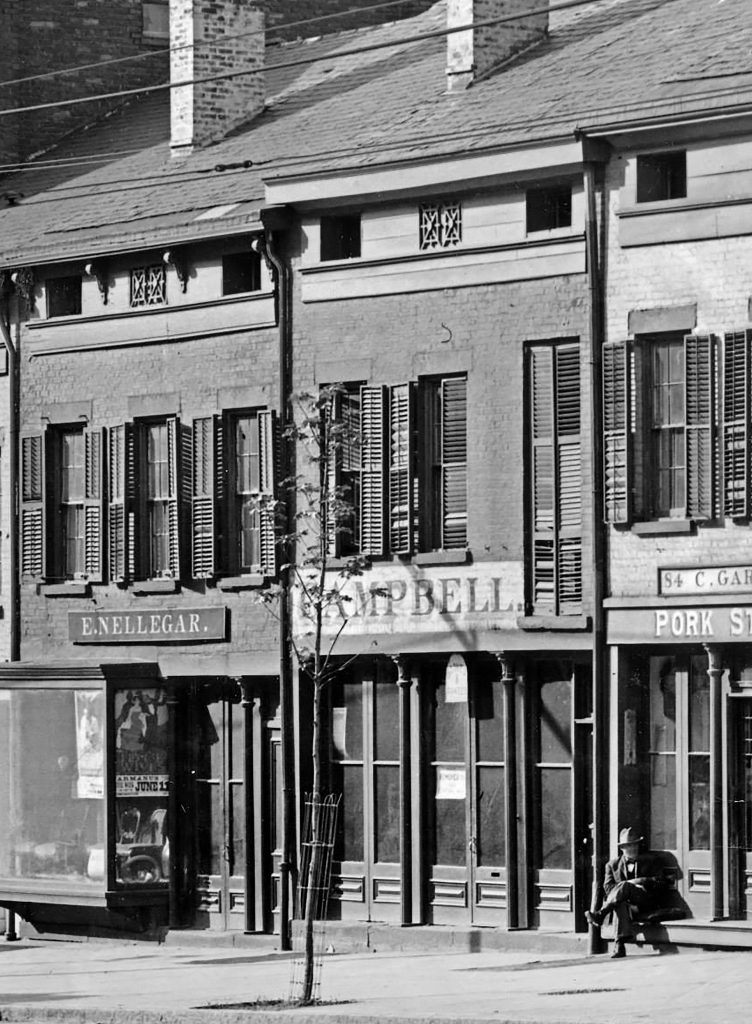 Continuing our look at a photo from 1919 of a whole bunch of buildings that aren't there anymore on Washington Avenue, just west of the Capitol, we come to the storefronts of Charles C. Campbell and Christopher Gardner (we covered Edwin Nellegar yesterday).
Charles C. Campbell was a stove dealer for decades, at least as far back as 1880, when he was 30 years old. He, wife Emma and daughter Iza lived on Lark Street then, but at some point appear to have lived in the same building as his store, 82 Washington. By the time business was closing up here, he had moved to 37 Morris, and he took his business up to 311 Central Avenue. The sign in the vacant window says "Removed."
In 1942, columnist Edgar Van Olinda in the Times-Union related the words of amateur historian John T. Bender, who recalled that Campbell was "a creator with individuality. Stoves were his trade and he used one in front of his place as substitute for the cigar Indian, the barber's pole and the drugstore's big, colored bottles. He installed his own lighting system, gas pipes running the length of his store, filled with kerosene which fed wicks connected with lamps fastened to the pipes."
To the right was the pork store of Christopher Gardner, although by the time this picture was taken Gardner himself was no longer there. It had been run by at least two generations.  In 1861, John H. Gardner & Son (Christopher) were listed in the directory as pork packers at 84 Washington ("also liquors, wines, &c."). By 1874 Christopher was on his own Gardner's business was listed as a "meatstall" in 1903; his home was at 188 Lancaster. He died in 1912 of cirrhosis of the liver. After that, the meat market was owned by George R. Underhill, who seems not to have worried about taking down the C. Gardner sign. (Perhaps he was a fan of Winnie the Pooh.) George was about 58 by this time, and with wife Carrie lived at 23 Western Avenue. He moved his market to 50 Central Ave.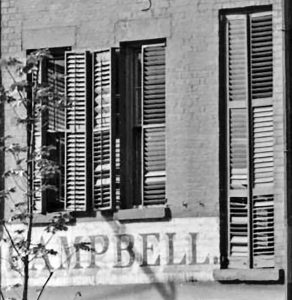 We're really curious about the tall thin window at the far wide of Campbell's building. It wasn't at all unusual for commercial buildings at the time to have a big window on the second floor for hoisting large items to the upper storey — but this window, if anything, is narrower than the others.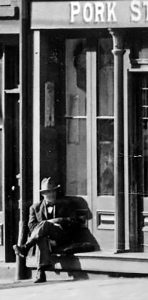 We want to be this guy, hanging out on the stoop of the pork store.