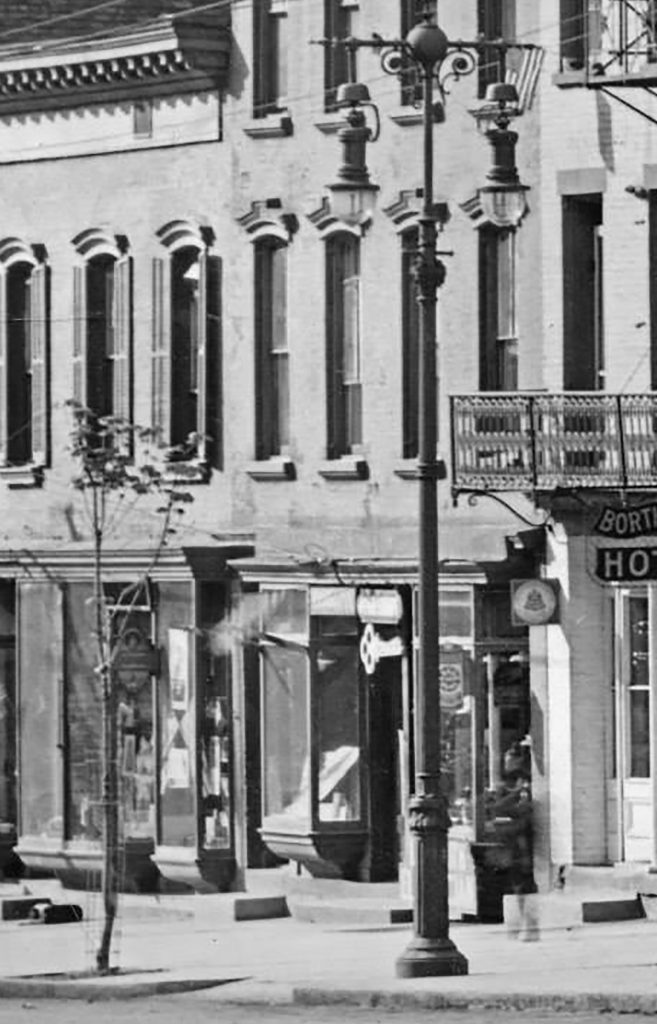 We return to the details of this block of lost buildings on Washington Avenue, just west of the Capitol. On the east side of the old Hotel Borthwick in 1919 were these two modest storefronts. Closest to the Borthwick, with the key hanging in the doorway, was 72 Washington Ave., which in the years around 1917 was occupied by Alfred Schimpf, who was both an electrician and a locksmith. Schimpf was the son of German immigrants, born about 1864; in 1910, he lived with wife Francis and children Marie and Raymond at 91 Lancaster Street, where had had a servant and lodgers. After he left this storefront, he is listed only as an electrician and doesn't show another business address; in 1925 he is just listed as having a home at 50 Dove. It was written that Alfred Schimpf had had his place of business there for 11 years (in 1919), and would move to 230 Washington Ave. Frank Schimpf, a plumber, was located just a few doors down at 68 Washington; while they were likely related and very close in age, they don't appear to have been brothers. The plumber said he had been there for 30 years, and would be moving to 120 Washington.
The same address was also listed in the city directory as the address of Henry B. Norris, barber. But the article from 1919 indicates that while the space had been used by three generations of Norris barbers for about 60 years, the business had been sold to Giuseppe Icolari about 1917, who was "having a hard time to obtain a suitable place for a barber shop at a reasonable price." Giuseppe was born in 1878, was a naturalized citizen from Italy, and lived at 161 Lark Street. It looks like once he couldn't find a suitable place, he and wife Giuseppina took their five children to Rutland, Vermont, where he became a fruit vendor. There appear to have been several residents living upstairs as well; the building rose four stories. Where they went is unknown.
Just to the east, the storefront with the oval sign was the home of the Capitol City News Co. It had been there for 30 years, but in the spring of 1919, as these buildings were being vacated, the owner did not know where it would go. It may not have gone anywhere; we don't find it in the 1921 directory.