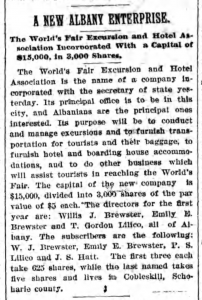 It's 1893, and you want to visit the Columbian Exposition, the massive World's Fair being held in Chicago to celebrate the 400th anniversary (plus a year) of Columbus's stumbling upon what was not quite the Americas (among other things). But how are you to make your travel arrangements? There's no internet, no 800 phone numbers, not even any AAA guides  for finding lodgings (and, as it turned out, that was something you wanted to be selective about).
Into this void stepped the World's Fair Excursion and Hotel Association, incorporated sometime early in 1893 with its principal office in Albany. It was to "conduct and manage excursions and to furnish transportation for tourists and their baggage, to furnish hotel and boarding house accommodations, and to do other business which will assist tourists in reaching the World's Fair." Directors of the company (and most of the backers) were Willis J. Brewster, Emily E. Brewster, and T. Gordon Lilico of Albany.
Later that year the Saratoga Sentinel reported that Dr. W.J. Brewster would be in Port Henry on June 5, "and parties contemplating a visit to the World's Fair now, or later, will do well to make their arrangements with him and save money." The paper also put in a plug for traveler's checks, only recently developed in their familiar form by the American Express company (another one with Albany roots): "Travelers and parties who contemplate visiting the World's Fair should procure of the American Express Co. one of their travelers' check books. They are accepted all over the globe for their face value. Agent Neide will explain its working by calling at his office."
Doctor Willis J. Brewster was listed in the 1893 directory as "physician and president, World's Fair Hotel asso.," with offices at 496 Broadway, and his home at 71 Jefferson St. He was 30 years old at the time; Emily Brewster was his wife, 10 years younger. T. Gordon Lilico was a veterinary surgeon (member of the Royal College of Veterinary Surgeons of London), offices 231-237 Lark Street (next to Trinity Church), who boarded at Woodlawn at the corner of Lake Ave.
We don't learn any more about this new Albany enterprise, so we don't have a sense of whether it was successful. How the people doctor and the horse doctor came together to make travel arrangements for their fellow Albanians who wanted to visit Chicago, we probably won't know.