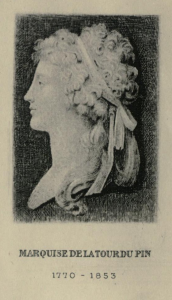 One of the joys of amateur history is putting something out there and instantly getting a reaction with whole new information that we never knew, or making a connection that we had somehow missed. So yesterday's entry on the French exile, the Marquis de la Tour du Pin (among other names – proper addresses for nobility are not our long suit) brought reactions that gave us both information we didn't have, and gave us one of those "oh, duh!" moments.
So first, with thanks to Paula Lemire, we have the realization that the wife of the Marquis, referred to by Weise as the "Marchioness," wrote an autobiography. And it's available in English. And it's on Archive.org. "Journal d'Une Femme de Cinquante Ans," by la Marquise de la Tour du Pin was edited and translated by Walter Geer as "Recollections of the Revolution and the Empire" in 1920. The whole life of Henriette Lucie Dillon, la Marquise, is here. And, happily, she fills in some more detail of their time in exile from the French Revolution. Unhappily, she makes not a single mention of Troy, when it was their residence in a vacant tavern on River street that brought them to our attention.
The Marquis and Marquise first arrived at Boston in 1794, without "a single letter of introduction." The owner of the ship they crossed on offered them the use of a farm he owned 18 miles from Boston, but the Marquis wanted to be "as near as possible to Canada, where he would have liked to settle." From another exile in England came word of an American connection, a Mrs. Church, who made a recommendation to a family residing at Albany. "She was a daughter of General Schuyler who had gained a great reputation during the War of Independence … His eldest daughter had married the head of the Van Rensselaer family which was settled at Albany and possessed a large fortune in the county." The connection made, they soon received "very pressing letters from General Schuyler in which he urged us to come without delay to Albany, where he assured us we would easily be able to establish ourselves."
"At Boston I sold everything among the effects which we had brought with us which could bring us in a little money. As the 'Diane' had made the voyage without cargo, our baggage, which had cost us nothing to transport, was very considerable. We disposed of more than half of it; clothing, cloth, laces, a piano, music, porcelains – everything which would be superfluous in our little household was converted into money and then into drafts upon persons of responsibility at Albany. After remaining a month at Boston we set out with our two children, Humbert and Séraphine, the first of June, and fifteen days later we arrived at Albany. We traversed the whole state of Massachusetts, of which we admired the fertility and the air of prosperity. But a sad piece of news had made me so melancholy that I did not enjoy anything. Before leaving Boston my husband had heard of the death of my father who perished on the scaffold the thirteenth of April."
They stayed with General Schuyler briefly, and he arranged for them to live for three months with the Jan Van Buren family, who lived not far from his brother, Col. Schuyler's farm, and very close by the new village of Troy. They went to live "with Mr. Van Buren to learn American manners, as we had made it a condition of living with this family that they were not to change in any way the customs of the house. It was also arranged that Mrs. Van Buren should employ me in the housework the same as if I were one of her daughters." Another Frenchman accompanying them, M. de Chambeau, "began an apprenticeship with a carpenter of the little growing city of Troy situated at a quarter of a mile from the Van Buren farm." When news of the executions of the fathers of the Marquis and M. de Chambeau came:
"As I was a very good seamstress, I fashioned for myself my mourning costume, and my good hostess, having thus learned to appreciate the skill of my needle, found it very pleasant to have a seamstress at her command without cost, when she would have been obliged to pay a dollar a day and board if she had hired one from Albany."
They were awaiting the arrival of funds from Holland so they could purchase a farm, and their plans in that regard, to do things the American way, tell some of the shameful hidden history of the Albany area:
"General Schuyler and Mr. Van Rensselaer advised my husband to divide his funds into three equal parts: A third for the purchase; a third for the management, the purchase of negroes, horses, cows, agricultural implements and household furniture, and a third part, added to what remained of the 12,000 francs brought by us from Bordeaux, for a reserve fund to meet unexpected circumstances, such as the loss of negroes or cattle and also for living expenses the first year. This arrangement became our rule of conduct."
New York would not pass its first gradual emancipation law until 1799. At this time, by the evidence of the Marquise, it was simply presumed that if you were going to launch a prosperous farm, you would do so with slaves. By way of comparison, Vermont abolished adult slavery when it broke from New York with its own constitution in 1777, though there were apparently violations of the law. That was 22 years before New York's first step toward abolition, which didn't take on the first try.
In September 1794, the Marquis entered negotiations with a farmer "situated on the other side of the river, upon the road from Troy to Schenectady, a distance of two miles in the interior … The house was new, pretty and in very good condition. The land was only partially under cultivation. There were one hundred and fifty acres sown down, as many in woods and pasturage, a small kitchen garden of a quarter of an acre full of vegetables, and finally a handsome orchard sown with red clover and plated with cider apples. They asked us 12,000 francs. General Schuyler did not think the price exorbitant. The property was situated at four miles from Albany, upon a route which they were going to open up to communicate with the city of Schenectady, which was in a thriving situation."
While no longer a farm, the house still stands today – on the land of the Sisters of St. Joseph of Carondelet, just up from where Watervliet-Shaker Road intersects with … Delatour Road. Delatour. De La Tour. As in the name of the Marquis and Marquise. (That's the "oh, duh!" moment.)
Next, we'll have some more details of life on the farm, and Talleyrand comes to visit.