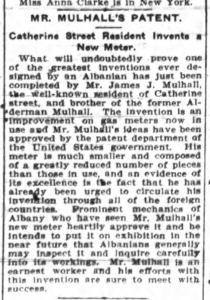 We ran across this article from 1903 about the invention of Mr. James J. Mulhall, "the well-known resident of Catherine street."
"The invention is an improvement on gas meters now in use and Mr. Mulhall's ideas have been approved by the patent department of the United States government. His meter is much smaller and composed of a greatly reduced number of pieces than those in use, and an evidence of its excellence is the fact that he has already been urged to circulate his invention through all of the foreign countries. Prominent mechanics of Albany who have seen Mr. Mulhall's new meter heartily approve it and he intends to put it on exhibition in the near future that Albanians generally may inspect it and inquire carefully into its workings."
So we were interested in Mr. Mulhall. If he was a well-known resident of Catherine Street, we might presume he was well-known for his inventions. And did file a patent for a gas meter in 1903 (patent no. 740,301). A few years later, in 1911, he filed another patent (No. 995,278), for improvements to water and gas meters, "so arranged that no sediment will locate in the meter and affect in anyway the operation of the apparatus."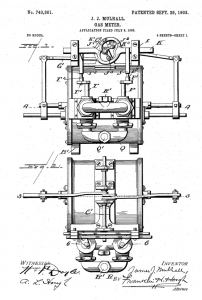 How he came to be an inventor of gas (and other) meters, and what else he may have done, is not entirely clear. James was the son of Thomas and Mary Mulhall, born around 1844. Thomas was listed in 1870 as a gas-fitter, and it seems that James must have followed him into the gas business. In 1862, at 18, James was listed as a clerk for the gas company, boarding at 3 Clinton. Thomas's listing for that same year said "gas regulators," and that his home was at 89 Broad Street.
In 1867, the Albany Morning Express noted very briefly that there had been a petition to Alderman Sullivan, by James Mulhall, "relative to a new apparatus of which he has the patent, for preventing the freezing of gas." The petition was referred, and we found no more about it. If James was a jeweler, gas was on his mind already; we haven't found that particular patent, and we haven't figured out if he went on inventing or if there was a hiatus between 1867 and 1903.
Oddly, perhaps temporarily, James was listed as a jeweler in the 1870 census. There was also a James Mulhall who ran a soap factory at 7 and 9 Exchange Street. We know of it because it burned in a "stubborn" fire in December 1892. It was in a four-story building belonging to the "Miller and Morris estate." It was noted that the firm of Bacon & Stickney suffered damage to stock from smoke and was fully insured, as was Mulhall. "The building is the same in which Samuel Spencer, an eccentric old man, was found one morning about three years ago with his throat cut." (The fire, by the way, was also reported in the American Soap Journal and Perfume Gazette, the kind of trade journal you just don't find anymore, but which carried scads of historically interesting information.) Was this the same James Mulhall? Think so. Oddly the directory for 1892 lists him at 17 Catherine, but does not list his job. Same in 1893. In fact, in quite a number of years, James is listed as boarding at 17 Catherine, and yet, unlike almost everyone else in the directory, his occupation is not given, which is strange. Was he a soapmaker? An unemployed gas meter inventor? Both? Can't tell. In 1881, a James Mulhall was appointed as an inspector of meters in New York City. Was he the same James?
In the 1905 New York State census, we find James on Catherine Street, with his profession listed as "inventor." He was still there in 1910, listed as retired.