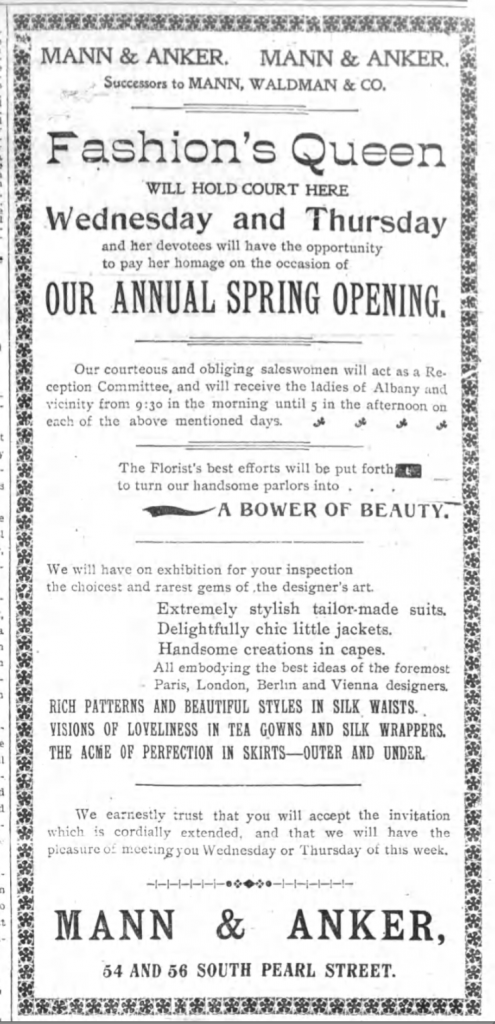 We aren't very familiar with Mann & Anker (or Mann, Waldman & Co., for that matter), but can only imagine what their store was like in 1898 when Fashion's Queen held court there and gave her devotees the opportunity to pay her homage.
In 1899, both Mann & Anker, "makers of ladies' garments," and Mann & Waldmann, "wholesale dealers in ladies' suits," were destroyed by a fire that swept that stretch of South Pearl Street, in which "eight firms doing a prosperous business had their stock totally destroyed." But they seem to have come back from that and returned to business at the same address; we find references to them at least through 1909. The building still stands across from the Times-Union Center at the corner of Hudson Avenue.
With all this ladies' garment-making going on, you can well imagine that Lester Mann and F.L. Anker of Albany, New York, also have their names appear on a patent in 1898 – for a painter's scaffold. Their improvement was that there were hinged sides so the painters couldn't walk off the edge of an exterior scaffold.