In river towns, people would occasionally fall into the river and drown. So it only makes sense that in 1902, the newly consolidated city of Rensselaer proposed to have three life-saving stations along the riverfront, as outlined in the Albany Evening Journal of July 15:
Rensselaer is soon to have three life saving stations. One will be at the old Bath ferry slip, one at the Albany Yacht Club quarters near the baseball grounds and one at the ferry landing at the foot of Second avenue. They will all be under control of the United States Volunteer Life Saving Corps of the department of New York.

Captain J.J. Greekstone, of the main office, was in Rensselaer to-day and had a conference with Mayor Lansing about the matter, and the mayor entered into the spirit at once, for he thinks it a good thing.

The captain wishes to establish five members of the crew at each station and any boy over 16 can become a member. At the station, when established, will be life buoys, life lines and later life boats. The mayor, this morning, gave Captain Greekstone a room in Republic headquarters, where he will be from 7:30 to 9 o'clock this evening to enlist all those who wish to join. In establishing of the station at the points above named is done because it is where there is most danger. The upper Bath dock is a landing place for ferry boats and where excursions leave from. This can also be said of the dock at the foot of Second avenue, while the station at the Albany Yacht Club is near the baseball grounds where many bathe and are getting on and off the boats when a game is on.
For those who don't know, Bath (more accurately, Bath-on-Hudson) was on what is now the north end of Rensselaer, and the Albany Yacht Club in those days was also on the Rensselaer side. However grand this life saving plan, it's not entirely clear that it happened.
There were at various times various levels of life saving crews up in this reach of the Hudson. The 1894 annual report of the United States Volunteer Life Saving Corps, New York department, listed a Schodack Landing division covering Coxsackie and New Baltimore, and said that several lives had been saved that year. Of the Albany division, under Commodore Garret T. Benson, it was said only that he would have "many boat crews organized for early spring work in 1895." The Upper Hudson River division, covering from Troy to Mechanicville and including Cohoes, would have 15 crews under Commodore N.L. Weatherbee.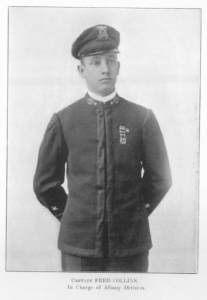 The 1909 annual report, while touting the Corps' great achievements in New York City, lamented the lack of State support (which was only $40 in 1909, down from $5000 in 1894), and noted that it relied on subscriptions. $5 to $10 year would make you a subscribing member; $10 to $25 made for an associate member. $25 to $50 earned the designation of honorary member, while more than $100 a year as classified as a patron. "A renewed effort to obtain a State appropriation for the work in New York State during 1910 wlll be made, and we have every confidence of success." At that time, the Albany division was in the charge of Captain Fred Collins, and it was noted that "The Corps work in this city has progressed and the membership increased through the constant efforts of Captain Fred Collins. He and his crew gave a very credible life-saving exhibition in Schenectady during the season, which resulted in much good." That doesn't sound like they were necessarily doing a lot of life saving, and the annual report listed only one rescue that was under consideration for an award in the area: in Troy, Arthur R. Tyler rescued John Conners. Upstate, only six lives were listed as saved, compared to 268 in New York City.