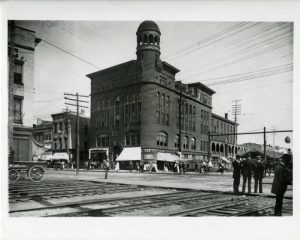 Yesterday we listed a number of public places, businesses, and private citizens in 1895 Albany who had telephones on the American Telephone & Telegraph long distance service. Even though the national directory of such subscribers only ran to about 480 pages, Albany was well-represented, as one of the larger cities in the country (about 189,000 people) and also one of the most commercially important, and there were simply too many subscribers, easily more than 600, to begin to list them all.
In Schenectady, however, that was not the case. Once (in 1800) tied with Albany for population,  the not-yet-Electric City was growing quickly in the 1890s but was still probably about in the mid-20,000s range in 1895 (Albany was over 50,000), and its prosperity wasn't yet to the point where the demand for telephones connected to the long distance system was high. In fact, including some suburban stations, there were only about 61 customers of the system in Schenectady.
There were four public telephone stations, listed as H. DeKeiter in the Myers Block (probably the hotel, now the site of the Wedgeway Building), Wm. Sauter (pharmacist) and A. Stock on State Street, and the Hotel Edison, also on State. The General Electric Company had one telephone listed (one!), whereas the Schenectady Railway Company had three (office, barn, and station). The Westinghouse Agricultural Works on Dock Street had service, as did the Empire State Knitting Co. on Brandywine. The Daily Gazette had a telephone, as did Ellis Hospital, but it doesn't appear that City Hall did. Howe & Co., manufacturer of whiffletrees, had long distance phone service, as did the Schenectady Bank, the Schenectady Brewing Co., and the Schwartzchild & Sulzberger Beef Company. Frank H. Dettbarn, who was listed in the Blue Book for Albany, Troy and Schenectady, and at some point was the county coroner, had two telephones: one at his residence at 149 Nott Terrace and one at 31 South Centre (now Broadway).
Other than the Schenectady County Jail and perhaps, in a sense, the Schenectady County Superintendent of the Poor, only two of the businesses with telephones in Schenectady in 1895 are still businesses with telephones in Schenectady in 2016: The then one-year-old Daily Gazette (which has since changed its name to Schenectady and then changed it back), and the General Electric Company, which probably has more than one telephone these days.